Tanoto Scholar lives at school to pursue dreams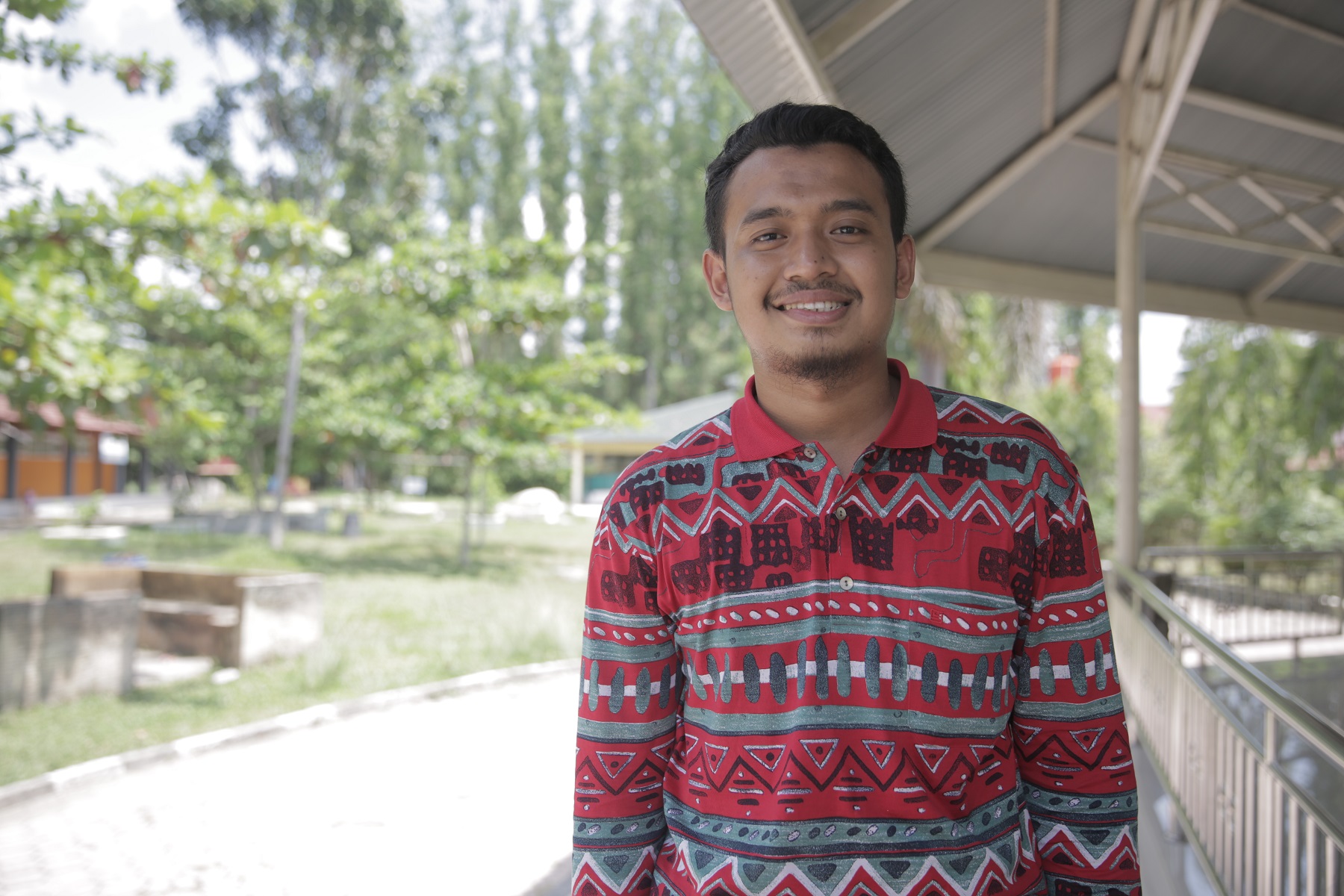 Rifky Adha may be just 22 years old, but the philosophy and values he lives by are truly beyond his years. Rifky is currently majoring in International Relations at the University of Riau, and is a scholarship recipient under Tanoto Foundation's TELADAN program. When he was in his third year of university, Rifky decided to take the unusual step of living next to the university's prayer room, in a bid to save on housing costs.
"There is nothing wrong with that, and I don't feel embarrassed or inferior,"

Rifky
Growing up, Rifky has always tried to make his parents' financial lives easier. "I come from a low to middle income family. My father and mother were both factory workers, and together with my younger sister, we all resided in Medan," he said, without the slightest hint of sadness in his eyes.
Due to the family's financial struggles, Rifky was unable to pursue further studies for a year after graduating from high school. During this time, Rifky had to harbour his enthusiasm for further learning at university as well as his disappointment, doing his best to understand his parents' financial condition. He even took up part-time work in an effort to contribute to the family's income.
"It was very difficult to find work without experience. I worked as a janitor at two places – in a restaurant and a karaoke place. I was never ashamed, I was preoccupied with the fact that my salary was so low," he said.
However, in the following year, after collecting enough money to pay for university, Rifky was able to register as a student at the University of Riau. "But, after a year of studying away from home, I faced a financial hurdle again. I even almost had to quit university in my second semester," Rifky said.
Then, Rifky found out about the Tanoto Foundation scholarship offered through its TELADAN program.
"Many of my classmates applied, and seeing the intense competition, I was a little hesitant at first. But I decided to try because I didn't want to sacrifice the education I had painstakingly started at this point," he said, adding that he did not want to take up part-time work while studying because he knew his academic performance would suffer. Thankfully, by the time he entered his third semester, Rifky had become a Tanoto Foundation scholarship recipient.
"I instantly felt like a very heavy burden had been lifted from my parents' as well as my shoulders. In addition to the tuition fees, I also received allowance for school books and other school needs," Rifky said, adding that he enjoyed developing himself through participating in various organisations including the Tanoto Scholars Association (TSA) at the university.
When Rifky entered his fifth semester of university, he decided to stop renting the room at the boarding house he had been living in near the university campus. "I really want to continue my education to the Masters level, and I also want to save up so that my younger sister – who is now in high school – does not have to experience the same financial difficulties I experienced," Rifky said with a smile.
"Coincidentally, the University of Riau has several rooms located next to the campus' prayer room for students to live in and I thought why not?
"Staying in one would mean I could get to class earlier, be more diligent at prayers, and save on accommodation costs in pursuing my dreams," he said.
In his new room, Rifky honestly does not feel much difference. Although he is not required to, Rifky willingly helps the university by cleaning the prayer room every morning before classes begin, as well as after sunset. "Nobody makes me feel ashamed because I'm not doing anything to be ashamed of. I am fighting hard to become a successful person who can make my parents proud," he said.