Tanoto Foundation and Temasek Foundation International Donate Covid-19 Testing Equipment to Jakarta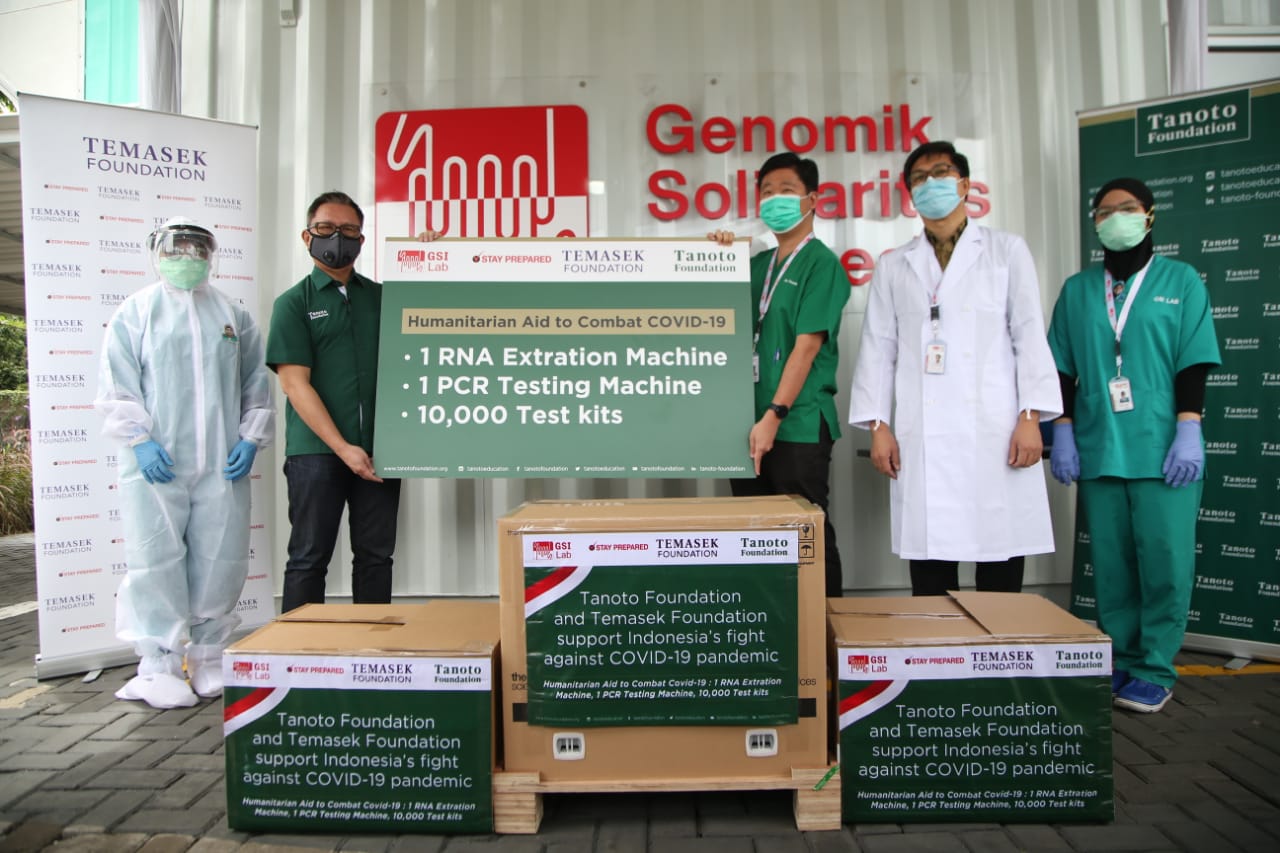 Tanoto Foundation, an independent family philanthropy organisation founded by Sukanto Tanoto and Tinah Bingei Tanoto in 1981, and Temasek Foundation International have donated testing equipment to Indonesia to help accelerate the fight against Covid-19.
An RCA extraction machine, a PCR testing machine and 10,000 testing kits were donated to GSI Lab in Jakarta to help increase the number of tests administered by approximately 1,000 per day.
"The massive and large capacity PCR test for virus detection continues to be an urgent need as the number of Covid-19 infections in Indonesia continues to increase," said Satrijo Tanudjojo, Global CEO of Tanoto Foundation, at the handover ceremony in Jakarta.
"We are grateful to be given the opportunity to participate in facing the pandemic by donating PCR instruments and supporting equipment. Hopefully with this contribution, together we can get through this difficult time."
GSI Lab provides high-qualitryt testing with same-day results, helping the Inodneisan government increase the amount of Covid-19 tests being adminstered.
This is the latest of several donations from Tanoto Foundation to help combat Covid-19. In April 2020, Tanoto Foundation donated 1 million masks, 1 million gloves, 3,000 goggles and 100,000 protective suits for medical personnel to the National Agency for Disaster Management (BNPB). In August 2020, Tanoto Foundation also donated 10,200 PCR Test Kits complete with Viral Nucleic Acid Extraction Kit and Viral Transport Medium to BNPB.
Regarding the joint donation between Tanoto Foundation and Temasek Foundation International, Benedict Cheong, Chief Executive of Temasek Foundation International, explained, "Temasek Foundation supports joint efforts to tackle the Covid-19 pandemic together, not only in Singapore but also in neighboring countries, like Indonesia. In a difficult situation like this, we must have high solidarity and work together to help restore public health. We are grateful for the opportunity to partner with Tanoto Foundation and GSI Lab in the struggle to keep all of us safe."
"GSI Lab is honored for the support from the international community such as  Tanoto Foundation and Temasek Foundation. This is a form of trust that we must be held accountable for. GSI Lab invites corporations and the wider community to protect each other by conducting PCR tests independently and being able to accurately determine their own condition of exposure to Covid-19," concluded Dr Nino Susanto, President Director of GSI Lab.