Sources of clean water for SDN 158/V Lampisi, Jambi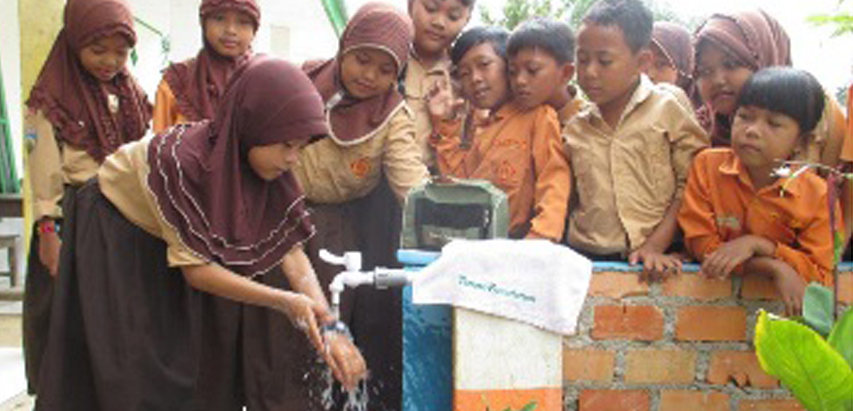 Students of SDN 158/V Lampisi in Jambi showed how to wash hands with soap.

---
Written by Jazuli, Tanoto Foundation Jambi
It was the habit of SDN 158/V Lampisi students to bring water to school every day. Each student would contribute water to a five litter jerry can and together carry the container to school. The school's students would use the water to wash their hands or clean their face. Although they had to do this every day, they did it happily.
SDN 158/V Lampisi is one of Tanoto Foundation's partner schools in Jambi Province. Realizing the seriousness of the school and its students in implementing hygienic living habits, Tanoto Foundation decided to build drilled water well and provide clean water facility.
The clean water source and facility was a big help for the school. "Before this, although we tried different ways such as drilling and digging to get clean water, we were not able to do so. Not only that it was very difficult to find a well, we only had limited budget for this endeavor. We thank Tanoto Foundation for providing this much needed source and facility," said Sri Utami, Principal of the school.
When Tanoto Foundation visited the school, the students eagerly showed one of the faucets and the clean water that came out of it. They also showed how they washed their hands with soap, the knowledge that they got after being trained by Tanoto Foundation.
"Now, we don't have to bring water to school every day anymore. Because of the help of Tanoto Foundation, we can access clean water easily," said one of the students.
Tanoto Foundation works with 322 partner schools in Riau, Jambi, and North Sumatra to improve their quality of education. Activities to support this endeavor include training to improve teachers' capacity in providing contextual learning process for students. Other activities are support to build source and facility for clean water as well as training for students to wash their hands with soap.