Sarifah, Wholeheartedly Introduces English in Rural Areas of Riau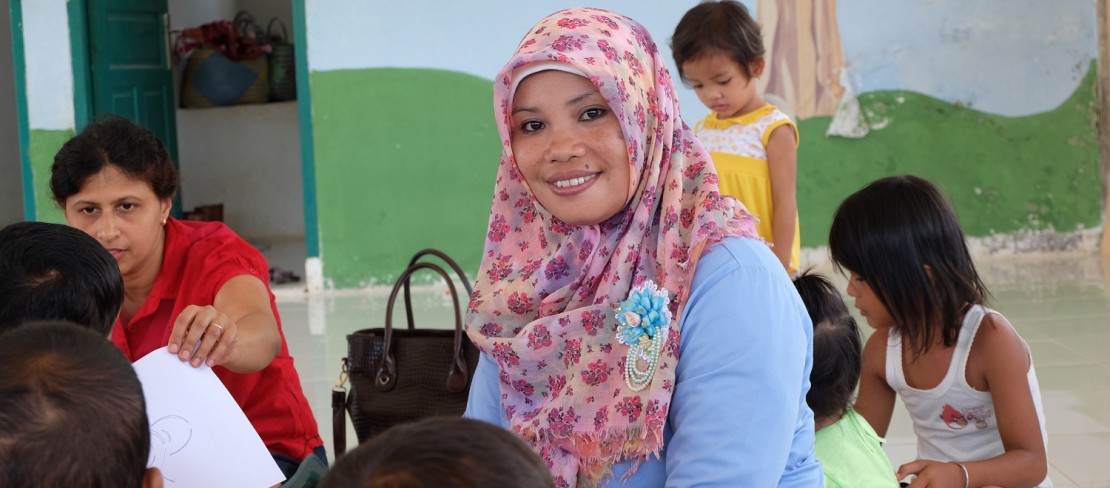 Six years' work experience in Singapore leads Sarifah to become an English teacher for pre school children.  Moreover, various training sessions from Tanoto Foundation boost her confidence in teaching children in the rural areas of Pangkalan Kerinci, Pelalawan District, Riau.
Sarifah's ability to use English was acquired while she worked in Singapore.  While working, she learned how to care for and teach pre-school children.  In addition, she also took English courses to improve her ability.
Upon returning from Singapore in 2014, Sarifah received an offer from the management of Asian Agri to teach English in Taman Penitipan Anak/TPA (Child Day Care Centers) located in the surroundings of oil palm plantations.  Sarifah gladly received the offer.
"Aside from the additional income for the family, I also like to interact with children.  I try to put into practice what I learned in Singapore to the children here," said Sarifah.
Sarifah started to work immediately the next day.  "Actually, there are many people here who can speak English.  In addition, they have high education.  But often, their grammar needs to be improved. So, I feel compelled to use my knowledge to teach these children."
Sarifah teaches the children as if they were her own.
"When these children do not meet me for a week, they start looking for me. And, they often forget the lessons that I have taught previously.  Therefore, I visit them frequently and always spend more time to teach them," said Sarifah.
Every day, Sarifah rotates her visit to the five TPAs in the area of Rantau Baru, Pangkalan Kerinci.  Each TPA can accommodate up to 30 children. "Teaching these children can be challenging at times. Because of their age, sometimes as young as one year old, they are often fussy and cranky.  But I have my own techniques to make them happily follow what I say. I learned this when I worked in Singapore."
Not only depending on her work experience in Singapore, Sarifah is supported by Tanoto Foundation. She was trained on the utilization of used materials as teaching media and on developing teaching syllabus for the education of pre school children.
Now Sarifah is even more excited in guiding the children to learn the language.  Not only she could regularly channel her passion in teaching and working with children, she is proud when the children of this rural area are able to speak English.