My TF 40 Proudest Moment Video Competition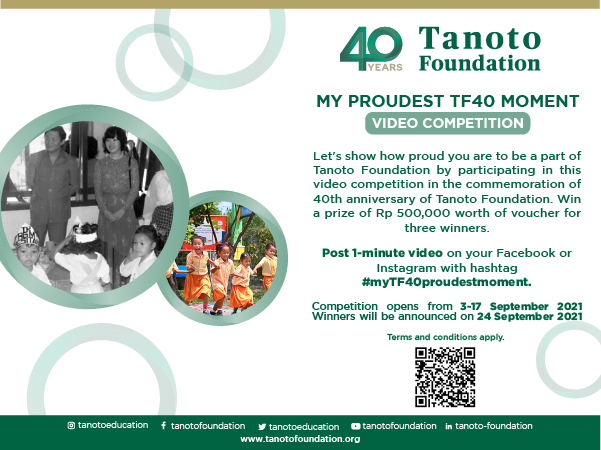 To mark Tanoto Foundation's 40th year anniversary we are asking all Tanoto Foundation employees to take part in a video competition to share their proudest moment during their time in Tanoto Foundation. To enter, upload a 1 minute video of your proudest moment while working in Tanoto Foundation to Facebook or Instagram with the hashtag #MyTF40ProudestMoment.
There will be 3 winners from the competition, with a prize of a Rp 500,000 voucher each.
The competition runs from 3-17 September 2021.
Let's show your pride, working with Tanoto Foundation!
Terms and conditions:
– Your social media accounts must be public
– Use the #MyTF40ProudestMoment hashtag in your caption
– Post the 1-minute video on your Facebook OR Instagram feed (for Indonesia and Singapore employees)
– The competition is intended for Tanoto Foundation employees only
– Tanoto Foundation Corporate Communications team and employees of RGEI are not eligible to enter the competition
– Follow the health protocols while you are recording (unless you're alone or using pictures or videos that were taken before the pandemic)
– There will be 2 categories. Most likes and comments and the most creative
– There will be 2 winners for the most likes and comments category and one winner for most creative category
– There will be a total of 3 winners in the competition
– Each winner will win a digital voucher worth Rp 500,000
– Voucher prizes are only eligible for Tanoto Foundation Employees in Indonesia
– Winners from outside of Indonesia will win a set of special merchandise from Tanoto Foundation
– By entering the competition, each contestant automatically grants permission for their materials to be used in Tanoto Foundation's materials
– The judges' decision is final
– The Competition opens from September 3, 2021
– The video must be uploaded the latest on Sept. 17, 11.59 PM Jakarta time
– The winners will be announced on September 24, 2021.
– For Tanoto Foundation employees in China, you may enter the competition by sending us an email of the recording of your video on Weibo or WeChat and a screen shot of your video with the number of Likes, comments or engagement to german_wijaya@www.tanotofoundation.org