My Experience as Part of Tanoto Foundation's Humanitarian Mission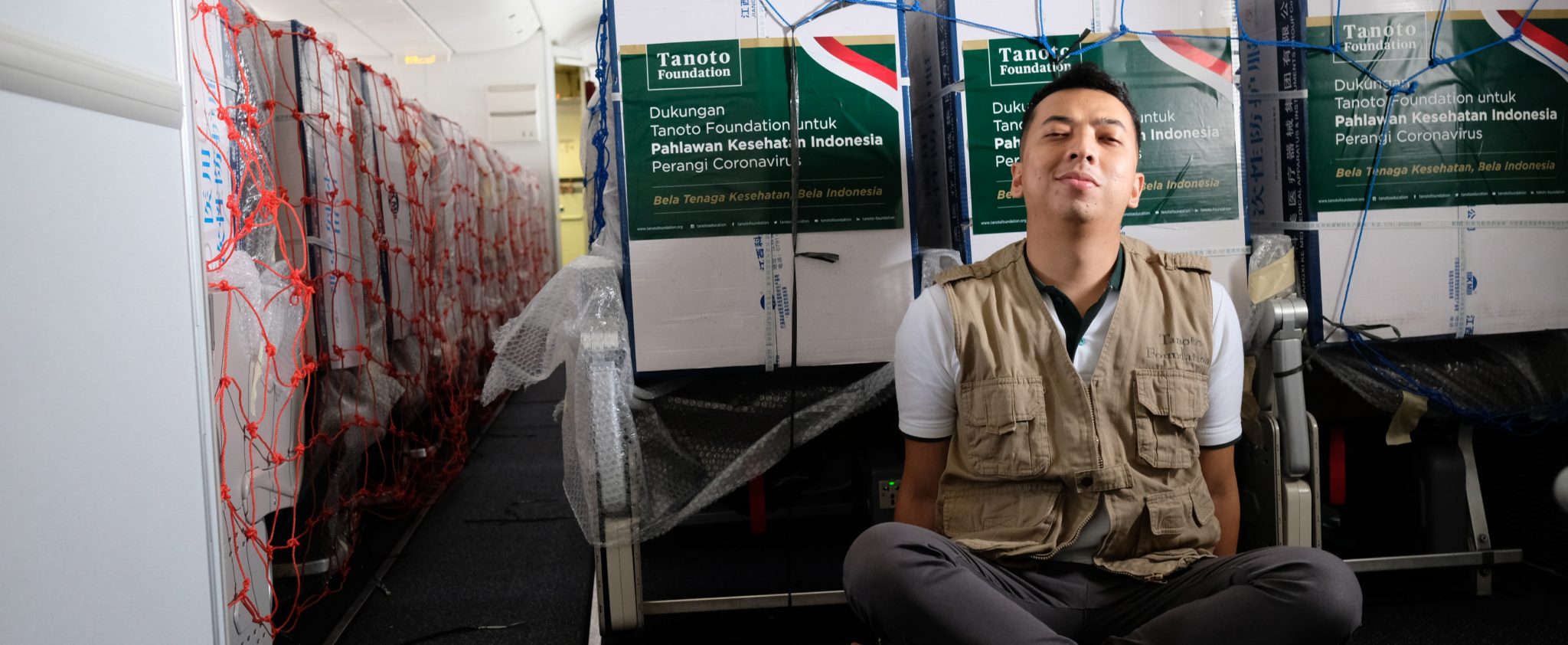 On Monday (13/4), Tanoto Foundation sent a team of three to Shanghai, China, to ensure the safe passage of donated PPE (personal protection equipment) to Indonesia via a chartered Garuda Indonesia Boeing 777-300ER. Fembiarta Binar Putra, one of the three members of the team that also included Sari Rezki Antika and Yosea Kurnianto and, pens down his experience.
You can also read Yosea's story here and Sari's piece here.
—
The best human being, is one who helps others.

Donny Dhirgantoro, Author
Hi, T-Friends. Let me introduce myself. I'm Fembiarta Binar Putra. Allow me to share my experiences related to a humanitarian mission to collect PPE donation goods in Shanghai, China, as part of efforts to combat Covid-19 in Indonesia.
On Wednesday, April 8th, at about 5PM, I received calls from PT RAPP Director Sihol Aritonang and APRIL Director of Corporate Affairs Agung Laksamana. I was offered to take part in a mission that would be beyond what I had anticipated.
"Fembi, are you willing to fly to Shanghai to collect PPE donation from Tanoto Foundation," Agung asked me.
"I can, sir!" I answered without hesitation. In less than four days, I had to prepare for the trip, which included arranging for my own PPE as well as documentation tools. I also had to stay fit and healthy.
On Sunday (April 12th) at 9.00PM, I arrive in Soekarno Hatta International Airport with Yosea and Sari, colleagues of mine who volunteered for the trip. We would soon board a chartered Boeing 777-300ER from Garuda Indonesia to bring back the donated PPE. For me and Sari, we have a close bond with Tanoto Foundation as we both received the Foundation's scholarships for our undergraduate studies.
At 11PM, we board the aircraft. Onboard, we meet Captain Didik, Captain Dedi and the cabin crew. The flight to Pudong International Airport, Shanghai, took about six hours and we landed 6AM local time.
Mid-flight, I did a tour of the cabin. There were more than 300 empty passengers seats covered in plastic sheets, as they would soon be loaded with boxes on the return flight. I realized this was not an easy task. We were responsible in ensuring that all the cargo were loaded securely and that we returned in good health.
We landed in Pudong at 6AM local time. We were instructed to fully don our PPE in accordance with health and safety standards. It took about three hours for all the PPE donations – comprising face masks, gloves, protective gowns and safety goggles – to be loaded onto the aircraft. All passengers on board were prohibited from leaving the aircraft for safety reasons. After loading all the cargo, we immediately flew back to Jakarta.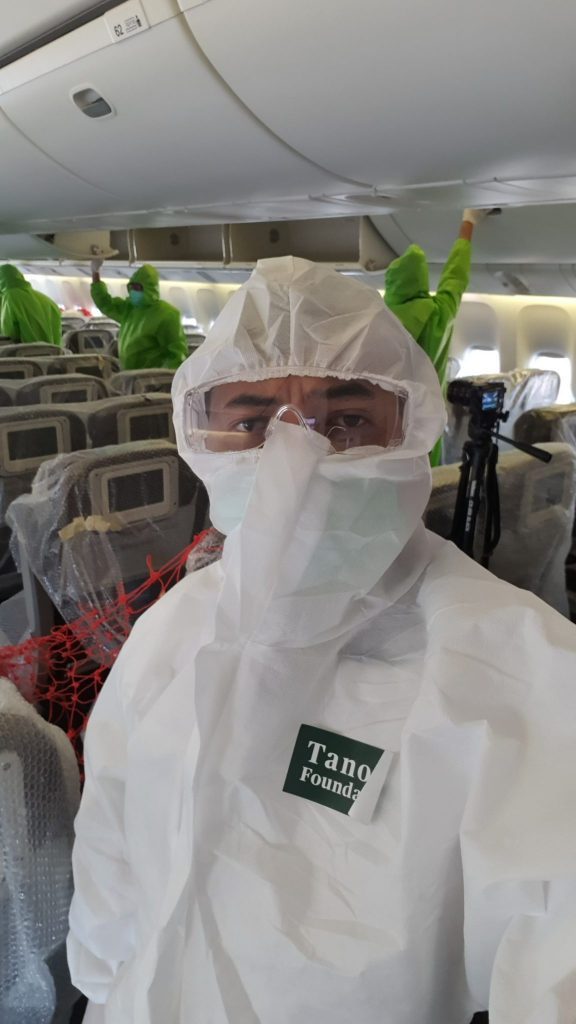 The PPE donations were later handed over to BNPB (National Agency for Disaster Countermeasure) and later distributed to designated hospitals. With these donations, Tanoto Foundation's commitment to BNPB would have been fulfilled.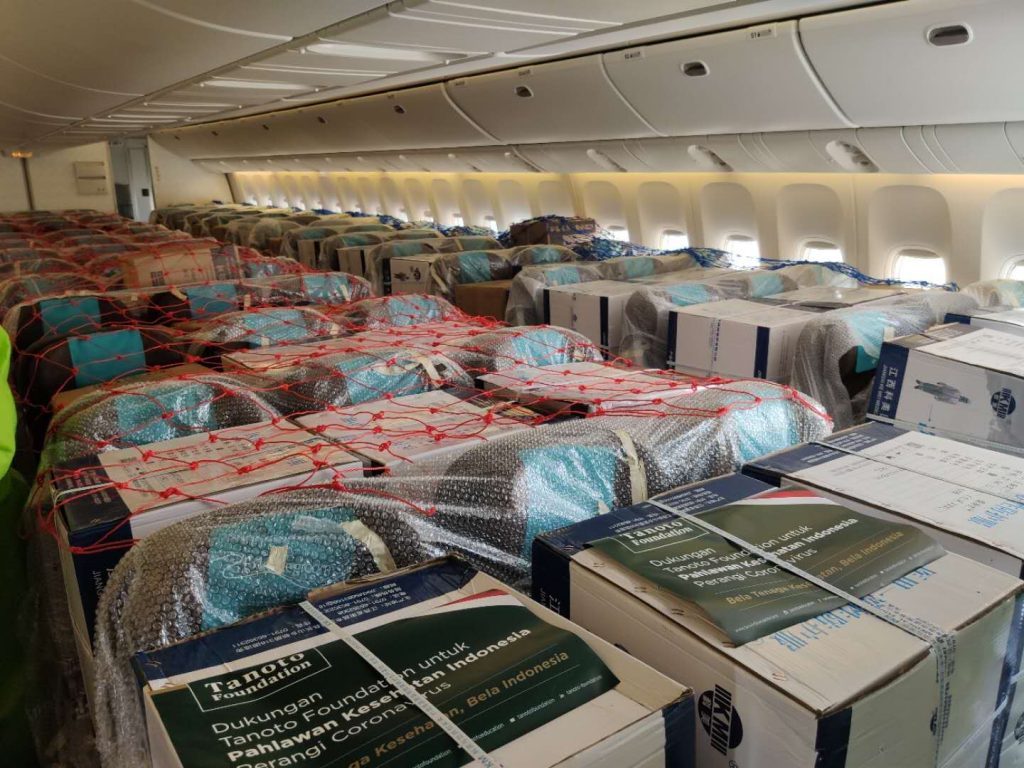 T-Friends, our journey to China and back might have only taken less than 24 hours, but it is a trip worth reflecting on. I would like to share some notes I made:
Willingness to serve
In this extraordinary situation, we are required to contribute in our own ways. The medical professionals play their part, and so do volunteers in disaster relief. Tanoto Foundation has committed to donate PPE to Indonesia's medical heroes. As an Indonesian youth, I felt the need to do something, and I am glad I was part of this humanitarian mission. We did what we did because we wanted to ensure the donations were brought to Indonesia.
Elevating our humanity
I experienced first-hand the values of humanity here. I spoke with Captain Didik who piloted the flight from Jakarta to Shanghai. He said that this was the first time he flew to collect humanitarian donations. He also said that he and his crew believed that while this mission had its risks, it was ultimately a humanitarian effort. It is precisely this belief that gave us the resolve to reflect on our humanity so we can serve others better.
Strengthen our nation
President Joko Widodo announced that Covid-19 is a national disaster and endangering lives. It is the right time for us to work hand in hand to combat this pandemic. Good health is top priority. We don't need conflicts based on race, religion or politics. Because we all stand together and stand by our medical forces. As we stand together, I'm sure Indonesia will overcome this pandemic.
Watch the journey on our video here:
View this post on Instagram