Working Hard for a Better Life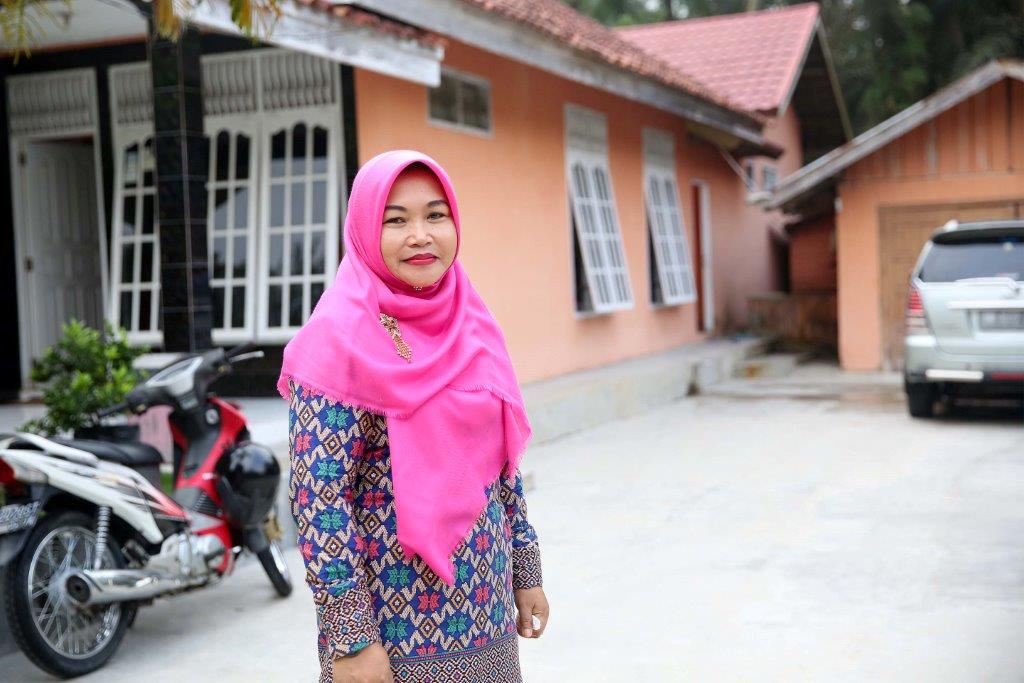 There was nothing in Sri Wahyun's childhood to suggest she would go on to become an award-winning teacher and principal of one of the most successful schools in Sumatra's Riau province. Born to parents who worked the land, the family was forced to leave home in Gunung Kidul, Yogyakarta, in late the 1980s to seek better economic opportunities.
"Alhamdulillah (Thank God), it's not always easy because we have to deal with challenges and obstacles every now and then, but we pray every day and do our best," Sri, 46, said during Tanoto Foundation's recent visit to her house in Pangkalan Kerinci.
Sri has been the principal of the SDN 09 Buatan Baru, one of the province's best elementary schools, for almost 10 years now. The 228-pupil school is a model of quality and success for every other school in the area. As a proof of the school's quality, the government awarded it a top ranking in its 2016 national assessment. But Sri is modest about the school's success. "I don't know why every state official and companies refer us as the model for good quality school. Also, every important guest coming to the area will be taken this school. Of course I am very proud as the principal but we still have many things to work on," she said. Stressing that many parties have done their part in making her and the school a success story, she underlined the important contribution of Tanoto Foundation, which has been providing assistance for several years.
Founded by Sukanto Tanoto and Tinah Bingei Tanoto, the Foundation supports efforts to improve quality of education in rural areas of Indonesia. One of the Foundation's activities, Pelita Guru Mandiri, provides ongoing training for teachers to improve education quality and classroom management. Tanoto Foundation also built facilities such as a new water tower, an improved library, and renovated the existing classrooms. The training, Sri said, has greatly improved the quality of the lessons and the children's enjoyment of them. "We thank Tanoto Foundation for all of its help. As of now, almost every teacher has joined the training, helping us become one of the province's best schools," Sri said.
Outside of the school, Sri nurtures a happy and healthy family with a son and daughter. Her husband is an employee of a local government office. Her son is finishing his education at the School of Government's Officials (IPDN) while her daughter is at junior high school in Pekanbaru, the province's capital.
"I am very proud of them. My children have grown to become smart and healthy people now. They all have high achievements in school. I hope they have much better life than our own and their grandparents," she said while remembering the time when everything was still very difficult. Born in 1970 to a poor family in poverty-stricken Gunung Kidul, Sri joined a teacher school but her father, a manual laborer, struggled to pay for her tuition. When, in 1987, the government offered the family places in a transmigration program to Riau, her parents accepted the opportunity of having their own land to cultivate. "It's the only way to get out of poverty," she said. She, however, had to stay in Java to finish her education. She then joined her parents in Riau two years later as soon as she graduated. She worked her way up until in 2007 she was appointed as Principal of SDN 09 Buatan Baru, which at that time was struggling and had poor facilities.
"It was not easy to develop the school into its current state. But thank God, Tanoto Foundation came and offered its training and facilities," she said.
And the rest, as they say, is history. "As my parents' and my own journey from Gunung Kidul have shown that we can only be successful by working hard, we hope our children can follow our path. We also hope that all these blessings will not blind us as we try to work hard and pray every day," she said.