Turning A Small Space to An Attractive Reading Corner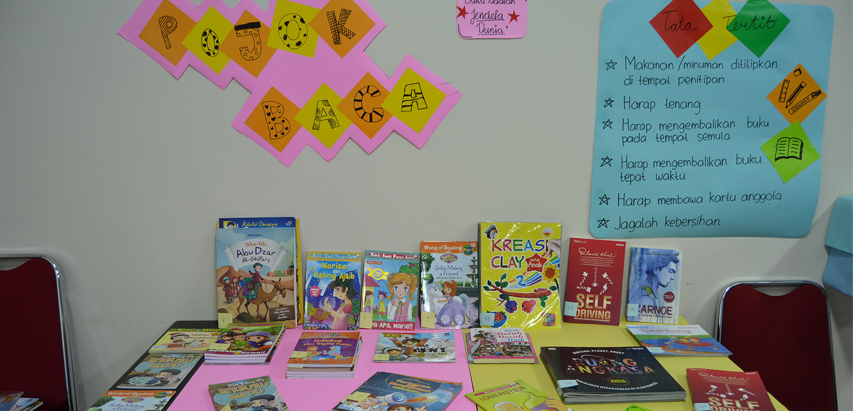 A reading corner by Tanoto Scholars of the University of Indonesia.
---
There are many possible causes of one's low level of interest in reading. A possibility is his or her lack of determination to read. Another is when there is no attractive facility to support such interest.
The recipients of Tanoto Foundation Scholarships or Tanoto Scholars from the University of Indonesia understood this predicament. They tried to improve the situation through training in library management recently.
Trained by Tanoto Foundation, these Tanoto Scholars learned the different ways of making small space to an attractive reading corner.
There were two main elements in managing a small library. The first element was to manage the book collection. The second was to manage the library's visitors or readers.
In this training, Tanoto Scholars learned to classify and group books based on their types. They were fiction, non fiction, and creative non fiction. The aim of this activity was to allow students to select books easily. The grouping of books was a part of book collection management.
However, such activity would not be sufficient to attract students to visit and stay in a library. A small library must also be decorated nicely so students would be comfortable to spend a long period of time there. With tools and equipment that were easily accessible, Tanoto Scholars were trained to produce decorative items for the library.
Tanoto Scholars played an active role during the training. Although they had been dealing with text books to support their studies, this training provided them with new knowledge and skills.
"The training material was very useful. We learned how to create an attractive place for children so they would spend time there to read books. We would implement this knowledge in our partner school at SDN 14 Srengseng Sawah," said Pongsilurang Merdin, one of the Tanoto Scholars.