Together in Community Service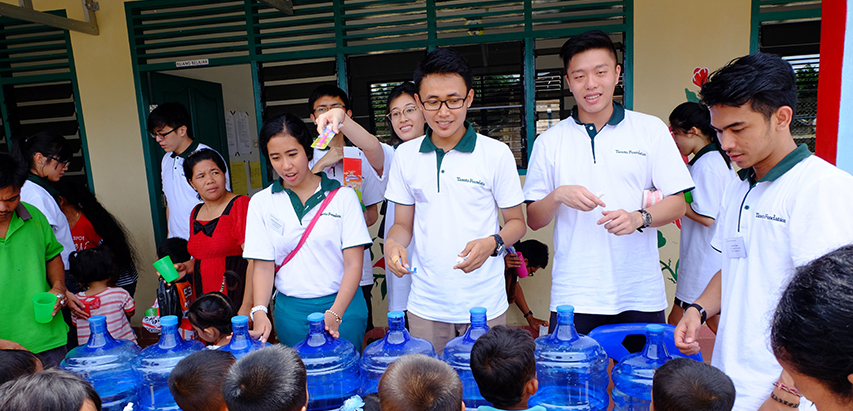 Project sukacita cultivating good habits in general and dental hygeine.
---
In its fourth edition, Project Sukacita saw undergraduates comprising 17 Tanoto Scholars from Singapore and Indonesia, and four volunteers join forces in the spirit of community service.
The National University of Singapore medical students in the contingent conducted health screenings and learning sessions to raise overall awareness on health, hygiene and nutrition. They also handed out toothbrushing kits to local preschoolers to encourage good oral hygiene practices.
The group helped out with spring cleaning and painting the walls of the childcare centres. They also conducted English and art and craft lessons for the children. The group comprised Tanoto Foundation scholars from various universities in Singapore (National University of Singapore, Nanyang Technological University, Singapore Management University) and Indonesia (Universitas Indonesia, Institut Teknologi Bandung, Universitas Gadjah Mada, dan Institut Pertanian Bogor).
Project Sukacita is a yearly programme that provides community service in less privileged segments of Pangkalan Kerinci. Project Sukacita aims to help raise the standard and quality of life through a cleaner environment, improved public health awareness and emphasis on early education for local children.
The programme gathers volunteers within and outside the Tanoto Scholar community, providing them the exposure to development issues faced in rural communities.
Tanoto Foundation creates opportunities for youth volunteers to contribute to the enhancement of the quality of life in the less privileged segments of society. Programmes like Project Sukacita provide the character and team building opportunities for participants, while supporting its beneficiaries with education campaigns and resources.
For more information, please visit click here.