Valuable Experience from Japan
Life is a challenge and we must have the courage to face it, including the first one encountered in life. That's what I felt when the Arjuna Team, the team of electric car students of Universitas Gadjah Mada, planned to join the Japan Student Formula competition for electric car category.
Participating in the competition in the Sakura Country was the first experience for me and the team members, because up to that time the Arjuna Team has only competed at national level competitions. The Arjuna Team wanted to reach the next level up by participating in international competitions. The Japan Student Formula was a competition that has been targeted since two years ago.
The first experience is not always easy. When we started, we did not know who to ask, because up to that time no team from Indonesia has ever participated in this competition.
So, ours was the first team from Indonesia to participate in the Japan Student Formula for electric car category. Not only we had to face technical issues, we also faced financial problems, because we had to go with quite a large number of members, namely 24 persons. However, we had the belief that every effort made full-heartedly was going to produce results. We finally got sponsorships to support our travel, one of which was from Tanoto Foundation.
When I arrived in Japan, I immediately made various observations of this country, both of the neighborhood where I stayed as well as at the paddock.
I learned a lot from teams of other countries. I discussed with them about the technology choices they have adopted up to the various rules of the competition, which were not all listed in the written rules.
It was fun to be able to acquire new knowledge. The fifth generation electric car that we have designed eventually entered the competition. Arjuna 5 car could travel up to 80 kilometers with a speed of 50 km / hour at each battery charging. The jury gave an appreciation to our car which participated in the competition for the first time. Our car also managed to pass through two stages of inspection from the electronic and mechanical sides.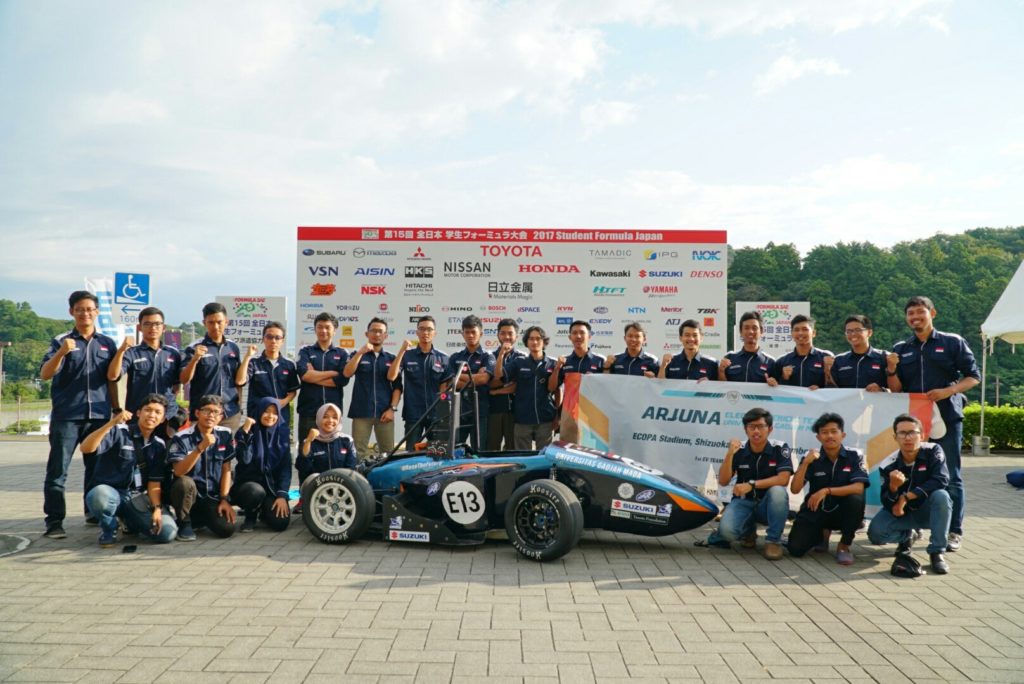 We also participated in a static event comprising business logic presentations. We competed against 115 teams from various countries and the Arjuna Team successfully won the "Best Presentation for Overseas Participant". We were proud to be a representative of Indonesia and to have achieved the best result.
I hope to be able to continue what I have pioneered up to now. And I hope that in the future I can be involved in the manufacture of electric cars in Indonesia. Considering what I have experienced in the Japan Student Formula competition, Indonesia can do much in adopting this environmentally friendly vehicle technology.
I also have a souvenir for my friends in Indonesia, which are tips for achieving success outside the academic field. First, do not give up easily. Never give up without a fight. Frankly, we started from scratch. But we never lost the will to go on. We utilized internet technology to search for data about the registration procedure up to the tips for joining the Japan Student Formula competition. It turned out that we could get through it well.
Second, make the most of your college days. Studying is not limited to learning in the classroom. Being a student is an opportunity to gain access to activities for self-potential development. Besides participating in an international competition, I also participate in Tanoto Scholars Association (TSA) activities which are useful for supporting my self-development. Development of soft skills such as public speaking skill in TSA has been very useful when I had to work together with other people in the Arjuna Team.
Third, do not be afraid to have a dream. No matter how high your dream is, there will always be a way to make it happen, as long as you are willing to make the effort full-heartedly.
Written by Fathian Hafiz Aulia, Tanoto Scholar from Universitas Gadjah Mada