Tanoto Foundation and Temasek Foundation Conclude Symbolic Handover of Joint Donation to GSI Lab at Indonesian Embassy in Singapore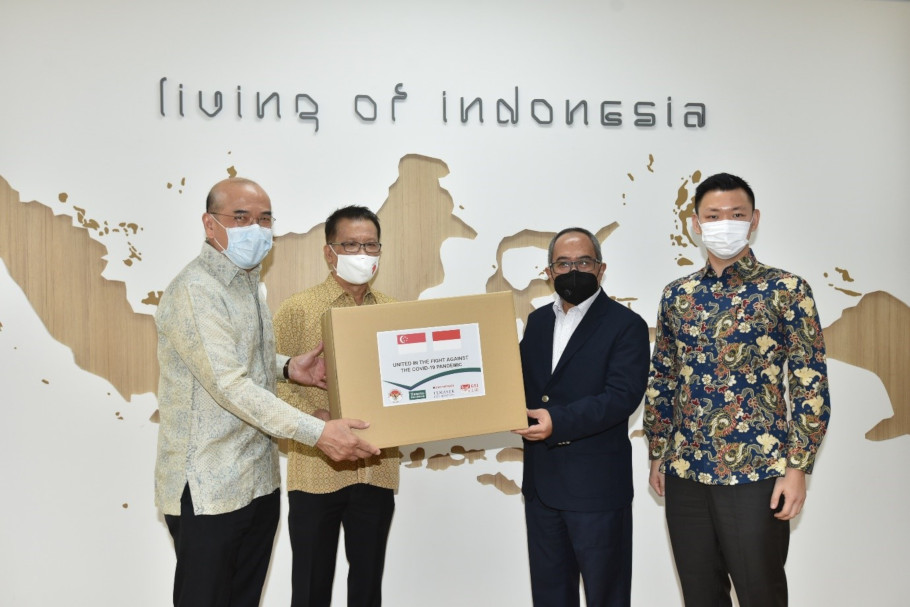 In an effort to boost COVID-19 testing capacity in Indonesia, Tanoto Foundation, an independent family philanthropy organisation founded by Sukanto Tanoto and Tinah Bingei Tanoto in 1981, has partnered Temasek Foundation to jointly donate one MGI RNA extraction machine, one PCR testing machine and 10,000 test kits to Indonesia-based social enterprise GSI Lab.
The two foundations held a symbolic handover ceremony at the Indonesian Embassy in Singapore on 9 December 2020. Hosted by the new Indonesian Ambassador to Singapore H.E. Suryo Pratomo, the ceremony also included representatives from GSI Lab, who attended via Zoom.
This ceremony followed the 2 November 2020 symbolic handover ceremony in Jakarta. Then, GSI Lab had already deployed the donated equipment and put them to good use.
The collaboration, the first for both foundations, will help increase GSI Lab's capacity of 5,000 tests per day by at least 12 percent.
H.E. Suryo Pratomo highlighted the important role of public-private partnerships in fighting COVID-19. He added that no country can do it alone and that cooperation would go a long way in helping the region recover.
Member of the Tanoto Foundation Board of Trustees, Anderson Tanoto said at the event: "As a private foundation, it is an honour to be able to bring to life a public-private partnership. These are unprecedented times. In March, we did not know how to tackle this pandemic. We did not know how long this pandemic would last. And all we could do was to save lives. We made the decision to fly in 1 million masks, 100,000 PPE into Indonesia, in collaboration with Garuda and we chartered a 777 in April."
"But now, we need to protect our healthcare workers, help our economy recover, do more testing on the ground, and save lives, save livelihoods. For Indonesia, that is very important to the country of over 260 million people."
"We hope this collaboration between Tanoto Foundation, Temasek Foundation and GSI Lab can bring us another step towards increased testing in Indonesia. Increased testing will help us out of this COVID-19 pandemic. It is an essential part of the recovery of Indonesia and we're happy to be able to collaborate and be part of this recovery process. We hope that more PCR test kits can be available at low cost, at high speed, so we can usher in a better 2021."