How Tanoto Foundation Supports The Sustainable Development Goals in Indonesia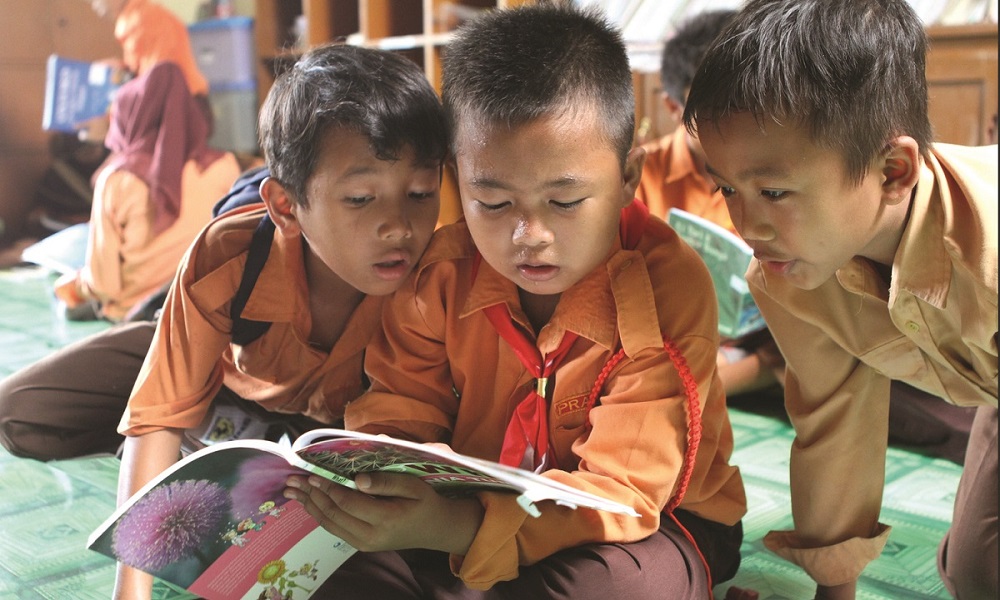 Since its inception in 1981, Tanoto Foundation has helped thousands of people in the areas of education, empowerment and enhancement of lives. But the reality is that Indonesia is simply too big a country for a single organization to make a meaningful impact at the national level.
"We are in 300 schools in Indonesia," explains Sihol Aritonang, Head of Tanoto Foundation in Indonesia. "That sounds like a lot until you realize that there are 300,000 schools in the country."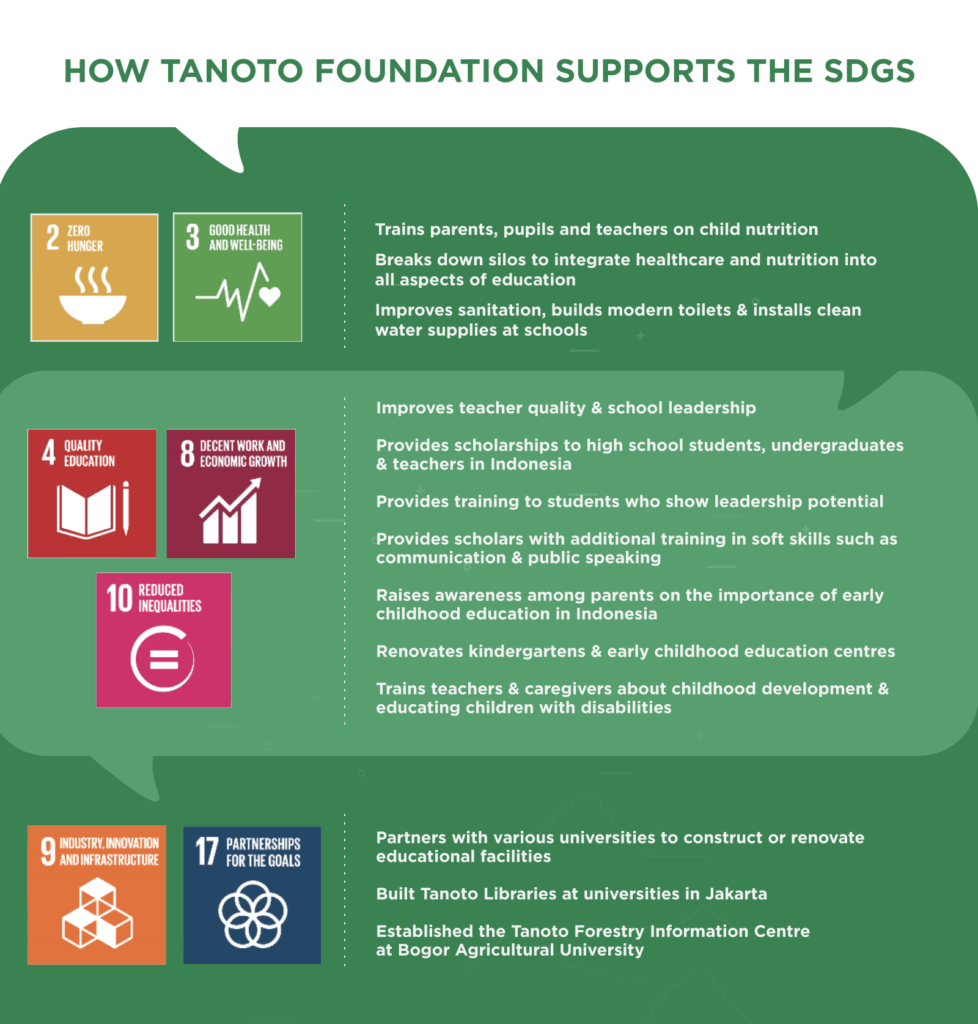 Collaboration is key, but different organizations typically have different priorities, methods and processes. The Indonesian government, companies and philanthropic organizations quickly came to the conclusion that the launch of the UN's Sustainable Development Goals (SDGs) in 2015 provided the ideal framework to tackle the country's challenges using a common language.
"At the national level, we are barely making a dent so we realized that we need to work with others to achieve our goals – that we should align ourselves with other players towards achieving the SDGs," says Sihol.
As decision-making on development in Indonesia is relatively decentralized, there are multiple levels of government that must be worked with. In addition Tanoto Foundation collaborates with corporate partners such as APRIL Group and Asian Agri, as well as other philanthropic groups, such as its support for the Asia Philanthropy Circle.
Adopting the SDGs enables all these organizations to align their efforts without necessarily needing to make major changes to their programs – each organization is free to work on a particular SDG or not, provided the goals match those listed in the targets.
Education
Education has always been a key focus of Tanoto Foundation – in fact it was to run a kindergarten that Sukanto Tanoto and his family originally founded the organization. Therefore much of its work supports SDG 4, which calls for Quality Education.
Tanoto Foundation improves basic education in Indonesia by improving teaching quality and school leadership. It works with partner schools to create local and regional centers of excellence, training principals and teachers in the schools to enable them to raise quality of teaching, make lessons more engaging for students, and improve overall management.
Teachers have received training from Tanoto Foundation in areas such as development and implementation of contextual learning, collaborative learning between teachers and students, and classroom management.
Tanoto Foundation's work with schools also encompasses SDG 2 (zero hunger) and SDG 3 (good health and well-being). Indonesia does not lack food, yet 37 per cent of children below five are stunted, and 57 per cent of rural children are anaemic, largely due to poor understanding of nutritional requirements. At the same time under-five mortality remains above the SDG target of 25 per 1,000 live births.
Tanoto Foundation works to improve sanitation in schools, building modern toilets and installing clean water supplies. It also provides training to parents, pupils and teachers on proper hygiene and nutrition, with the aim of reducing malnutrition and easily preventable childhood illnesses.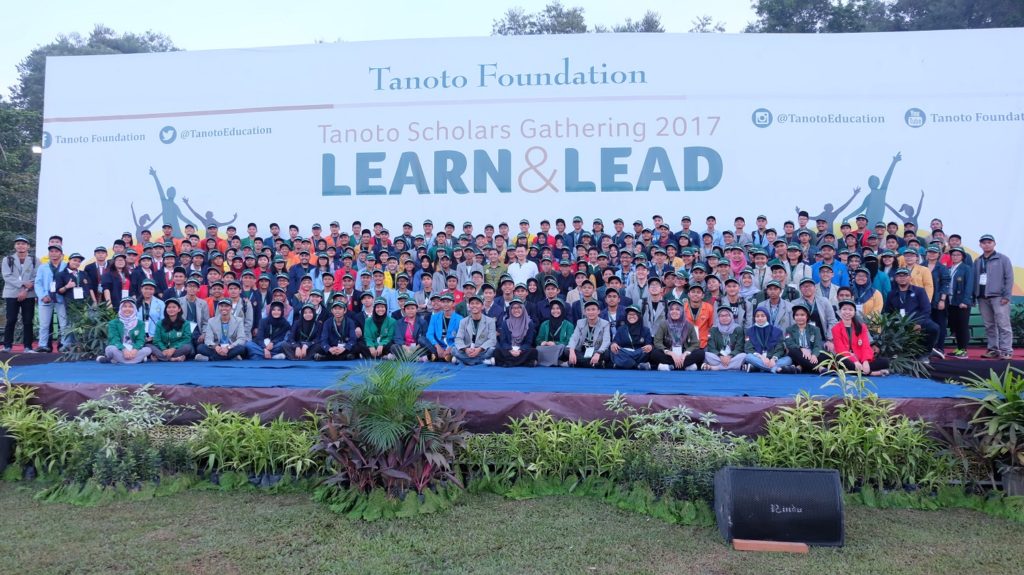 Scholarships
Tanoto Foundation is well known in Indonesia for its scholarships, which so far have helped more than 7,200 high-achieving students complete undergraduate degrees at some of the country's top higher education institutions. With a strong focus on students who demonstrate leadership potential, the scholarship program supports SDG 8, which aims to promote decent work and economic growth.
Tanoto Foundation disburses scholarships to over 450 university students annually, 250 of whom are flown out to participate in an annual Tanoto Scholars Gathering event where they receive additional soft skills training in public speaking and leadership.
Scholarships are also provided to undergraduates studying full-time at universities in Singapore, China and the US.
Tanoto Foundation also partners with universities around the world to improve education, including through the construction or renovation of educational facilities.
There are Tanoto Libraries at the Prasetiya Mulya Business School and Bhayangkara University in Jakarta, a Tanoto Floor for the Faculty of Forestry at Gadjah Mada University in Yogyakarta, and a Tanoto Forestry Information Centre at Bogor Agricultural University.
Meanwhile, the Tanoto Initiative at the Wharton School facilitates international linkages between Indonesian universities and the prestigious business school, with the main aim of providing students with new learning opportunities, improving higher education quality, and enhancing research on the regional economy.