Tanoto Foundation Supports Schools during Dry Season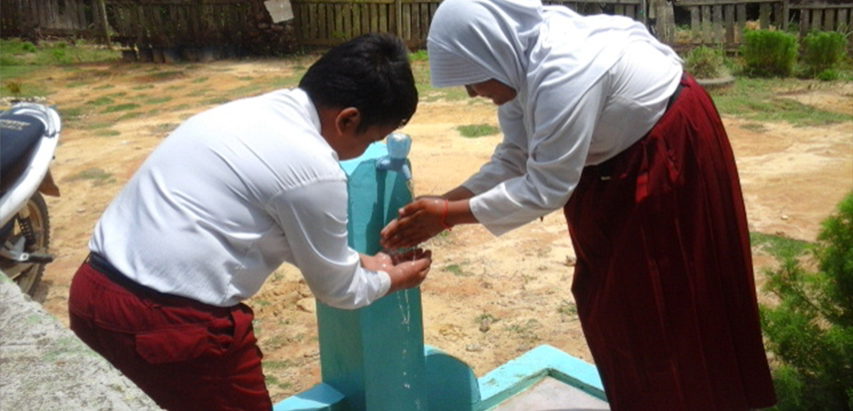 SDN 29 Terusan Jambi can easily access clean water despite the dry season.
---
Written by Yudha Priana, Tanoto Foundation Jambi
The rain has not yet come. Since May this year, because of the extended dry season, many areas in Jambi have also experienced drought. The surface of Batanghari River has consistently been going down. Normally, the surface of the longest river in Sumatra would reach 10 meter. Now, it is less than seven.
To overcome the drought, communities use wells as their only sources of clean water. However, without any rain, these wells will eventually dry out too. During afternoon or night time, many people would go to the River to get clean water.
Fortunately, this problem is not found at SDN 170/I Kehidupan Baru, SDN 175/I Karya Mukti, SDN 176/I Karya Mukti, SDN 149/I Lebung Kato Ati and SDN 29/I Terusan. These five schools have been participating in Tanoto Foundation's Hygienic School program. As part of the collaboration, Tanoto Foundation provides toilets and clean water facility for the schools.
In addition to supporting the schools during this long dry season, children of the schools also use the clean water to regularly wash their hands as part of Tanoto Foundation's Hygienic and Clean Living Campaign. Furthermore, teachers whose house is located near the school are also supported by the easy access to clean water.
Bapak Thamrin, Head of SDN 162/I Bukit Sari who lives not far from SDN 175/I Karya Mukti said, "The people of the village who live around the school are very appreciative of Tanoto Foundation's support. Although it is a dry season, we can easily get clean water now. Our dry season this year is much easier than last year."
Tanoto Foundation collaborates with more than 320 schools to improve their quality of education. The activities do not include only improvement of facilities and infrastructure of schools, but also teachers capacity building, support for students to develop love of reading, and dissemination of good practices in teaching and learning process to other schools. These activities are currently implemented in North Sumatra, Riau, and Jambi.