Tanoto Foundation Supports Jakarta as Child Friendly City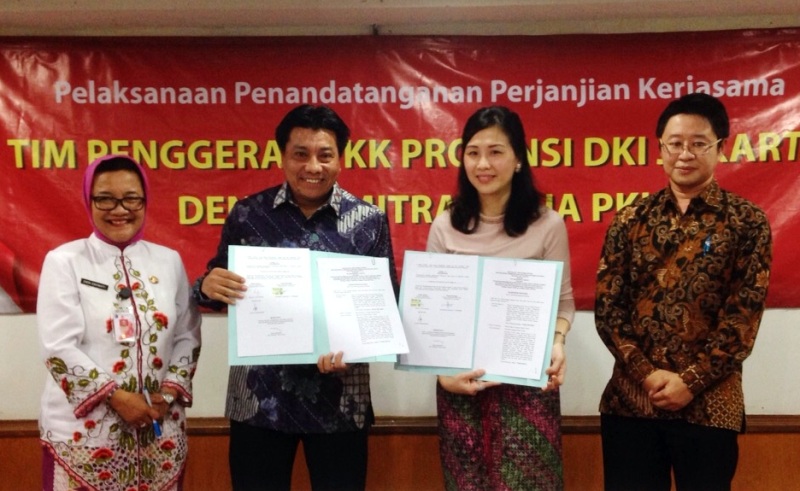 Public space is a crucial matter in any urban areas, including Jakarta. Because of the region's need in and development of residential and commercial areas, open spaces that would allow children to play, learn, and interact with each other have significantly decreased. Realizing that this is an important matter for the city and people of Jakarta, the Provincial Government has been actively encouraging efforts to build integrated and child-friendly public spaces.
Such effort is managed by Jakarta Family Empowerment and Welfare Team and spear headed by the spouse of Jakarta's Governor, Veronica Tan Purnama. To implement this initiative, the Provincial Government has been working with the private sector and organizations, including Tanoto Foundation. To commemorate this commitment, all involved parties took part in a Memorandum of Understanding signing ceremony in Family Planning and Women Empowerment Body Office in Cempaka Putih on May 8, 2015.
The integrated child-friendly public space will provide outdoor playground for schools, including early childhood development centers, from the surrounding areas. As part of Tanoto Foundation efforts to improve quality of education, it will support some of the early childhood development centers that are located around these public spaces.  Tanoto Foundation's support include school building renovations, provision of teaching aids and learning tools, as well as training for teachers to support their certification process.  These centers will also play a key role in maintaining the public spaces together with the Family Empowerment and Welfare Team and community members.
"The support from Tanoto Foundation is in line with the vision of Tanoto Foundation's founders, Sukanto Tanoto and Tinah Bingei Tanoto. We have been involved in efforts to alleviate poverty through education, empowerment and enhancement. To realize this vision and ensure the sustainability of the program, we collaborate with the Government and surrounding community," said Sihol Aritonang, Executive Director of Tanoto Foundation.
To date, Tanoto Foundation has supported two early childhood educations centers in North Jakarta. Tanoto Foundation also collaborates with more than 320 schools in North Sumatra, Jambi, and Riau to improve their quality of education.