Tanoto Foundation Supports Indonesia Young Researchers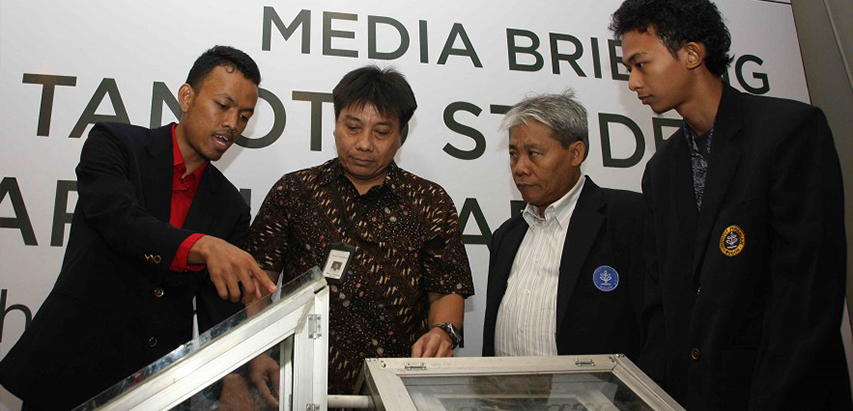 Prasetyo Zahara (left) showed double panel technology to distill salt water.
---
Many of us have never thought about the people who live on coastal areas and the challenges they face everyday. For example, the obstacles they need to overcome to get clean water for their daily use. Unlike many people, Prasetyo Zahara, a student from Bogor Agricultural University, Department of Maritime Affairs and Fisheries, Faculty of Maritime Technology and Science has thought about this and come up with a solution.
Using the knowledge that he has gained from his classes in the University, he carries out a research to find how a double panel technology could be used to distill salt water. The goal of this research is for people to live on coastal areas or remote islands of Indonesia to have easy access to clean water.
This is one of many examples of how results of researches can be used to provide solutions for challenges that exist in different communities. Further, results of a research could also be applied for the development of economy, social, politics, and technology aspects that subsequently could improve the welfare of many.
Based on this, through Tanoto Student Research Award, Tanoto Foundation has been supporting many different researches, particularly those that have been carried out by students of partner universities. This yearly event looks for young researchers with good potential from partner universities.
For students, Tanoto Student Research Awards feels like a breath of fresh air. "As a young researcher, we need a great deal of support from different parties. We are fortunate that Tanoto Foundation continues to provide financial support for these endeavors," said Prasetyo.
Tanoto Student Research Award is a part of Tanoto Foundation's efforts in improving the quality of higher education in Indonesia, or the "software" component. Tanoto Foundation also supports partner universities in the provision of the "hardware" part of education, namely facilities and infrastructure. Tanoto Foundation also carries out Tanoto Entrepreneurship Series which provides opportunities for Indonesian university students to learn about entrepreneurship directly from successful business actors.