Tanoto Foundation partner school successfully implements reading program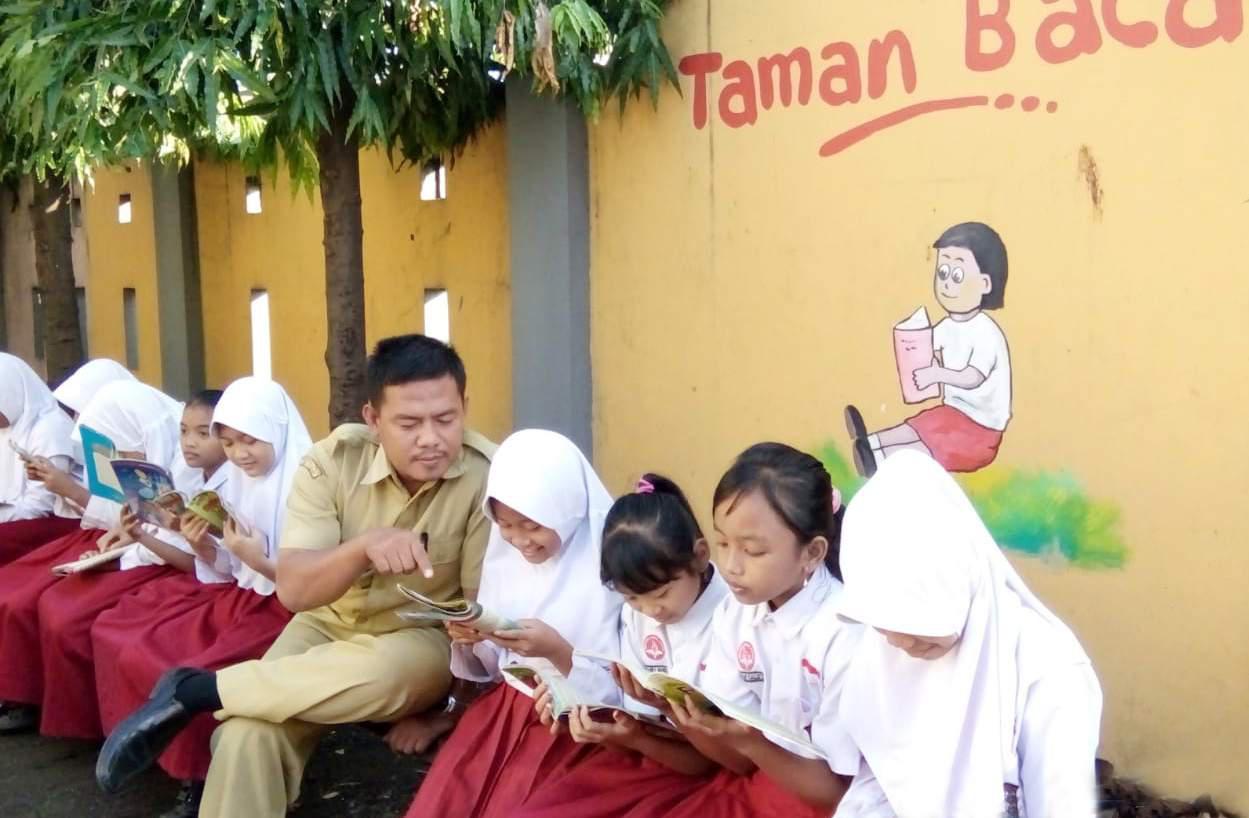 Before November 2018, students who arrived early to school at Brangsong 1 Elementary School (SDN 01) in Kendal, Central Java would be seen running around and playing in the school yard before classes started.
But these days, you'll see a different sight with students sitting in a neat row in the school yard and reading contentedly before lessons begin.
This is a result of the School Literacy Movement (Gerakan Literasi Sekolah, GLS) program that Siti Alfiah, the school principal, implemented in the school last year to improve reading culture at the school.
The School Literacy Movement program ensures that all elementary school students in Indonesia spend at least 15 full minutes of reading every day.
Siti Alfiah implemented the program at the school, after participating in a school management and literacy training session by Tanoto Foundation two months earlier.
The program was well-received by the students, who very quickly became used to reading books for 15 minutes before class, she said.
Siti Alfiah credits the program's success to the shared vision that the school leaders, teachers, committees and parents share, following their participation in Tanoto Foundation's training about school management, literacy and active learning methods.
The program has been supported with the construction of a reading area in the school yard and reading corners in classrooms, as well as donation of books from parents.
"It has been working well because we all understand the objective of this program, which is to improve the quality of schools and students in Indonesia. Another key to the success of this program is good communication between all the relevant parties," she said.
The 15-minute reading program is in addition to the book reading activities which are already held at the school every Tuesday, Wednesday and Thursday. The younger students read out loud to improve language fluency and pronunciation, while students of higher grades will read quietly.
Besides achieving an increase in the students' average scores in the Indonesian language subject, the school has also performed well in various competitions, such as the sub-district level National Student Arts Festival and Competition, where SDN 01 Brangsong emerged as the champions by winning seven golds, one silver and one bronze.
The school also collected 15 trophies at a district level Islamic subject competition, with several students advancing to the provincial level of the competition, which involved competing in poetry reading, storytelling and speech giving.
The reading program clearly has had a significant impact on improving the students' literacy skills in the past half year and the school hopes to see continuous improvement, Siti Alfiah said.