Tanoto Foundation Inaugurates Rumah Anak SIGAP in Jakarta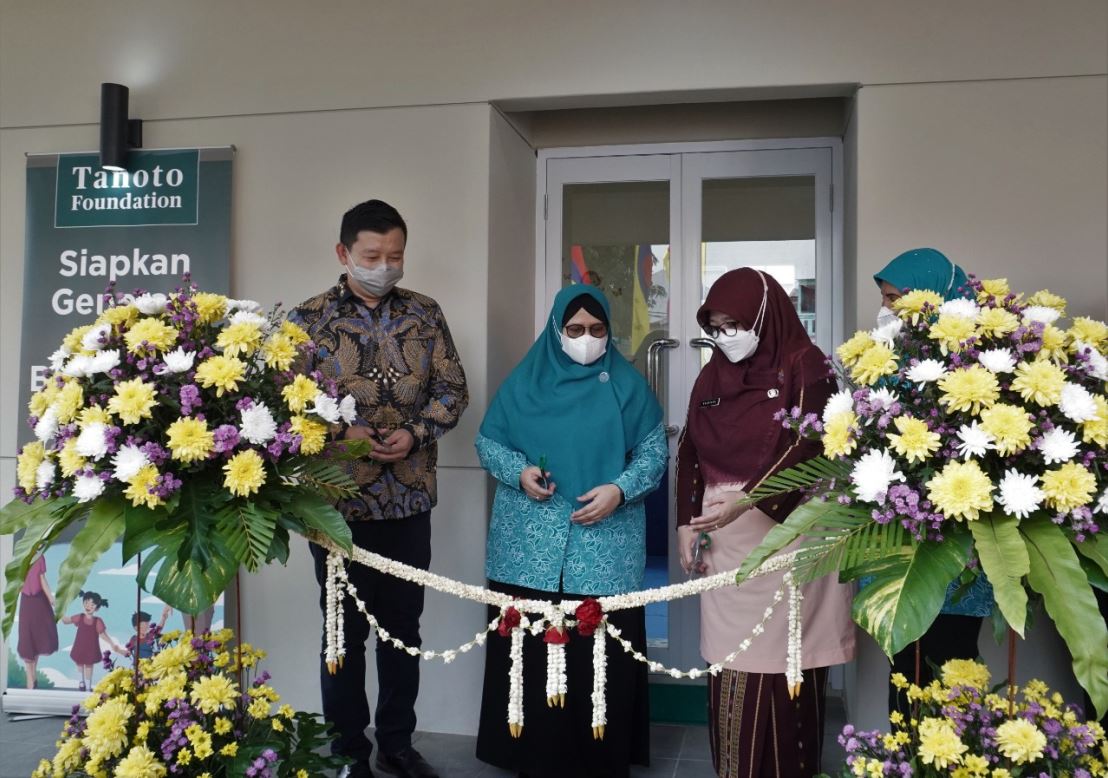 Tanoto Foundation opened Rumah Anak SIGAP on May 20th, 2021, in TKN Jatinegara 01, East Jakarta, as a way of supporting childcare in Indonesia.
Rumah Anak SIGAP is part of the Tanoto Foundation's SIGAP (Strengthening Indonesia's Early Generation by Accelerating Potential) initiative, which is carried out in collaboration with the local government, in this instance the DKI Jakarta Provincial Government.
The inauguration ceremony of Rumah Anak SIGAP was carried out on site by the Head of the Family's Character Development Division of the DKI Jakarta Province's Family Welfare and Empowerment Mobilization Team, Ellisa Sumarlin, the Head of the DKI Jakarta Education Office Nahdiana, and Tanoto Foundation's Head of Early Childhood Education and Development (ECED) Eddy Henry.
"This Rumah Anak SIGAP in DKI Jakarta is a manifestation of Tanoto Foundation's commitment to enhancing human resources in Indonesia by boosting the quality of early childhood care," Eddy Henry remarked, adding "we thank the involvement of sub-district authorities, village officials, and the community around Rumah Anak SIGAP's site, who collaborated and helped finish the building of Rumah Anak SIGAP so that we could provide early childhood care services for a better future for our children."
Meanwhile, according to Ellisa Sumarlin, "The creation of the Rumah Anak SIGAP is an initiative that should be commended in order to prepare the next generation, because proper parenting will maximise children's growth, allowing them to grow to be healthy, intelligent, and unique individuals. Hopefully, the programmes will help both parents and society as a whole."
Tanoto Foundation is planning to build 22 Rumah Anak SIGAP, which will open this year to provide early childhood (0-3 years) care and stimulation services in DKI Jakarta Province, Pandeglang Regency, and Kutai Kartanegara Regency.
Rumah Anak SIGAP in Jakarta may be found at Kebon Jeruk, Duren Sawit, and South Gandaria.
Tanoto Foundation's SIGAP programme creates a working model to assist families in caring for children aged 0 to 3 years. Establishing a strong relationship between parents and children during the early stages of their development is critical for children's motor, linguistic, cognitive, and socio-emotional development. Play and parenting activities, individual activities/family consultations (parents and children), home visits, and other supportive activities are all provided at Rumah Anak SIGAP.