Tanoto Forestry Information Center Supports Indonesia Forestry Sector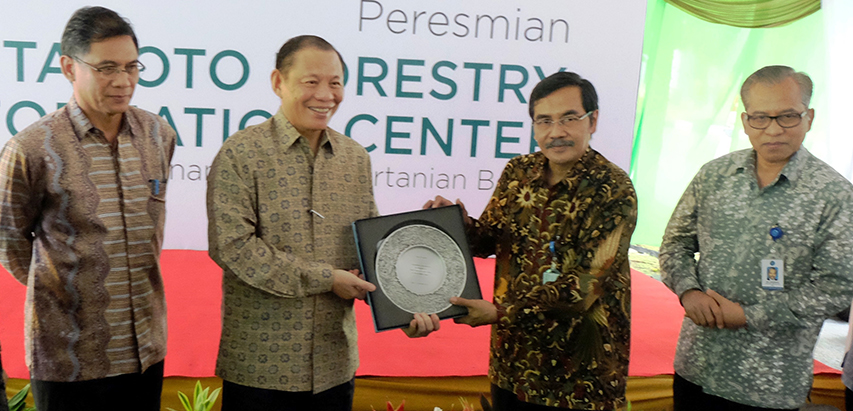 Chairman of RGE Group Sukanto Tanoto (second from left) exchanged souvenir with Muhammad Dimyati of Ministry of Research, Technology, and Higher Education during TFIC inauguration.
---
Indonesia's forestry sector will continue to flourish next year if the government provides more support for its development, according to Founder and Chairman of Royal Golden Eagle (RGE) Group Sukanto Tanoto.
"I believe the forestry sector will continue to grow in the future, if the government thinks of its good impact on social welfare but at the same time keeps it in balance with environmental conservation," he said during the launching of the Tanoto Forestry Information Center at the Bogor Agriculture University (IPB) in Bogor on Monday.
Tanoto Forestry Information Center is a collaborative project between the Tanoto Foundation and IPB to build a library with international journals and discussion centers for local and international researchers on the university campus.
Tanoto said Indonesia could become one of the top five paper producers in the world if only supported by government policies and an awareness on the part of business players for environment-friendly practices.
Indonesia is now the ninth-biggest paper producer in the world, which compares to Canada and Finland in fifth and sixth position, respectively.
"Canada and Finland harvest their trees every 40 to 50 years," he said. However, these countries had managed to become some of the world's biggest paper producers because they were supported by proper government policies, said Tanoto, the owner of Asia Pacific Resources International (APRIL).
In Indonesia, trees can be harvested between four to five years.
Meanwhile, APRIL's subsidiary PT Riau Andalan Pulp & Paper (RAPP) aims to kick off operations at a third paper mill next September and to soon start work on a clothing fiber factory, PT Sateri Viscose International (SVI), both in Riau.
RAPP president director Tony Wenas said the new Rp 4 trillion (US$285.7 million) paper mill would add 250,000 tons to the company's present annual capacity of 850,000 tons.
Under the PaperOne brand, the company so far exports around 75 percent of its product to some 75 countries, mostly in Asia. It expects to ship to up to 85 countries by year-end.
Construction of the Rp 14 trillion fiber factory, meanwhile, is planned to commence in the first half of next year. "With the global economic weakness, there is a little decline in demand. This is a very normal economic cycle, so we do not see it pessimistically, but with optimism that it is the right time for us to invest," Tony told reporters in Bogor on Monday.
Based on Jakarta Post article: Forestry Tycoon Urges More Government Support for the Industry