Tanoto Forestry Information Center Inaugurated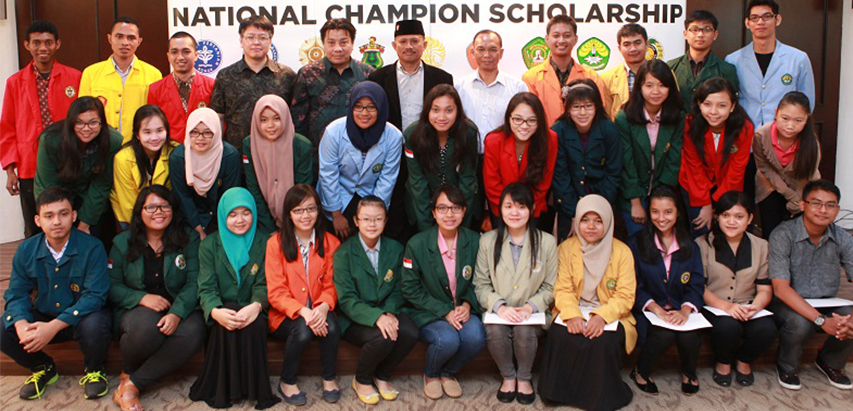 Sukanto Tanoto (first left) observed a student accessing different international forestry journals at the Center's e-library.
---
Institut Pertanian Bogor (IPB) together with Tanoto Foundation inaugurated Tanoto Forestry Information Center, a center of forestry information that will be used by researchers, academia, and students from Indonesia and the region.
Founder of Tanoto Foundation, Sukanto Tanoto said during the inauguration on Monday, December 21, 2015, "Tanoto Forestry Information Center is one of our initiatives to support the development of forestry science in Indonesia. We look forward to wider collaboration with Bogor Agricultural University and other universities and research institutions to further develop research and development."
"The forestry's industry and sector is crucial to the economy of Indonesia. To improve the sector's contribution, Indonesia needs people knowledgeable in forestry. These are the people who can use and develop applicable knowledge. We hope Tanoto Forestry Information Center will produce prominent scientists and practitioners of forestry at the national and international levels," added Sukanto Tanoto.
Meanwhile, Rector of IPB, Herry Suhardiyanto said, "With Tanoto Forestry Information Center, we can have national policies that are based on scientific research and findings. We also hope Tanoto Forestry Information Center could continue to foster researches that are focused on forestry management."
In the three storey building that covers 1,500 square meters area, access to international journals is also available in the Center's e-library. The Center will be open to public to enable easy access to and sharing of different types of forestry information.
The collaboration between IPB and Tanoto Foundation has been taking place since 2006 through activities such as Tanoto Foundation scholarship program and Tanoto Student Research Awards. To date, Tanoto Foundation has provided scholarships for more than 400 undergraduate and graduate students from IPB.
Based on an article on Beritasatu.com; IPB Miliki Pusat Informasi dan Riset Kehutanan.