Striving Unselfishly for Indonesian Children Education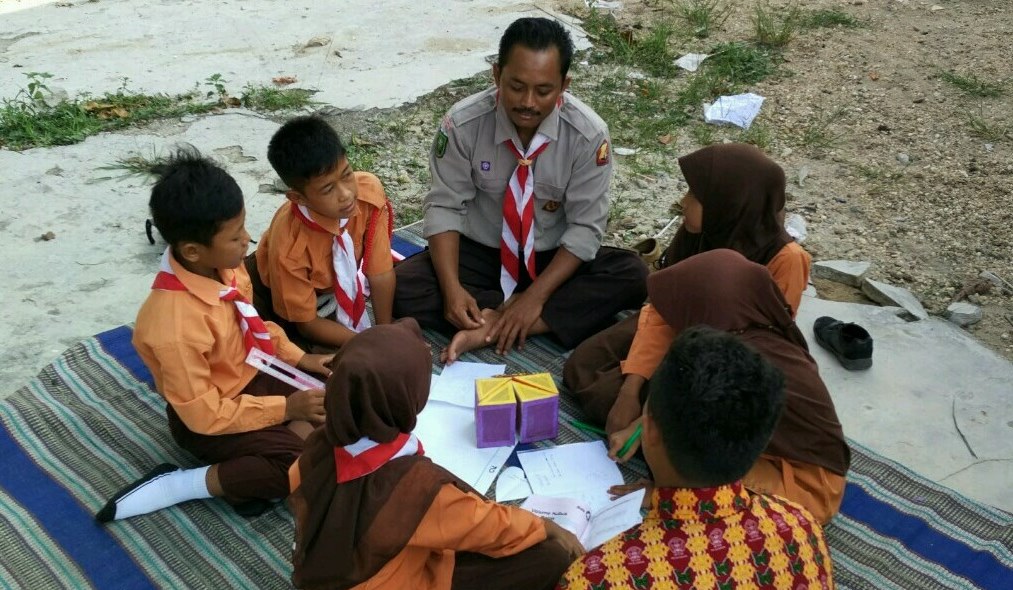 Little Sukatno experienced difficulty to access education.  In order to continue his study to the lower secondary education, he even had to work in Jakarta for three years in order to save money for the cost.  Now Sukatno devotes his mind and energy to promote education in his village.
Living in an economically disadvantaged family made it difficult for Sukatno to go to school.  This situation faced him again when he decided to move to Desa Bagan Limau, Kecamatan Ukui, Kabupaten Pelalawan, Riau.
Many children did not go to school because they experienced difficulty in access and financial support.  Because of these reasons, Sukatno opened a place for children to study and to learn to read the Quran in the afternoon.  These activities apparently attracted the attention of the local community leaders, who then gathered other residents to work together in constructing a primary school by self-help.
The idea was well accepted, and thus the residents began to work together until a school building materialized which was officially in operation in 2001.  And Sukatno became one of the teachers for sports subject at that school.
At that time, Sukatno was promised a pay of Rp35 thousand per month, but for four years he never received the money.  Even so, he and his wife remained grateful because sometimes there was sustenance from parents of students in the form of rice, sugar, or vegetables.
Until now, his status is still a honorium-based (non-permanent) teacher, but this does not dampen his desire to be able to do much for education.  Now, Sukatno, who is also a satai vendor, is continuing his bachelor's degree education for Elementary School Teacher Education (PGSD) program.
He vigorously participates in various trainings, weather training from the government or training from the Tanoto Foundation.
"After returning from training, I always bring a gift for my students, which is knowledge," said this man who now teaches seven subjects for 5th grade students in SDN 017 Bagan Limau, Riau.
"Thanks to the various training I have participated in, I am now more confident in teaching and making creative learning media for my students," he added.
Quoted from the article entitled Sukatno Gotong Royong untuk Pendidikan (Sukatno Participates In Mutual Assistance for Education), Mediaindonesia.com, July 22, 2017. The original paper can be read here.