SDG Academy Indonesia Programs to Support Sustainable Development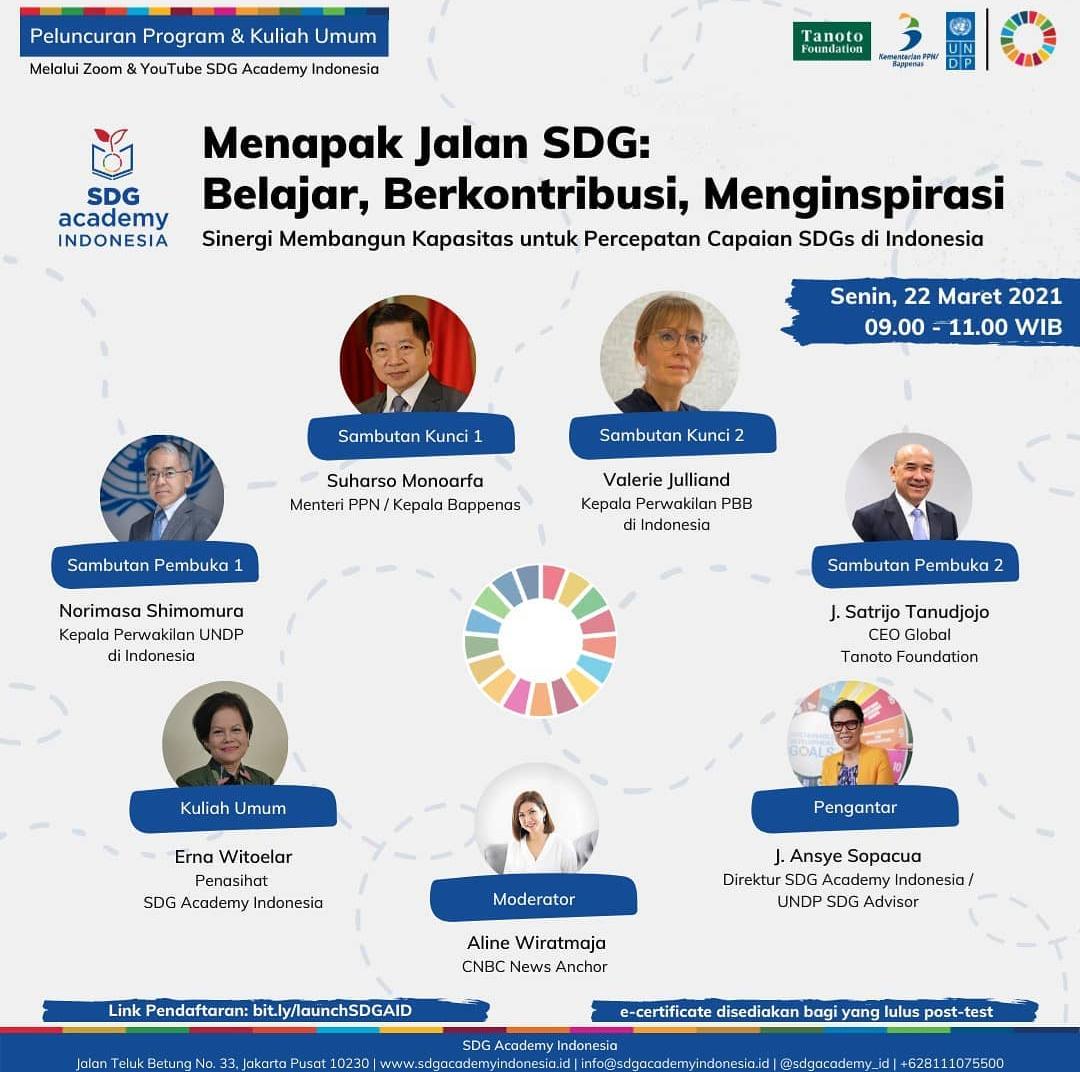 SDG Academy Indonesia, a collaborative program between Tanoto Foundation, an independent family philanthropy organisation founded by Sukanto Tanoto and Tinah Bingei Tanoto in 1981, the United Nations Development Program (UNDP), and the Ministry of National Development Planning (Bappenas), launched SDG Mobile Learning Programme and the SDG Leadership Certification Programme.
Open to the public, the Mobile Learning Programme provides access to all people who want to learn more about SDGs.
Meanwhile, the Sustainable Development Goals Leadership Program seeks to empower leaders in various sectors by enriching their knowledge of development within the SDG framework.
For the first batch of the Sustainable Development Goals Leadership Program, SDG Academy Indonesia has selected around 30 participants from all over Indonesia. These participants will be equipped with complex problem-solving skills through innovative case models as well as hands-on experience from various sources.
Speaking about the launching of the two SDG Academy Indonesia programs, Satrijo Tanudjojo, Global CEO of Tanoto Foundation, said, "The Tanoto Foundation is committed to taking part in the efforts to achieve SDGs in Indonesia. Our partnership with The Ministry of National Development Planning and UNDP Indonesia in establishing the SDG Academy Indonesia is a good practice of how the government, private sector, and communities can work together to accelerate the goals of the SDGs."
On the same occasion, Resident Representative of UNDP Indonesia, Norimasa Shimomura said that he believed this program would be able to add insights and experiences from around the world which would help UNDP to develop innovative solutions in the context of Indonesia's development.
In response to the above, the Director of SDG Academy Indonesia, J. Ansye Sopacua invited anyone to gain knowledge about SDGs online.
Chairperson of the National Secretariat of SDGs Indonesia / Expert Staff of the Minister of PPN for Social Affairs and Poverty Alleviation, Vivi Yulaswati shared her appreciation of these programs. According to Vivi, these innovative programs from SDG Academy Indonesia can be a platform for stakeholders to learn from each other, contribute, and be inspired through concrete and innovative examples to answer various development challenges. She hoped that SDG Academy Indonesia could contribute to strengthening the capacity of regional leaders in formulating action plans for SDGs and overseeing their implementation, which urgently requires leadership and a variety of reliable technical capacities.
In the 2020 SDG Index, Indonesia's rank increased from 102 in 2019 to 101 out of 166 countries. This index measures performance based on progress towards achieving the 17 goals in the SDGs. However, Satrijo Tanudjojo admits that there is still a lot of work that needs to be done, expressing his hopes that this innovative collaboration would be able to accelerate the achievement of the SDGs by 2030.