Record Numbers Attend Annual Tanoto Scholars Gathering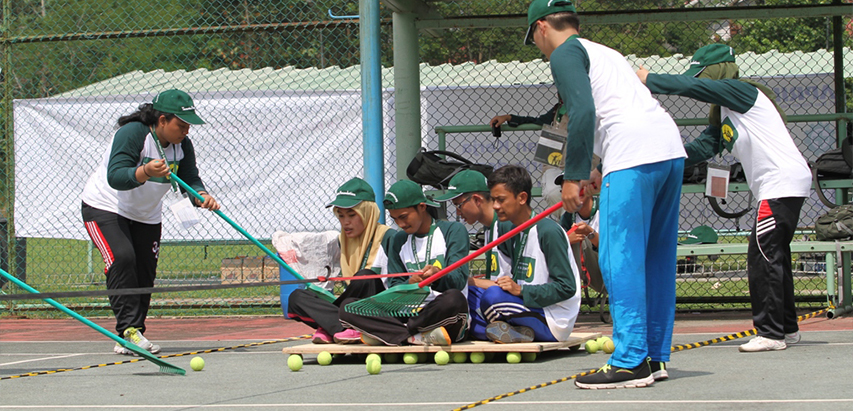 Tanoto scholars working together in one of the many team building games.
---
A record 266 Tanoto scholars attended the Tanoto Scholars Gathering from 12 to 15 August 2015 in Pangkalan Kerinci. Held annually since 2010 by Tanoto Foundation, this year's Tanoto Scholars Gathering saw scholars from 23 universities across 9 cities in Indonesia.
Themed "Learn and Lead", the 4-day event helped forge a stronger community bond among all Tanoto scholars, centred on soft skills, learning, character building, development of leadership and teamwork, and advancing social sensitivities to the environment and community. It also included public speaking and career talks.
The Tanoto Scholars Gathering was graced by Tanoto Foundation co-founders Mr Sukanto Tanoto and Mrs Tinah Bingei Tanoto, and Board of Trustees member Anderson Tanoto.
Mr Anderson Tanoto, an RGE director, shared with the Tanoto Scholars the qualities Sukanto Tanoto possessed that Tanoto Foundation wishes to imbue in its community – the tenacity and grit to overcome challenges; and the humility to continue learning.
Mr Sukanto Tanoto also shared some advice at the event: To progress, one can learn from various sources, not just restricted to school teachings. When we make a mistake, we can use it as a learning opportunity too. Whereas to be a good leader, we must start to lead or to lead oneself, to adapt into the surrounding environment, and eventually learn how to become a leader of this nation. And it is also important to have social sensitivity to the environment and community around us and offer the necessary help when required. These are key attitudes that propel Tanoto Scholars to be future leaders of Indonesia.
For more information on Tanoto Foundation activities in Tanoto Scholars Gathering this year, please read here.