Promoting Philanthropy across Generations and Cultures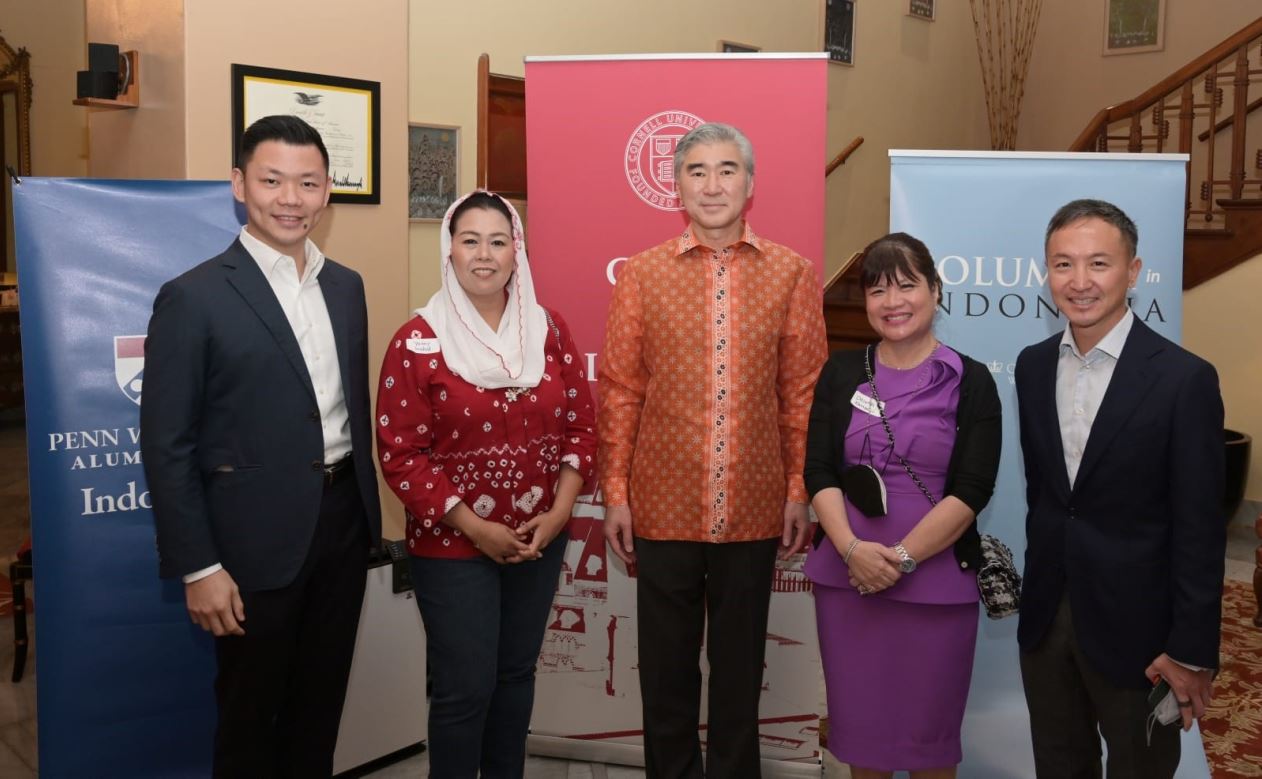 According to UBS Family Office and Campden Wealth Reports (2019-22), 71 percent of family businesses globally engage in philanthropy. In Asia Pacific, the number is even higher, with 9 out of 10 family offices involved in philanthropic causes. But this gives rise to questions about how philanthropy can be embraced across generations and regions.
How do business leaders instil their philanthropic commitments and practices across new generations of employees? How can businesses and philanthropic foundations ensure there is a real impact to 'giving back'?
These issues were discussed at a recent 'Giving Back Night' event at the U.S. Ambassador's residence in Jakarta. Hosted by the Ivy Clubs of Indonesia on 26 October, the event began with a keynote address by the U.S. Ambassador to Indonesia, Mr. Sung Kim, on the theme of giving back.
At the event, Anderson Tanoto, a member of the board of trustees of Tanoto Foundation and a Penn Wharton Club alumni, joined a fireside chat on "Giving Back in Indonesia". Along with the other speakers, Ms. Yenny Wahid, Indonesian journalist and politician, Mr. Arif Rachmat, co-founder and executive chairman, PT. Triputra Agro Persada Tbk and Shinta Kamdani, CEO, Sintesa Group, Mr. Tanoto shared his family's experience with philanthropy and the importance of giving back.
Mr. Tanoto was asked about the challenges of getting millennials and new generations of employees to embrace the importance of philanthropy. He said that, for younger generations, the challenge is often not a lack of information, but a surplus, and confusion on how to give back.
"Millennials are very idealistic, and a lot of them want to give back. But many of them are confused on how and where to give back. There's excess of information, yet there's lack of clarity on projects and outcomes," he said.
Personal inspiration from time abroad
Mr. Tanoto also shared his experiences from the U.S., seeing first-hand how family businesses approach philanthropy while he was at school there. This exposure further strengthened his family's resolve to give back to society through Tanoto Foundation, with its focus on children and education.
"I think it's only normal, as someone who has gotten so much out of the U.S. education system and we work with U-Penn Wharton. We have the Tanoto initiative at the Wharton School, and we support a global modular course where we bring the students to this region, to understand Indonesia."
This modular program was initiated in part due to Mr. Tanoto's own experiences as an undergraduate visiting Brazil as part of a similar course, a country he had not visited at that time. Although it was only a one-week trip, he said it left an indelible impression on him.
"If an undergrad American at 22 visited Indonesia in his college years, he will look at this region in a different way, forever, for the rest of his life. So, we thought that was a good way to really bring the US closer to Southeast Asia, and also bring more Indonesians closer to the U.S.," he said.
Giving money well and the catalytic dollar
During the discussion, Mr. Tanoto also said one of the challenges regarding giving back is to ensure contributions provide long-term impact, and that organisations should focus on areas spaces where their philanthropic dollar is catalytic, spurring long-term, measurable change.
Together with Bill and Melinda Gates Foundation, Tanoto Foundation partnered with the World Bank to enable programs that drive catalytic change, built on advocacy. This program was aligned with the Indonesian Government's increased spending in reducing stunting in the country, from 24 trillion rupiah in 2020 to 44.8 trillion rupiah in 2022.
Correspondingly, the overall stunting rate has fallen. In 2013, 37 percent of children under the age of five in Indonesia suffered from the effects of stunting. In 2018, this had dropped to around 30.8 percent and was down to 24.4 percent in 2021, even at the height of the pandemic. Mr. Tanoto said the cycle of increased funding had led to greater awareness, which resulted in better data.
"There are metrics to measure whether you made money well, such as revenue and profit. But to give money well, that's really challenging. You have to really double down on the monitoring, learning and evaluation side. So, this is what we've been championing as well and advocating," he said.