Project Sukacita Held its Inaugural Knowledge Sharing and Engagement Session Virtually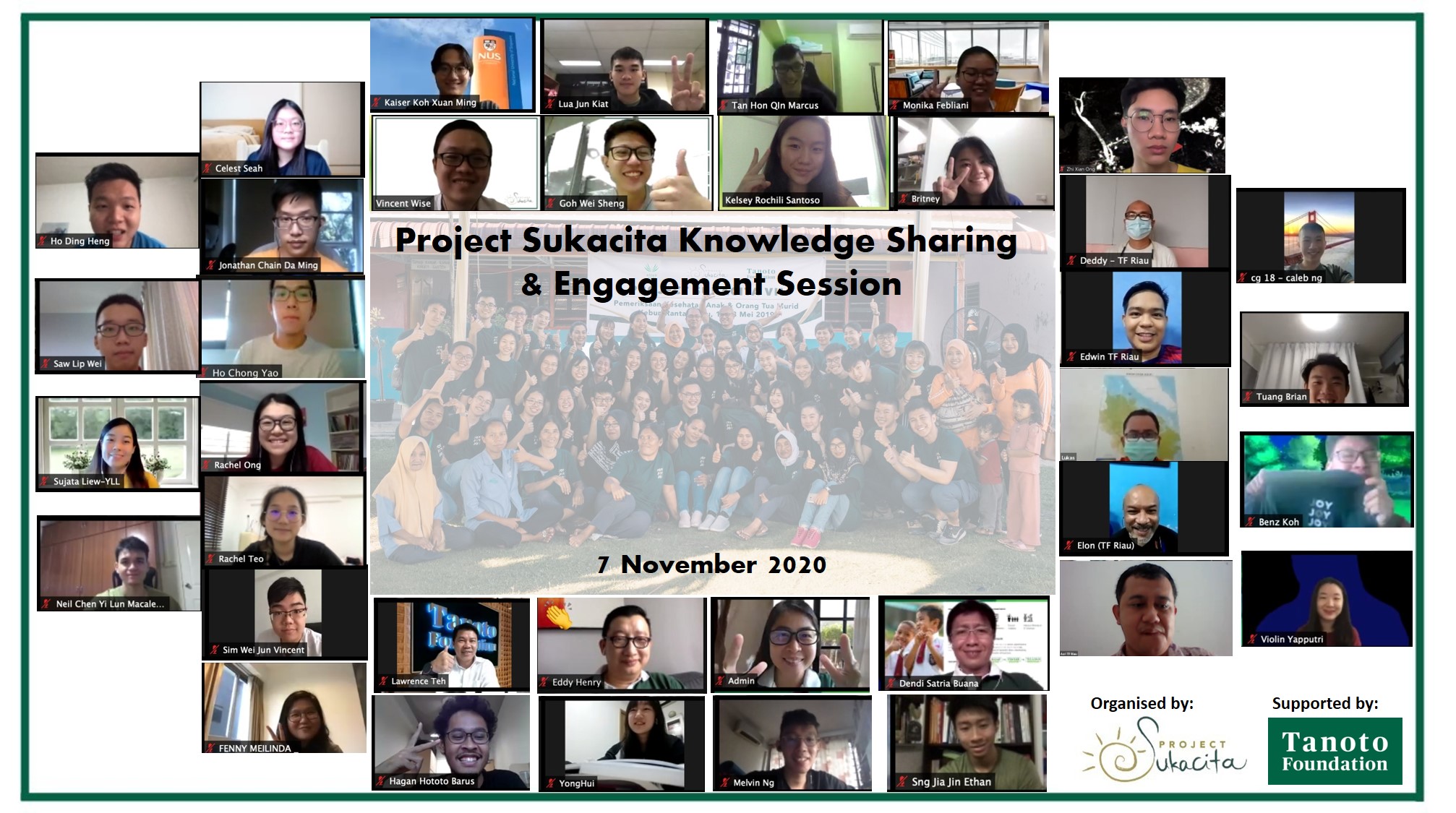 In light of COVID-19, all overseas community service projects planned in 2020 were cancelled. It includes Project Sukacita VIII which was scheduled to take place in May in Pangkalan Kerinci in Riau Province, Indonesia.
With little hope that travel can resume anytime soon until a vaccine is found, the Project Sukacita team leaders decided to not rest on their laurels and began planning a virtual session with the aim to (1) introduce the project to new members of the Tanoto family; (2) to give appreciation to our former participants and reminisce and reflect on the progress made possible by their efforts; and to (3) show appreciation to the staff from Tanoto Foundation, an independent family philanthropy organisation founded by Sukanto Tanoto and Tinah Bingei Tanoto in 1981, and AA who have contributed immensely to making Project Sukacita better through all these years.
The inaugural virtual session gathered 43 Singapore-based Tanoto Scholars and volunteers for a casual morning of interaction and friendship on 7 Nov 2020. The scholars hailed from three universities, pursuing courses that include medicine, engineering, business and economics. Continuing from previous years' sessions, the common theme of health education and health screening threaded through 2019's instalment.
Special guest Eddy Henry, Head of Early Childhood Education and Development (ECED) Program of Tanoto Foundation Indonesia, captured the attention with prevalence of stunting in Indonesia – as well as valuable and poignant lessons – of his experience in running the SIGAP program. Based on these experiences, he spoke on what he felt were critical insights in managing stunting, that "prevention is key" and what matters to teams is education and purpose. On taking on the challenges in tackling stunting, he constantly emphasized the importance of nutrition and health education, which Project Sukacita can capitalise on.
Project Sukacita is a yearly program which provides community services such as free health screening and health education for young children in the less prosperous parts of Pangkalan Kerinci in Riau Province, Indonesia. The project aims to encourage the locals to adopt a healthier lifestyle through improving health awareness.
It is a student-initiated community service project, whereby students from the Tanoto Foundation scholarship community volunteer to contribute towards enhancing the quality of life of those less privileged.