Pojok PINTAR #6: How Parents Can Prepare Children for Limited In-Person Learning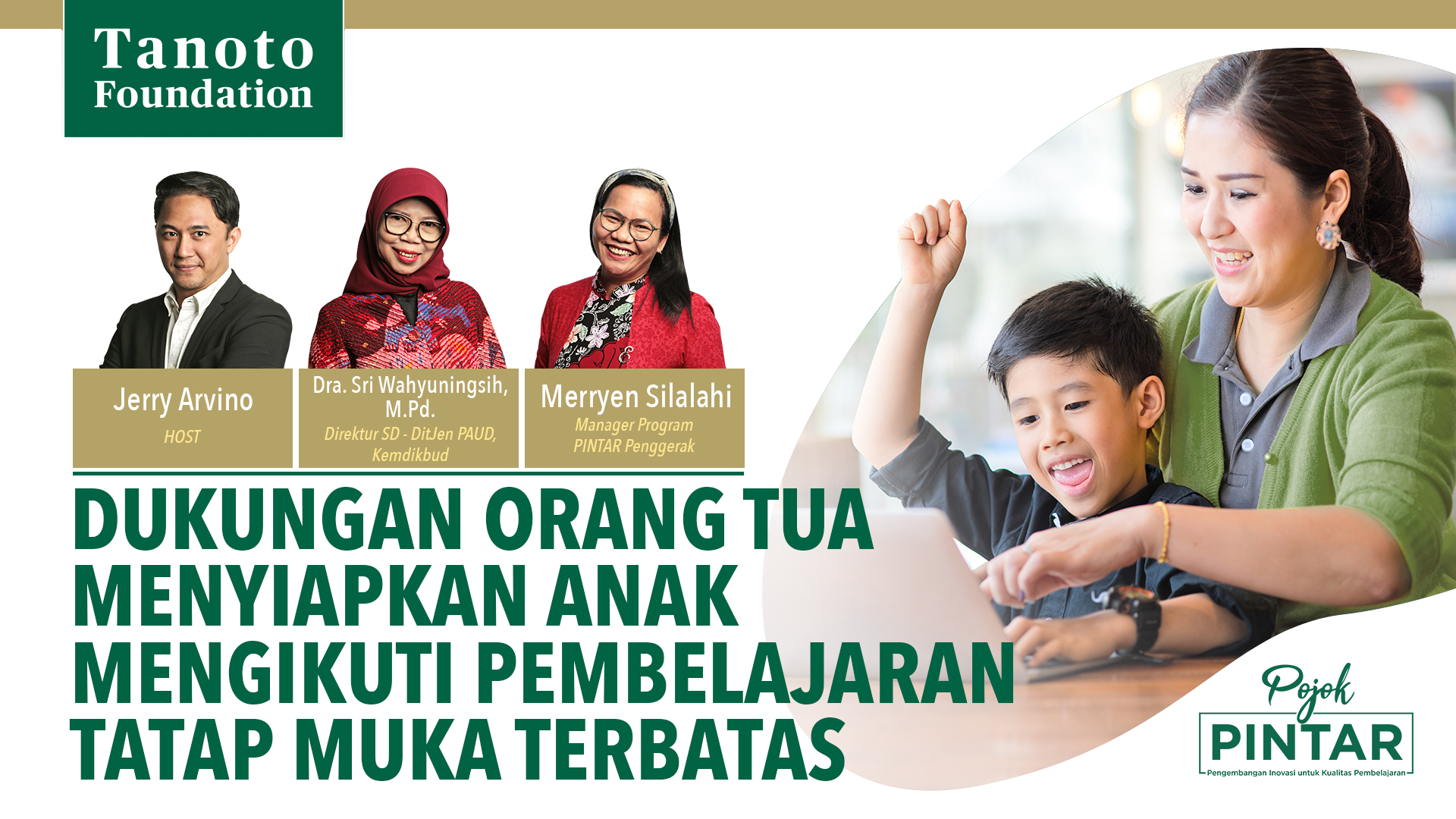 When the number of COVID-19 cases escalated quickly and partial lockdowns began to take place in March 2020, schools across Indonesia found themselves in new territory as they had to stop in-class learning and switch to virtual classes.
Unprepared, teachers, parents and students tried to adopt new means and adapt with remote learning. The abrupt shift to online teaching might make parents feel inept in helping children study at home, while it is not unusual for students to get bored and experience digital fatigue. Added to this is the staggering digital divide in Indonesia, where lack of internet or device access means students are unable to do schoolwork. According to a nationwide survey conducted by the Indonesian Internet Providers Association (APJII) in the second quarter of 2020, the internet penetration rate is highly concentrated in Java with 56 percent, followed by Sumatra (22.1 percent). The number goes lower in the country's eastern parts, such as Sulawesi (7 percent), Bali-Nusa Tenggara (5.2 percent) and Maluku-Papua (3 percent).
Fearing the potential learning loss that will deepen with time, the Ministry of Education and Culture in January authorized schools to start providing in-person learning at limited capacity, combined with remote learning.
In the sixth episode of Pojok PINTAR, our host Jerry Arvino chats with Sri Wahyuningsih, M.Pd., Director of Elementary Schools of the Ministry of Education, Culture, Research and Technology's Directorate General of Early Childhood Education, and Merryen Silalahi, Manager of Program PINTAR at Tanoto Foundation, about what parents need to know about returning to school during COVID-19.
This episode covers:
a. What you need to know about limited in-person learning
b. What parents need to prepare in assisting children going back to school
c. The importance of partnership between parents, teachers and students
Back to School
Going back to school will be a big change after months of remote learning. Parents need to be prepared to ensure that the change will be comfortable for all parties involved.
For in-person learning, here are some of the rules the school and students need to follow. There should only be a maximum of 18 students in one class and they are required to keep a minimal distance of 1.5 meters. Schools will apply alternating shifts for students based on their own assessment. For example, a group of 18 students will go to school on Monday and Wednesday, while another group will go on Tuesday and Thursday.
There will be no extracurricular activities and sports, and the school's cafeteria will not operate in the first two months of in-class learning.
Everyone at school must wear a three-ply cloth mask or surgical mask and wash their hands or use hand sanitizer regularly. They must also ensure that they and their family members at home are free from COVID-19 symptoms.
With the joint ministerial decree of in-class learning in effect, the Education, Culture, Research and Technology Minister Nadiem Makarim said that parents can always opt for remote learning.
"For virtual classes, the school and parents need to ensure that they can provide the required technology by students, and teachers need to be able to guide them in learning," said Wahyuningsih.
"The ministry also encourages that in-person learning at limited capacity is done in a satisfactory manner," she added. "We urge clean living habits in schools to make a healthy and helpful learning environment."
Laying the Groundwork
In a survey conducted by U-Report in June 2020, 87 percent out of around 4,000 Indonesian students said they could not wait to go back to school, citing boredom and lack of internet access as well as teachers' guidance as the reasons.
Wahyuningsih also noted that with remote learning, interaction among students and between students and their teachers have dropped drastically.
"In-person learning provides the opportunity of interaction, which psychologically can benefit students in terms of cooperation, independence and the ability to care for one another," she said. "They can also interact with the community, although all activities must have limits."
Merryen proposed six elements with which we can prepare children to go back to school, namely rest, inform, discuss, practice, attention and respect.
Getting enough rest is essential for the development of young minds. During remote learning, children might not get an adequate amount of rest as they are constantly in front of screens. Then, inform them that their schools have reopened and they can choose to go back. Tell them what to expect and what they need to prepare at home.
With discussions, children are encouraged to speak openly about their feelings, including if they have any anxiety around returning to school. "When talking to my children about in-person learning, I noticed they got excited but that they also favored virtual classes, as the environment at home was more relaxed," Merryen said. "So, discuss everything they need to know."
With practice, we keep healthy living habits at home and parents can remind their children in creative manners to keep them interested.
"For instance, when you're in a birthday party, you can incorporate health protocols by singing them in the 'Happy Birthday' melody," said Merryen. "Or you can also ask the children to write the protocols and make it into a poster to go up in their rooms. It will act as a reminder for them."
Children also need to always pay attention to anything they bring to the school and keep them sanitary. And finally, remind them to always respect other people. Especially in the time of a health crisis, parents are encouraged to teach empathy so that children will be considerate should a friend or a teacher fall ill.
Working Together
A good learning environment can only exist when all parties involved make a joint effort.
In collaboration with the Ministry of Education, Culture, Research and Technology, a survey conducted in Tanoto Foundation's partner schools showed a gap in their preparation toward remote learning, which led the foundation to hold training for teachers and principals from May to July.
"We also came up with a learning module to help students adapt to blended learning," said Merryen, referring to a combined method of online and classroom education. "Students are the next generation in the following 10 or 20 years. Our collaboration with the ministry is done to make sure that we can save this generation."
Noting that some parents are not heavily involved in their children's education, Wahyuningsih expressed hope that parents will play a bigger role. "Education can be likened to a golden triangle of parents, teachers and students where collaboration and cooperation is crucial," she said.
She stressed that parents and teachers need to communicate openly for the sake of students. For instance, parents can share about how their children are at home or what are their favorite activities. That way, both parties can foster partnerships and learn from each other to ensure the best education method for the children.
"For parents, support the children and try to have good communication," Wahyuningsih said. "With good support, children won't have to worry about going back to school."
Get to know more https://bit.ly/MenyiapkanPTMAnak-YT