Pojok PINTAR #5: Navigating Life as a Working Mom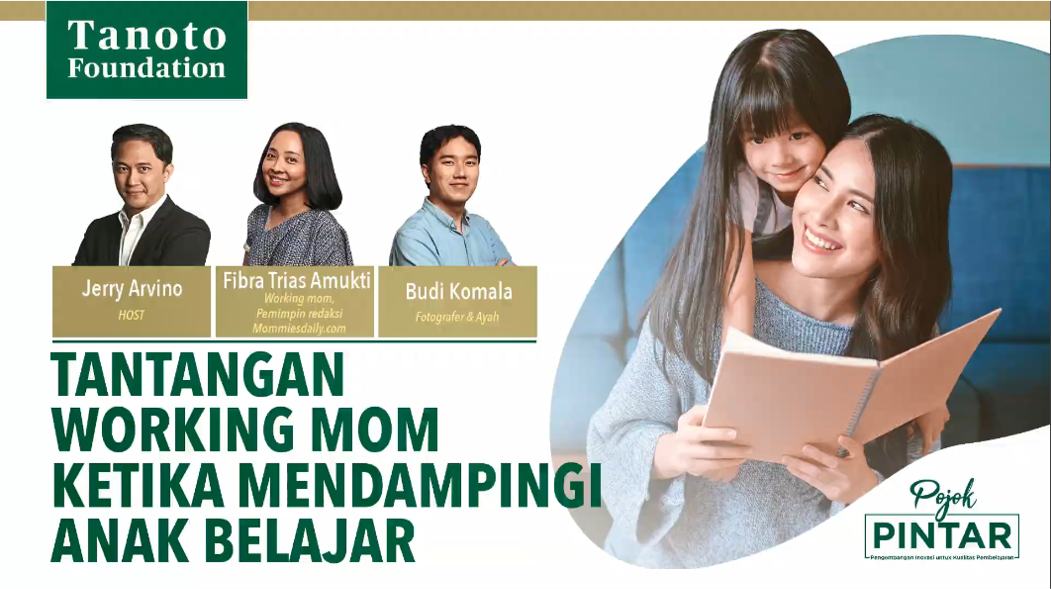 Motherhood or career? Work or family? Working mothers everywhere are often faced with this so-called equation. While motherhood and career building don't have to be mutually exclusive, doing both at the same time can be challenging.
It's not uncommon for working mothers to feel inadequate as expectations can run high, as they juggle the demands of a family and a career.
In the fifth episode of Pojok PINTAR, our host Jerry Arvino talks to Fibra Trias Amukti or Fia, editor-in-chief of mommiesdaily.com and a working mom, as well as Budi Komala, a photographer and a stay-at-home dad, about parenting, work and the pressures of each.
This episode covers:
a. Can women really have it all?
b. Setting the right priorities for the best result
c. The importance of mental health

The Trap of Multitasking

We've all come across the stereotype of women who appear to have it all: well behaved kids with great academic performance, high-pressure jobs they seem to do with ease, and great relationships with friends and family.
Some see it as a myth, others as something to strive for it. According to Fia, since women are inherently able to multitask, the answer to "Can women have it all?" is yes. But she also said that there's something more urgent to be addressed. "We need to take notice, though, can women do it all thanks to a solid support system and good mental health or because they feel pressured to do it?"
Fia encouraged working mothers to be honest with themselves and know both what they want and what they're actually capable of. "The most important thing to realize is whether we can actually do it or is it something that's enforced that ultimately yields less than satisfactory results," she said.
Budi emphasized the importance of dads being hands-on with a child, which will ultimately improve a father's sense of empathy toward his family, especially to the wife who constantly juggles work and family. "Husbands need to understand the importance of their presence for their wives and children. That can be a strong foundation for the family," he said.
Active on social media, Budi popularized the hashtag #bikinberduaurusberdua on Instagram, that could be translated loosely as both parents created the child, then both should also take care of the child.
"I witnessed how my wife struggled in taking care of our child, even with my help," he said. "And it dawned on me how so many wives go through this alone when their husbands are at work."
He began sharing his daily life, including diaper-changing and bathing his child. "I'd like to show that these chores are just everyday things, and I hope that those who see them would also think that parenting should be done by both parents," he said.
Organizing and Planning

Working mothers can feel particularly pressured when it comes to helping children study.
Fia suggested the best solution is to decide on the most important priorities at any particular time. When work needs urgent attention it's ok to set aside the homework for a little while.
Try to assess your priorities with every situation that comes along, then decide which one should be your first concern. Fia said that one's judgment is more important than the 50/50 equation of balancing motherhood and career.
And when a situation becomes too much, this is where a solid support system can help, be it the nanny, the domestic helper or relatives.
Being pragmatic is another trait to hold, as it can help working mothers to have reasonable expectations. Helping children study might already be a challenging situation on its own, but now there's the factor of an ongoing pandemic that might add another level of stress to the equation.
"We need to be able to act and think realistically," said Fia. "We need to be realistic with our capabilities, our children's capabilities and the ongoing situation."
Alongside making sure you have an extra layer of patience, it would help to know your limits to make sure you won't feel upset. If a subject is just too difficult or too much for you on a particular day, you can seek a helping hand or take a break. Getting some time to rest will hopefully give you a moment to clear your head and reflect.
With the current situation where most employees work from home, technology can also be a source of comfort. With meetings that can be done online, you'd save more time in commuting and take the extra moments to be there for your child. Make use of management apps that can help you in being more organized, along with helpful sites that are there for guidance whenever you need it.
Mental Health Matters

In recent years, Fia noted that working mothers are becoming more aware about the importance of mental health. More have become well-informed and recognize that they need to be content first with themselves in order to raise a happy child.
"When a mother realizes that she needs to love herself first and be happy, that would mean so many children would grow up in a more fulfilled and happier environment," Fia said.
Here, being realistic again plays an important role as working mothers need to acknowledge the truth if they feel like they're suffocated and overwhelmed. Reaching for a helping hand as soon as possible is urged. And professional help can make a big difference to help you function well and feel good again.
The main concern is how working mothers' well-being is taken care of and how that could help them in raising their child and have a happy family. Now, happiness takes center stage instead of perfection.
Get to know more http://bit.ly/TantanganWorkingMom