Penn Students Reflect on Meeting Ideas 4 Action Winners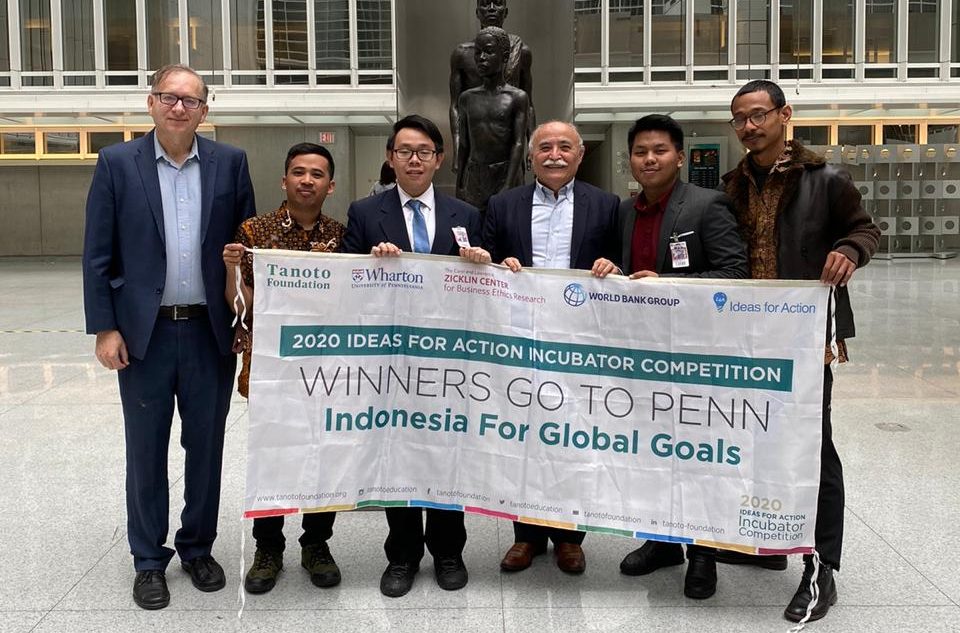 On 18 Feburary 2020, students in Ideas for Action and Dr. Djordjia Petkoski's LGST401 and LGST230 classes met with winners of the Ideas for Action competition from Indonesia, sponsored by the Tanoto Foundation, an independent family philanthropy organisation founded by Sukanto Tanoto and Tinah Bingei Tanoto in 1981, during a lunch at Jon M. Huntsman Hall. Below are some takeaways of students from the conversations.
View this post on Instagram
"It was rewarding getting to meet Steven and Krisna from eLarvae in person after working with them remotely over the last few months. One of our initial suggestions to eLarvae's proposal was to elaborate upon on their financials/business model in order to further satisfy the feasibility criteria of the competition guidelines – so during our meeting, we were able to discuss how they could go about valuing eLarvae's two lines of business (including inputs they can begin to measure, revenue projection equations, market sizing techniques, etc.) We were really excited about the outcome of the lunch and look forward to seeing eLarvae's future progress." -Yani Li (W'22)
"I truly enjoyed getting to know all the members of the Tanoto foundation that came to lunch on Tuesday. I participated in brainstorming a business plan for one group that aims to help women in Indonesia who are suffering from abuse. It was interesting to learn how they were incorporating a phone application to connect women virtually with counselors." -Lucy Xu (ENG'23 W'23)
"Meeting with members of the Tanoto Foundation opened my eyes to local challenges women are facing in Indonesia. I enjoyed talking to our guests about how the resources and opportunities we have at Penn can help their startups succeed and target a larger audience to create more impact." -Beste Balki (W'20)
Article originally posted in Ideas for Action website, link here.