PAUD Educators Getting Motivated and More Confident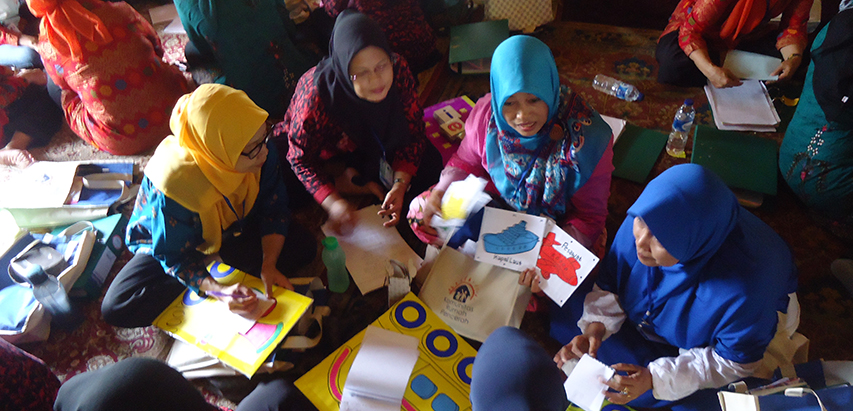 Early Childhood Education Centers educators during Tanoto Foundation's training session.
---
Ibu Siti Aminah stood in front of her class room at Riang Early Education Center in Tanjung Priok, North Jakarta. She was in the middle of reading storybooks to her students as well as guiding them through different learning activities.
Ibu Siti Aminah, or also known by her students as Ibu Mimin, mentioned that she did not receive any formal training when she became an educator for the young children at the Center. At the beginning, although she did not feel confident, she was guided by her dedication to teach the children.
Ibu Mimin's confidence gradually improved after she started to take part in Tanoto Foundation's training sessions. These sessions were held by the Foundation for partner Early Education Centers and to improve Centers educators' capacity in developing and implementing proper teaching and learning methodologies for children.
The training session that was fondly remembered by Ibu Mimin was the one that was held by Tanoto Foundation together with Komunitas Rumah Pencerah for 38 educators from Tanoto Foundation's six partner Centers in Jakarta. From these training sessions, she learned to use the knowledge about children's brain functions to support her teaching methodology. She also learned about class management.
"At the beginning, I was not too keen to attend because the training location at South Jakarta was far from my Center. But I was able to meet fellow educators and learned new skills and knowledge. This training was the most memorable session that I had participated in," said Ibu Mimin.
Ibu Salimah, an educator from another Tanoto Foundation's partner center, PAUD Al-Huda from South Jakarta, also expressed similar sentiment. She said that she learned new experience and knowledge from the training.
"In addition to learning how to teach children in effective yet enjoyable ways, we realized that we play an important role in these children's developmental stage and future. This knowledge inspired us to provide the children with our best support," she said.