Nuel Butarbutar, a Boy From a Small Village who Won a National Science Competition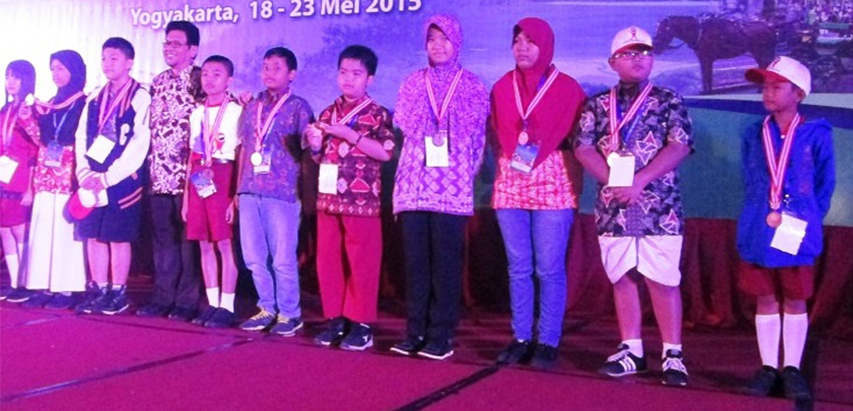 Nuel, in white shirt, with other winners of National Science Competition.
---
Written by Roselly Simanjuntak, Coordinator of Bonapasogit Sejahtera Foundation.
The cold air often covers the days and nights of the small village that is located at the edge of North Sumatra. At Girsang Village, a boy was born on October 22, 2004, a son of Maraden Butarbutar and Morly D.N. Sinaga. After winning the bronze medal at the National Science Competition, this boy, Nuel Dwirenov Butarbutar, has become the talk of this village.
Nuel has been going to Bonapasogit Elementary School since he was six years old. His academic achievement has been consistent through out the years. When he was in the Fourth Grade, Nuel was selected to represent the school in a local science competition. His performance during these competitions was consistently good, obtaining first prize for the selection process at sub-district level, second prize at the district level, and finally third prize at the provincial level. All these achievements allowed him to compete at the national level in Yogyakarta in May 2015.
However, there were obstacles to overcome. Financial limitation as well as the tendency to be embarrassed that he was a boy from a village almost stopped Nuel to compete. Fortunately, because of the support from his parents, his teachers, and Tanoto Foundation, Nuel was able to take part in the competition.
Neul worked very hard to prepare himself. He did not let his self doubts take the best part of him. And all his hard work paid off when he won the Bronze Medal in the Competition.
Bonapasogit Elementary school is one of Tanoto Foundation supported schools in North Sumatra. Through the Pelita Pendidikan programs, Tanoto Foundation encourages the schools to improve their quality of education. To date, there are 320 partner schools of Tanoto Foundation in North Sumatra, Jambi, and Riau.