New Report Shows ECED Holds the Key to Elevating Indonesia's National Education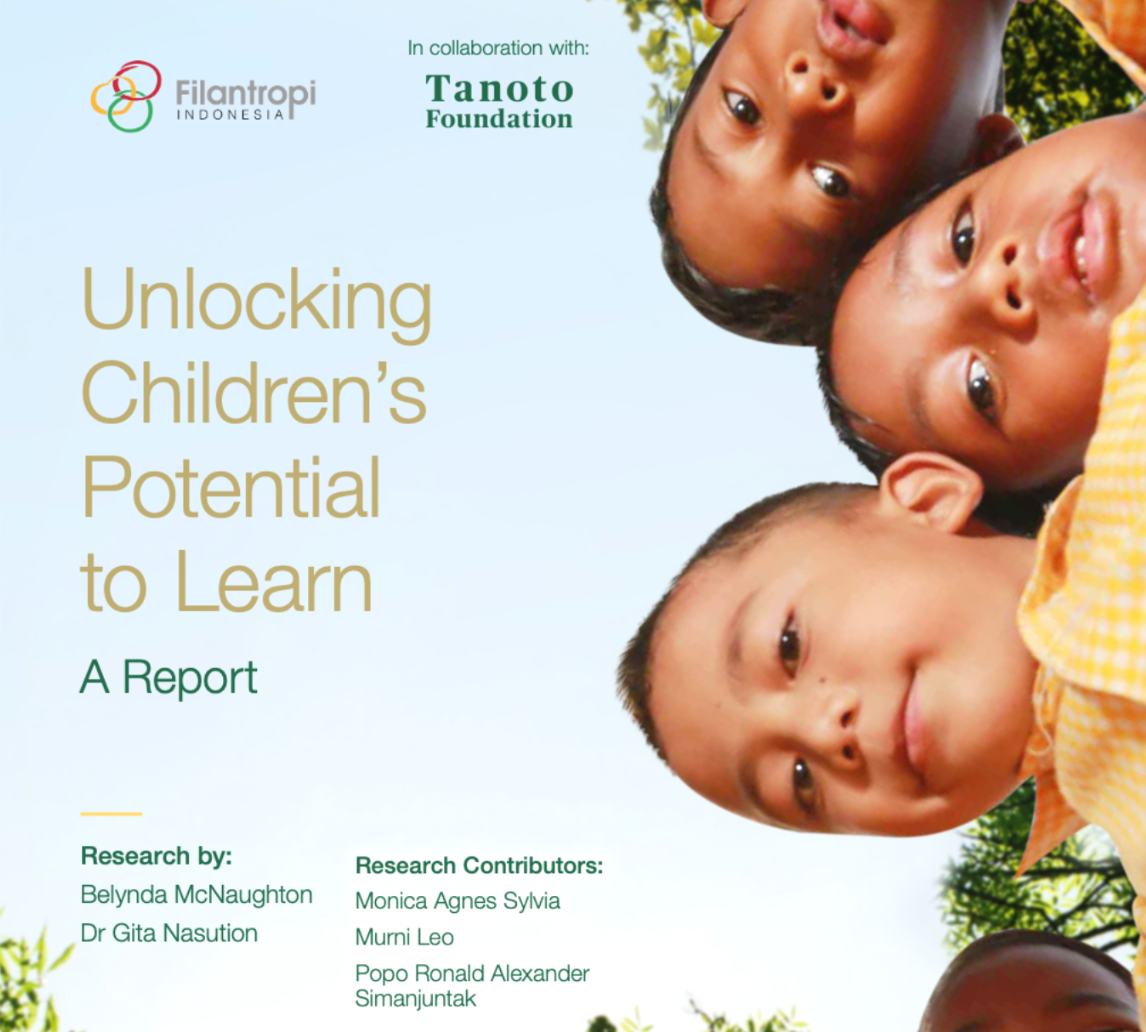 We believe in the transformative power of education to improve people's lives. Education is truly key to human development. And yet, one question remains: How can we ensure that every child is truly learning when they are being educated?
This is one of the driving questions behind Unlocking Children's Potential to Learn, a newly published report by Filantropi Indonesia in collaboration with Tanoto Foundation.
The question is relevant to Indonesia as the majority of students are performing poorly. OECD's Programme for International Student Assessment (PISA), which measures students' learning outcomes, suggests that Indonesian students are performing below the OECD average in reading, mathematics and science. Since the country first undertook PISA in 2001, no significant progress has been made.
When it comes to intervention in human capital development, it seems that the sooner might truly be the better. A plethora of research and studies have shown that  early childhood education and development (ECED) sector holds significant influence on development in later stages in life: from basic education and health, to behavior and income as adults. Tanoto Foundation Baseline Monitoring Study in 2018 showed those students who attended preschool were able to read at a faster rate with higher reading comprehension. It seems that in the puzzle of creating quality national education, ECED has been a missing piece.
However, despite Government of Indonesia's heavy investment in education in general, early childhood education is severely underinvested. Enrolment in early education at 38.1%, according to SUSENAS in 2018, is also significantly lower than elementary to high school levels – which have been made compulsory in the country. Access to early childhood education is fragmented and represents the prevailing trends of inequality in Indonesia: across the economic divide and again at rural vs urban areas.
Intervention in ECED is not only limited to education per se, but rather includes other aspects in childcare from parenting to health and nutrition. Since 2018, Tanoto Foundation has been working on ECED interventions across three pillars focusing on stunting reduction, parenting programs and early childhood education teacher capacity building.
Stunting, which has long-term effects on a child's brain and physical development, is still prevalent at Indonesia despite some progress in the past two decades. The stunting rate among children below five years old was at a staggering 42% in 2000, but had fallen to 27% by 2019. However, the ongoing Covid-19 pandemic is feared to hinder the stunting prevention efforts as Indonesia's poverty rate increased and many children lost their parents to the coronavirus – a new challenge for Indonesia to reach the target of reducing the stunting rate to 14% by 2024.
As it stands, ensuring that a child can develop optimally in order to grow as a healthy and fully-functioning adult who can optimize their own potential is a task that requires us to invest not only in the child, but also the parents. One of the key findings in the Unlocking Children's Potential to Learn report is the significance of nurturing care, which is characterized by "a stable environment that promotes children's health and nutrition, protects children from threats, and gives them opportunities for early learning, through affectionate interactions and relationships".
This report also seeks to provide more understanding about the impact of ECED intervention to student learning outcomes in later stages of education. In particular, the study elaborates on the significance of early education and childcare in preparing them with the capacity to learn. Combining literature review and interviews with Tanoto Foundation personnel who have been working in the field, the report is both a wakeup call and call to action for increasing investment in ECED intervention and further collaborations among both public and private sectors.
As the title suggests, the ultimate objective of the report is to unlock children's potential to learn, starting from their earliest stage of development from age 0 to 6. We are hoping that this study will be a trigger for policy makers and development partners to discuss and invest more on intervention toward early childhood education and development, as well as strengthening collaboration and partnerships that will multiply the impact and benefits which Indonesian children may reap now and in the future.
Read the Unlocking Children's Potential to Learn report here.