Muhammad Taufik Hidayat: A Tanoto Scholar and a Young Scientist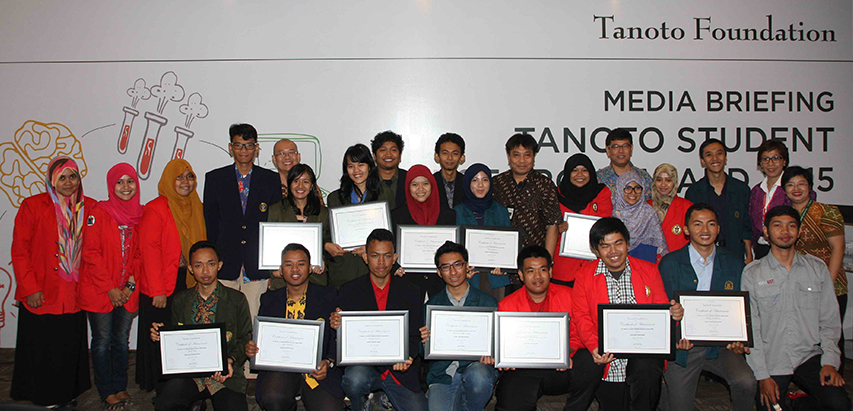 Muhammad Taufik Hidayat (front line, fourth from left) together with other young scientists during Tanoto Student Research Award 2015.
---
Muhammad Taufik Hidayat was born in Jakarta on December 23, 1993. Taufik's academic performance in school has always been superb since his kindergarten days. Later, he took part in his high school's accelerated program and was able to complete the education in two years.
His interest in Physics started when he chose to major in Science in high school. He continued to focus on this subject, even competed at National Science Olympic for DKI Jakarta Province.
After high school, he selected Physics Engineering at Bandung Institute of Technology. With the university, he is able to explore his interest in science further through different scientific researches. Taufik took part in several competitions at the national level and won a few.
However, during the fourth semester of his university education, he started to feel the burden of paying the university tuition fee. His family was not able to fully support his education anymore because they needed the funds to support Taufik's younger sibling who was a child with special needs. Taufik then tried to lessen the burden and looked for scholarship.
"I heard from my colleagues at the university that Tanoto Foundation is a good provider of scholarships. His words turned out to be true. As a Tanoto Scholar, I receive different types of support including training to improve my soft skills. Also, Tanoto Foundation always encourages me to carry out social activities for the surrounding communities," said Taufik.
Tanoto Foundation also supports Taufik's interest in carrying out scientific experiments. Through Tanoto Student Research Award, Taufik found the right vehicle to implement his passion. For Tanoto Student Research Award 2015, Taufik and his colleagues from Institute Technology of Bandung won the third place with their experiment.
"We developed a tool that could determine if a building has points that would waste energy. We could also converse the energy so the use would become more efficient." Taufik said about the result of their experiment.
His love for Physics encourages him to dream high. Taufik now plans to continue his education in Delft University of Technology in the Netherlands.
Taufik appreciates greatly the support from Tanoto Foundation. He hopes that Tanoto Foundation continues to support other Tanoto Scholars so they could maximize their potential and improve their life in the future.