Living in A Rural Area, Not A Deterrent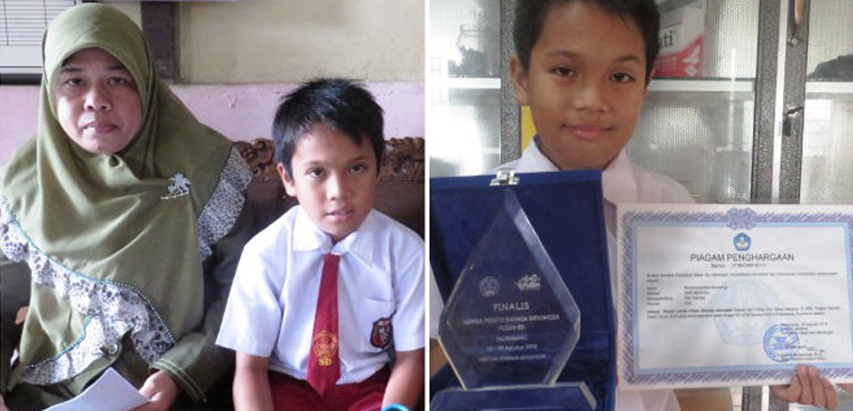 Bilal with Ibu Kasmawani from Kampar Kiri, Riau.
---
Written by Kurniawan, Tanoto Foundation Riau
Muhammad Bilal Sembiring, or Bilal, is a third grade student of SDN 008 Kuntu, Kampar District, Riau. Although Bilal's school is modest and located 30 kilometers away from the center of Kampar Kiri sub district, he is able to take full advantage of what the school offers and successfully compete with other children from big cities.
Bilal was the first place winner of the poetry and speech contest for National Education Day commemoration at Kampar District in May 2015. He was also the winner of the speech contest during Students Arts Festival and Competition at the provincial level.
Because of this achievement, Bilal then represented Riau Province at the National Students Arts Festival and Competition that took place in August this year in Palembang, South Sumatra. He was one of the top ten winners of the speech competition, defeating other elementary students from other schools in Indonesia.
SDN 008 Kuntu plays an active role in nurturing Bilal's interest in public speaking. According to Ibu Kamaswani, one of SDN 008 Kuntu teachers, Bilal is a diligent and intelligent student. His talent began to shine when he started the third grade. His interest in public speaking is further supported by his hobby to read books that are available in the school's library.
As Tanoto Foundation's partner schools, SDN 008 Kuntu is supported through different ways. Tanoto Foundation assists the school to manage a small library and to provide an extensive collection of books for the students. Bilal uses books from Tanoto Foundation as references in his speeches.
"The fun and creative learning methodology that we learned from Tanoto Foundation as well as the books are really helpful for us in supporting our students to develop their talent and creativity. We hope there are many more Bilals from Kuntu in the future," said Ibu Kamaswani proudly.