Learning the Importance of Good Hygiene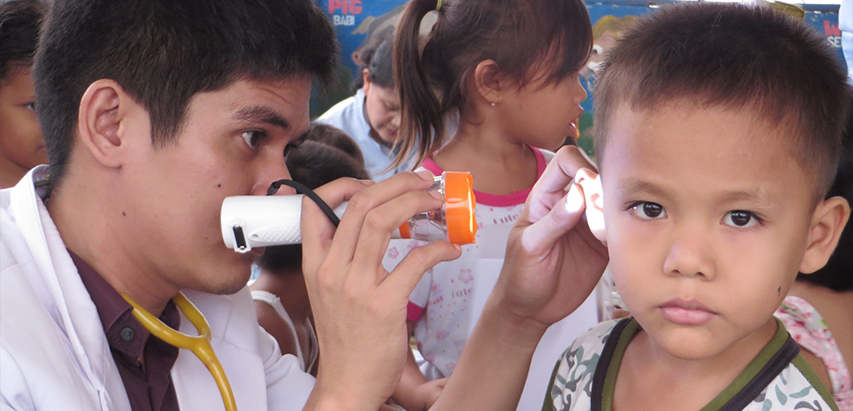 Examining one of Permata Gondai Kindergarten students.
---
Written by Lukas Banu Aji, Tanoto Foundation Riau
"Watch out, the doctor is coming and we will all get shots," shouted some children of Permata Gondai Kindergarten, Pelalawan District, Riau. Most of them ran away, some even got scared and started crying.
Although some of these children were initially reluctant to approach the visiting medical doctor and nurse, through patient and friendly approach of the medical team, the children gradually forgot their fear. Some of the children started to playfully fight each other to determine who would be checked by the doctor first.
This occurrence took place when a doctor and a nurse visited Tanoto Foundation's supported Permata Gondai Kindergarten. This Kindergarten was one of five combined Kindergartens and 19 child care centers that were located around the operational areas of Asian Agri, Tanoto Foundation corporate partner.
In October 2015, Tanoto Foundation started to visit kindergarten and child care centers and carry out the children's personal hygiene checkups. During the visit, the children's hair and scalp, mouth and teeth, ears and skin were checked for cleanliness. If mild irritation was found, then the children would be sent to Asian Agri's clinic at Kebun Buatan for follow up check up and treatment. Once every six month, the children would be given anti worm medicine.
The team also educated teachers, center care givers, and parents regarding the importance of good personal hygiene for their children. These children were also encouraged to cut their nails regularly, use toothpaste while brushing teeth at least twice a day, and wash hands before eating. Further, children were trained to wash their hair with shampoo and taking baths with soap regularly.
"We are happy that Tanoto Foundation started this activity, particularly now the medical team will visit our schools regularly. This will also be a good reminder for the parents to pay more attention to their children's cleanliness," said Martiani Hertika Saragih, a Permata Gondai Kindergarten teacher.
"We understand that when children are clean, they are more likely to be healthy and can learn more things in the long run. This is one of the reasons why being clean is very important. Thank you, Tanoto Foundation," she said concluding the conversation.