Learning from Developed Countries' Reading Culture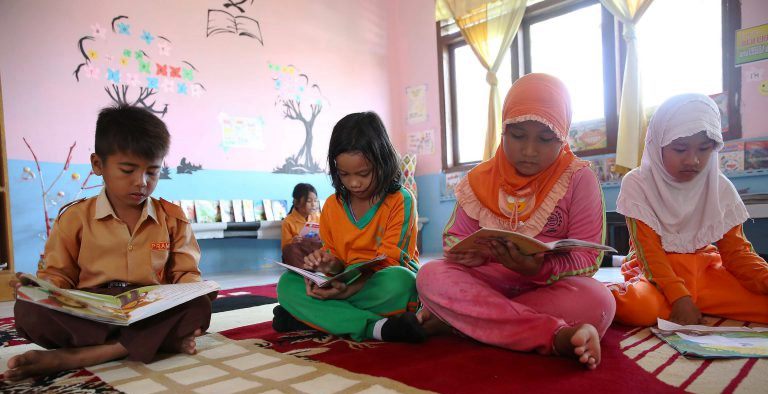 In March 2016, Central Connecticut State University released its result on "World's Most Literate Nations" survey.  In a survey that ranks countries based on the people's reading behavior and supporting resources, developed countries such as the United States and England were ranked the 7th and 17th place, respectively. Out of 61 countries that took part in the survey, Indonesia was ranked on the 60th place. This shows that the reading interest and habit of most Indonesians is low if compared to that of other countries.
In the United States and England, it seems that people read not because they must. Reading has become part of their daily activities.
In England, many examples about how a culture of reading is nurtured and supported can be easily found. For example, schools hold reading day every week. Further, one can find reading corner at children centers and schools where a large variety of books are nicely placed on easy to reach shelves.
Another important factor in nurturing and maintaining a good reading habit is library. In England, libraries are usually big in size and managed well. In addition to many copies of the same book, these libraries usually hold different types of books, covering all kinds of subject matter. For the young readers, they also hold regular free story telling sessions.
Considering that Indonesia's literacy rate is still low, efforts to improve the situation must be appreciated. One example of such initiative is the Pelita Pustaka Program by Tanoto Foundation. Founded by Sukanto Tanoto and Tinah Bingei Tanoto, Tanoto Foundation through its Pelita Pustaka Program promotes the library as a comfortable and at easily accessible place for students to regularly visit and obtain different types of books.
Pelita Pustaka also encourages students to develop a strong reading habit since they are young. To do so, teachers from Tanoto Foundation's partner schools are trained in small library management system. Further, to enable students to have a wide variety of books to read, schools are encouraged to take part in book rotation system with other schools in the surrounding areas.
Through Pelita Pustaka, Tanoto Foundation has renovated and established 186 school libraries, donated more than 32,000 schools, and trained more than 1,800 teachers in library management in rural areas of Riau, Jambi, and North Sumatra.
Editor's Note: Taken from Dewi Nur Aisyah article "Indonesia and Culture of Reading: Let's Learn from Scandinavian Countries." Original article can be found here: https://dewinaisyah.wordpress.com/2017/06/01/indonesia-dan-budaya-membaca-mari-belajar-dari-negara-skandinavia/