Kid Doctors As Watch-Dogs for Public Health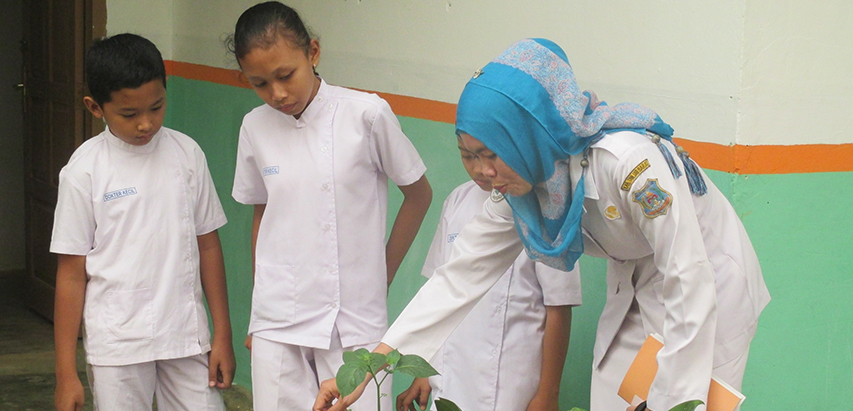 ---
Written by: Jazuli, Tanoto Foundation, Jambi
The rainy season has arrived. All too often, this is followed by the prevalence of diseases. One of the diseases to be highly prevented is the dengue fever (DBD), which is caused by the Aede Aegypti mosquito. In order to avoid it, there are preventative steps required.
One of the ways to prevent the spread of dengue fever is by spreading powder insecticide that controls mosquito and the growth of its larvae. This particular practice is also conducted by Desa Cinta Damai community health centre in West Tanjung Jabung District in Jambi. The practice is also helped by the support of three kid doctors from 169/V Cinta Damai Public Elementary School.
The three kid doctors are Fatimah Vella Ramadhani from grade 4, Muhammad Aldiansyah from grade 6, and Siti Nurfadillah from grade 6. Prior to this, they have received training from Tanoto Foundation through the Pelita Sehat and Ramah Lingkungan Program. It is hopeful that the involvement of these kid doctors can provide education and knowledge to other studetns as well as residents of the village.
"We hope that these kid doctors can be agents of change in giving examples to their surroundings. The Kid Doctors program is also part of the effort to improve the health quality of children in the area, particularly the grade 4, 5, and 6 students, as well as to spread the knowledge to their friends at school and their communities," said Siti Komariah, one of the nurses at Cinta Damai Community Centres.
Together with the staff from Community Health Centre, the three kid doctors spread insecticide powder on places where water would likely get stuck, such as water reservoirs, septic tank pipe, and the ditch. After spreading those, they also regularly monitored the places and will continue spreading the powder for once within every two or three month.
The headmaster of 169/V Cinta Damai Public Elementary School, Susminati, is proud that the three kid doctors are being involved as monitorers to prevent the growth of larvae. "I would like to thank Tanoto Foundation for providing the knowledge and education on healthy and environmentally-friendly schools, and for educating the kid doctors," she said.
Apart from the support for Healthy and Environmentally-Friendly School Program, Tanoto Foundation also provided support for resources and means for clean water, media support for the health campaign, motivation and training support for teachers, as well as regular visits to 169/V Cinta Damai Public Elementary School.