Jakarta Governor Inaugurated Tanoto Foundation – Supported Early Childhood Development Center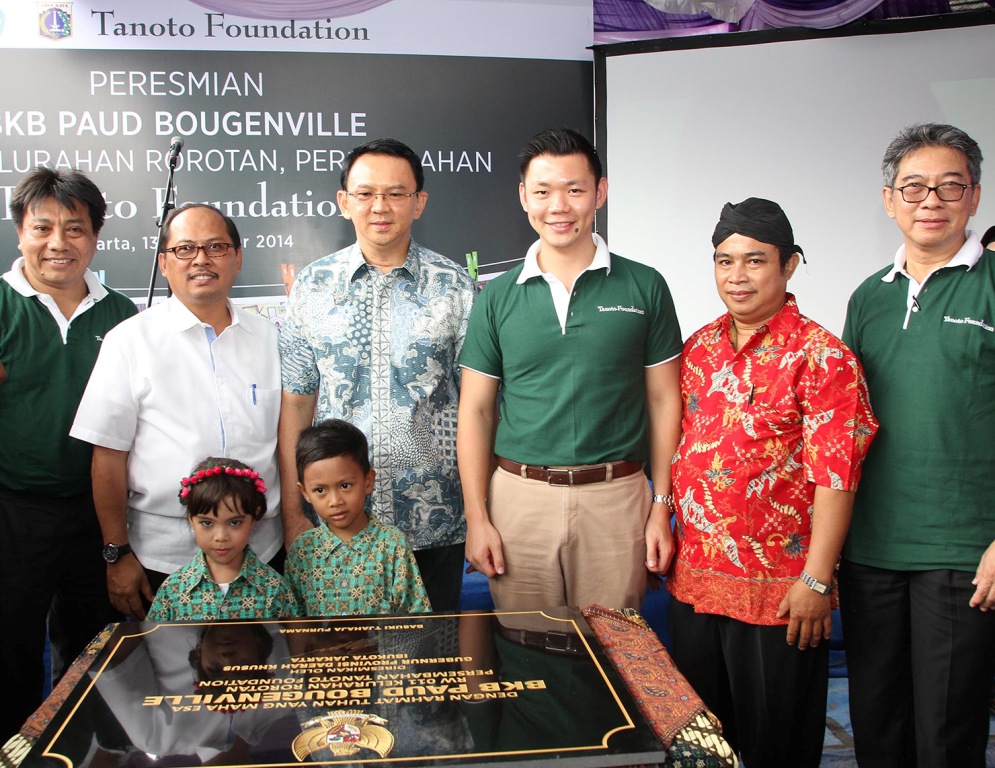 Governor of Jakarta, Basuki Tjahaja Purnama (Ahok,) and Trustee of Tanoto Foundation, Anderson Tanoto, inaugurated Bougenville Early Childhood Development Center (PAUD) in Rorotan, North Jakarta, on Saturday, December 13, 2014.
Tanoto Foundation support for PAUD Bougenville includes building class rooms, teacher's room, and additional space for children teaching and learning activities as well as providing furniture and equipment for children outdoor activities. To support teaching and learning process, Tanoto Foundation also trains teachers in topics such as leadership, management of small library, and assurance of quality of education. In addition, Tanoto Foundation also supports empowerment of the surrounding community members so they could plan and carry out different initiatives that would provide income that subsequently would also be used to support the school.
"The period between zero to six is the golden years of children development process. During this period, 80% of children vital brain development takes place. In accordance with the spirit and passion of Tanoto Foundation, we work with different partners, including the Government and community members to ensure that the youth of Indonesia has access to quality education for all levels. In this connection, our focus is on early childhood education that includes development of children physical and cognitive skills," said Anderson Tanoto, Trustee of Tanoto Foundation.
The Governor of Jakarta, Basuki Tjahaja Purnama, mentioned that "Education for children is very important and is one of the focus of the Government of Jakarta. I appreciate the partnership of the Government with relevant parties, including Tanoto Foundation, to improve quality of education in Jakarta."
To support the improvement of education quality, Tanoto Foundation has been supporting 300 schools and PAUD in North Sumatra, Riau, and Jambi. PAUD Bougenville is the second pilot project supported by Tanoto Foundation in Jakarta. PAUD Kenanga 17 in Rusunawa Waduk Pluit, Muara Baru, Jakarta, was inaugurated in March this year.