Jadi TELADAN #6: Get Confident and Change Your Future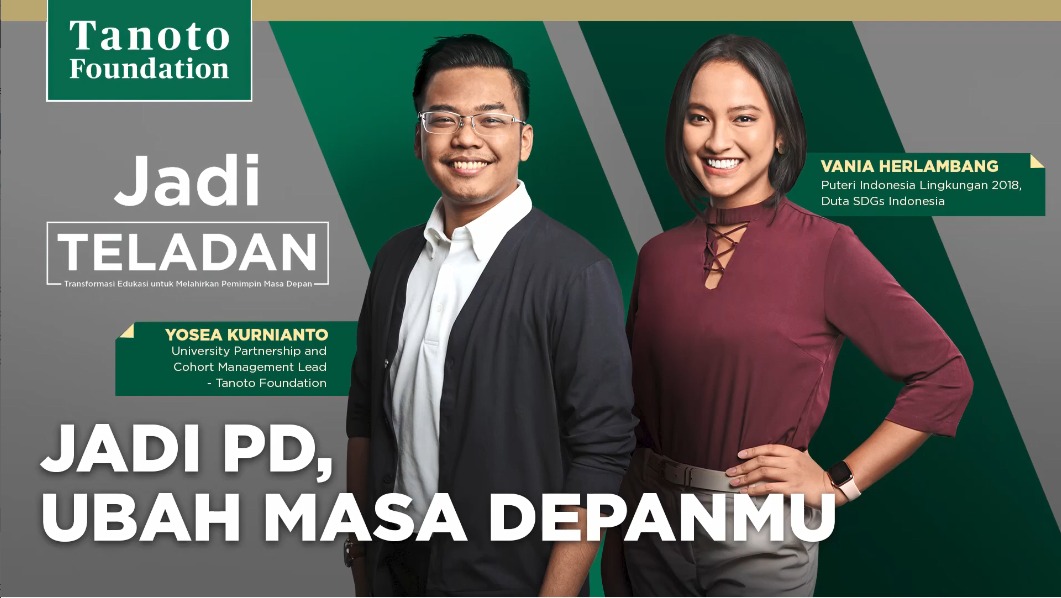 "Be confident!". It might be one of the most common advices we'd receive in our lives. While confidence is undeniably important in how it can help us in achieving our goals, being a confident self might need a few more steps than saying, "I believe in myself".    
As we grow older and our pool of acquaintances becomes larger, we can also see how other people carry themselves. We can see how some lead their lives with ease and confidence. And more than just being an attractive quality, confidence can help you go far in life.   
In the sixth episode of Jadi TELADAN, our host Ricky Abraham talks with Yosea Kurnianto, University Partnership & Cohort Management Lead of Tanoto Foundation, and Vania Herlambang, the First Runner Up of Miss Indonesia 2018 and Indonesia's Sustainable Development Goals (SDGs) Ambassador, about what it really takes to be confident with yourself.
This episode covers:
a. Acknowledging one's worth
b. How to cultivate confidence
c. The importance of our surroundings
Looking Inward
The first step to be confident is to fully acknowledge yourself.
"It's an art of how we understand who we are, how we accept ourselves and most importantly, how we organize all that," said Yosea.
Knowing your traits, along with what you can and cannot control, can lead to having the proper goals and mindset. This will lead to believing that you can achieve what you're meant to achieve.
"Being confident is having the courage to unlease yourself at your best," said Vania. "You might feel insecure and afraid that other people might judge you, but at the end of the day, it's how you can state this is what I am with all of my potentials," said Vania. 
Both speakers agreed that knowing oneself, along with learning what you're capable of, is a life-long process and a neverending journey. It does start with the most crucial step: being aware of what you're good at.
Improving Confidence
As a human trait, confidence is not a fixed characteristic. It's bound for ups and downs, but you can always improve from your experiences.
"We can train ourselves to keep learning even though there are failures," said Yosea. "See them as important learning points. The more we have them, the more solid our confidence gets." 
Getting in touch with yourself can also train you to spot your unique points. Comparing yourself with others in terms of success and achievements might be a boost to do your best, but always remember to be the finest version of yourself.
 Also, make a mental note of what your dreams are or what you want to attain in life. By doing so, you will start to think of the steps to take.
 "Dreams are nice, but getting into action and doing so with persistence is key," Yosea added.
External Factors
"When you're faced with a new situation, just jump in, expect the unexpected and you might unearth unknown potentials," said Vania.
When you're put in a foreign surrounding, you're forced to adapt and step out of your comfort zone. But always believe that you're there for a reason and remember what you're capable of.
Being afraid is very natural, but then also go forward.
Yosea also said that feedbacks are crucial in improving one's confidence. "Find yourself a buddy or a mentor who can guide you through the steps and give you feedbacks. Those will be the fuel for you in the longer run," he said.
Jadi TELADAN is a casual talk show that discusses various topics about Indonesia's future leaders. The program is hosted by Tanoto Foundation, an independent family philanthropy organization founded by Sukanto Tanoto and Tinah Bingei Tanoto in 1981.
Get to know more http://bit.ly/JadiPDUbahMasaDepanmu