Jadi TELADAN #4: Entrepreneur vs Employee: Which one is better?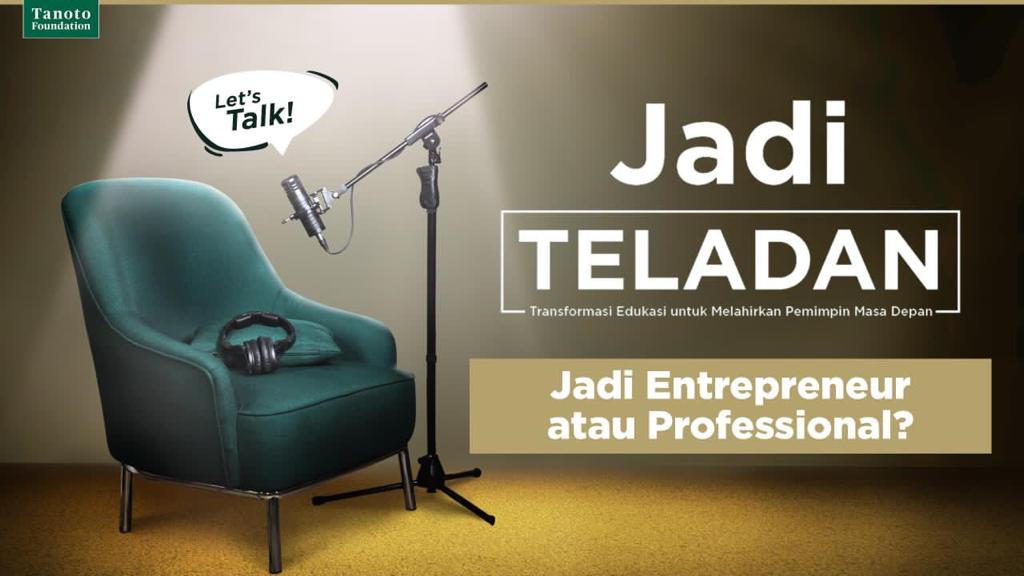 Jadi TELADAN is a casual  talk show that discusses various topics about Indonesia's future leaders. The program is hosted by Tanoto Foundation, an independent family philanthropy organisation founded by Sukanto Tanoto and Tinah Bingei Tanoto in 1981.
We've all seen stories of entrepreneurs who have made it big. But then there's also a lot to be said for the stability that comes from taking a more corporate path.
What are the pros and cons of each? And which career direction is right for you? In episode 4 of Jadi TELADAN, our host Ricky Abraham puts those questions to Susanti Alie, known as Santi, who is the owner of PT Bersama Olah Boga, and Rachmat Harsono, President Director of Indonesia-based industrial gas company, PT Aneka Gas Industri Tbk. 
This episode covers:
a. The pros and cons of each profession.
b. Misperceptions about each profession
c. The skills you need for each profession
d. Tips on how to become a young entrepreneur or a professional
The Ups and Downs of being Entrepreneurs, Employees
Prior to establishing her own company, Santi worked in the fashion industry as a marketing manager. However, she decided to quit to spend more time with her children. 
"I thought I would have more time; that I no longer needed to work from 8 to 5. But it is the opposite. My business takes up my time," she said. 
Santi said that as an entrepreneur, she needed to learn to manage her own time. Moreover, she also got more responsibilities as she needed to manage the whole company. 
Santi also explained that she is now required to do not only the marketing side but also supervise the company's human resources department and even establish a relationship with the government. 
And while the common perception of entrepreneurs is that they are wealthy, in reality, they can sometimes make less than employees, she said.
Rachmat explained that PT Aneka Gas Industri Tbk is a family business, but as the president director of a publicly listed company, he's no different from other employees. He recalled that his parents had taught him that he could be replaced by anyone that meeting the qualifications. 
"It doesn't mean an owner's son can do whatever he wants," he said. 
When asked about how to choose between being an entrepreneur or employee, Rachmat suggested that one needs to understand their values and passions and their future goals prior to choosing the profession. 
Ready to Face All Challenges 
Each career path has its own challenges, regardless of your profession. Therefore, perseverance and patience are commonly considered as keys to success. 
Santi said that being a successful entrepreneur could not happen overnight, explaining that it took a long time for her to be a successful entrepreneur.
"What I see is today's generation wants instant results, but being an entrepreneur is not an instant process," she said. 
"For business world, results will not lie. As long as you stay persistent, [you will be able] to see the results," she added. 
The same goes to being an employee, Rachmat said if one wants to have a successful career, he or she needs to consistently pursue their career.
"The mindset needs to be professional, give it all to the company, keep learning and don't work to just avoid getting fired," said Rachmat.
Get to know more http://bit.ly/JadiPengusahaAtauProfesional