Inspired by Tanoto Foundation's Spirit of Sharing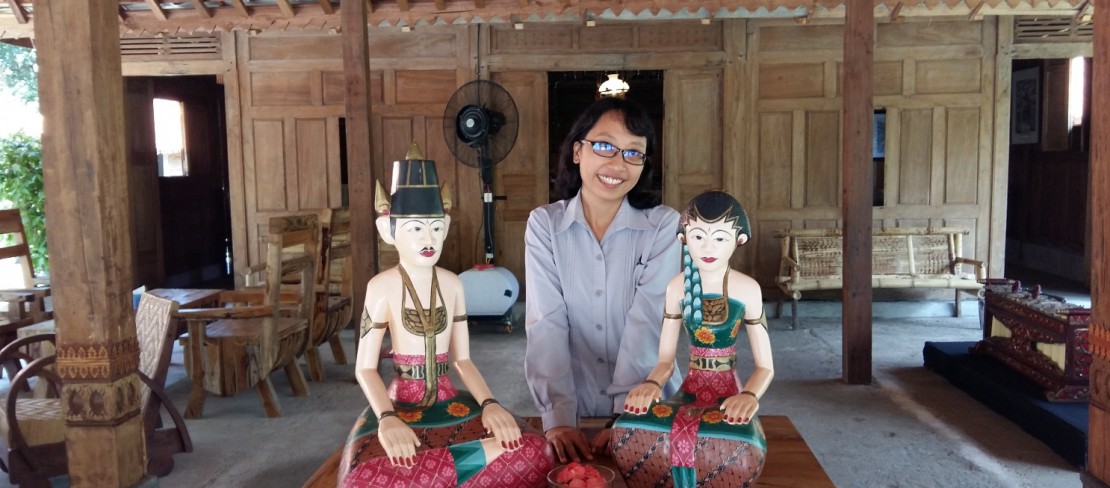 Tanoto Foundation's scholarship programs leave a great impression in Dewa's heart.  The different types of support that Dewi received from Tanoto Foundation have in turn inspired her to undertake various social activities. One of the initiatives that she is involved in is the establishment of Gemati (Gerakan Mengasuh Anak Petani/Movement To Foster Farmers' Children) in Perbukitan Menoreh (Menoreh Hill), Magelang, Central Java.
Dewayani Retno Indarti, or more familiarly called Dewa, was born in Lampung, 2 July 1987. In 2003, she left her home in Lampung and moved to Muntilan, Magelang, to attend SMA (Senior High School) Pangudi Luhur Van Lith, a dormitory-based school concept.
"SMA Pangudi Luhur Van Lith was recommended by my mother because this school teaches independence and sense of social awareness and solidarity with others. Before graduating from the school, the students were obliged to raise money which would be used to help members of the surrounding communities," explained Dewa.
At that time, to raise the money, Dewa sold martabak (egg pancakes) and cleaned worship places.  She particularly liked these activities because it molded her into an independent person with the spirit of sharing.
After graduating from senior high school, Dewa was accepted at the Accounting Department, Economic Faculty, Gadjah Mada University.  However, hard times started to approach her.  When Dewa just started her junior high school, her father passed away.  As a single mother and nearing the pension age limit as a civil servant,  Dewa's mother struggled  to finance the education of Dewa and her siblings. At that time, her elder sibling was studying at a university while her younger sibling was still at a senior high school.
Dewa did not give up although the threat of dropping out of college came very close.  She did her best to continue her study until graduation.  In her free time she gave private lessons to other university students. She also earned money from doing laundry for her fellow boarders.  The money she earned was just enough for paying the cost of her study and living.
In 2006, Dewa's friend informed her that Tanoto Foundation opened the scholarships registration process. Dewa and one of her friends decided to register.  Her friend even helped Dewa in preparing registration documents as Dewa was busy with her activities to earn additional money. At the end, all of the hard work paid off as  Dewa was selected to be a Tanoto Scholar.
(Read: Non Binding Scholarship List)
Tanoto Foundation's scholarship really helped Dewa, especially in terms of financing.  She had more time for her study and could afford to spend less time in seeking additional money.  "By receiving the scholarship from Tanoto Foundation, I am more motivated to improve my academic achievement.  On the other hand, I also learned the sharing concept from the Foundation which inspires me to also do the same to the people in my community," said Dewa.
(Read: Binding Scholarship List)
In 2012, Dewa together with her friends initiated the Gemati community so children of the farmers in Perbukitan Menoreh can go to school. This community solicits donors and channels their aids to children of less-fortunate families.  To date, Gemati has 72 foster parents and is supporting 114 foster children.