Improving Skills to Overcome Challenges in the Future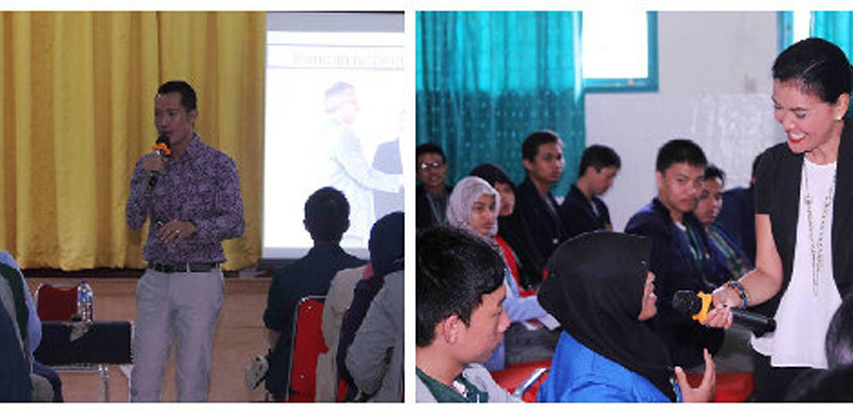 Different Workshops During Tanoto Scholars Gathering To Develop Tanoto Scholars Skills.
---
What kind of character would you want to show to others? Would you want to be perceived as smart, friendly, or even arrogant? All of these characters could be created. Furthermore, someone's character could play a significant role in his or her success in the future.
Lead by Erwin Parengkuan, a media personality, these questions were discussed during training on personal branding for recipients of Tanoto Scholarship or Tanoto Scholars. In this session, Tanoto Scholars were encouraged to think about ways to develop their characters to achieve success in the future.
Tanoto Scholars were also invited to use the SWOT matrix to learn about their strengths to seize available opportunities as well as how to overcome their weaknesses while facing threats.
The next session was carried out by Becky Tumewu, also a media personality. She challenged most of the Tanoto Scholars to be brave enough to overcome their shyness and talk in front of the forum. Through fun and interactive session, the Scholars were engaged in learning about the dos and don'ts in public speaking and ways to improve their skills.
Afterward, Tanoto Scholars learned about blogging from the Kompasiana team. In this session, they learned about the trips and tricks in blogging. According to Nurulloh from Kompasiana, blogging was not only about expressing one's thoughts. "Blogging is a skill that can be developed and improved over time. A good blog could also be a source of income," he said to the participants.
"Write, so you exist," said Nurulloh. He further said that blogging was not as difficult as one might think. He also said that if the participants found it difficult to start blogging, then they could try by writing a topic they were interested in. Then, they could start writing about what other people liked.
Nurulloh also reminded Tanoto Scholars to appreciate the work of others. He explained that, in cases where other people's work was used, the source of information or original author should always be included.
These series of training was carried out during Tanoto Scholars Gathering as a part of Tanoto Foundation's effort to improve the soft skills of the Tanoto Scholars. Other activities in this Gathering included outbound games to instill the values of leadership and team work among the Scholars.