How To Deal With Anxiety?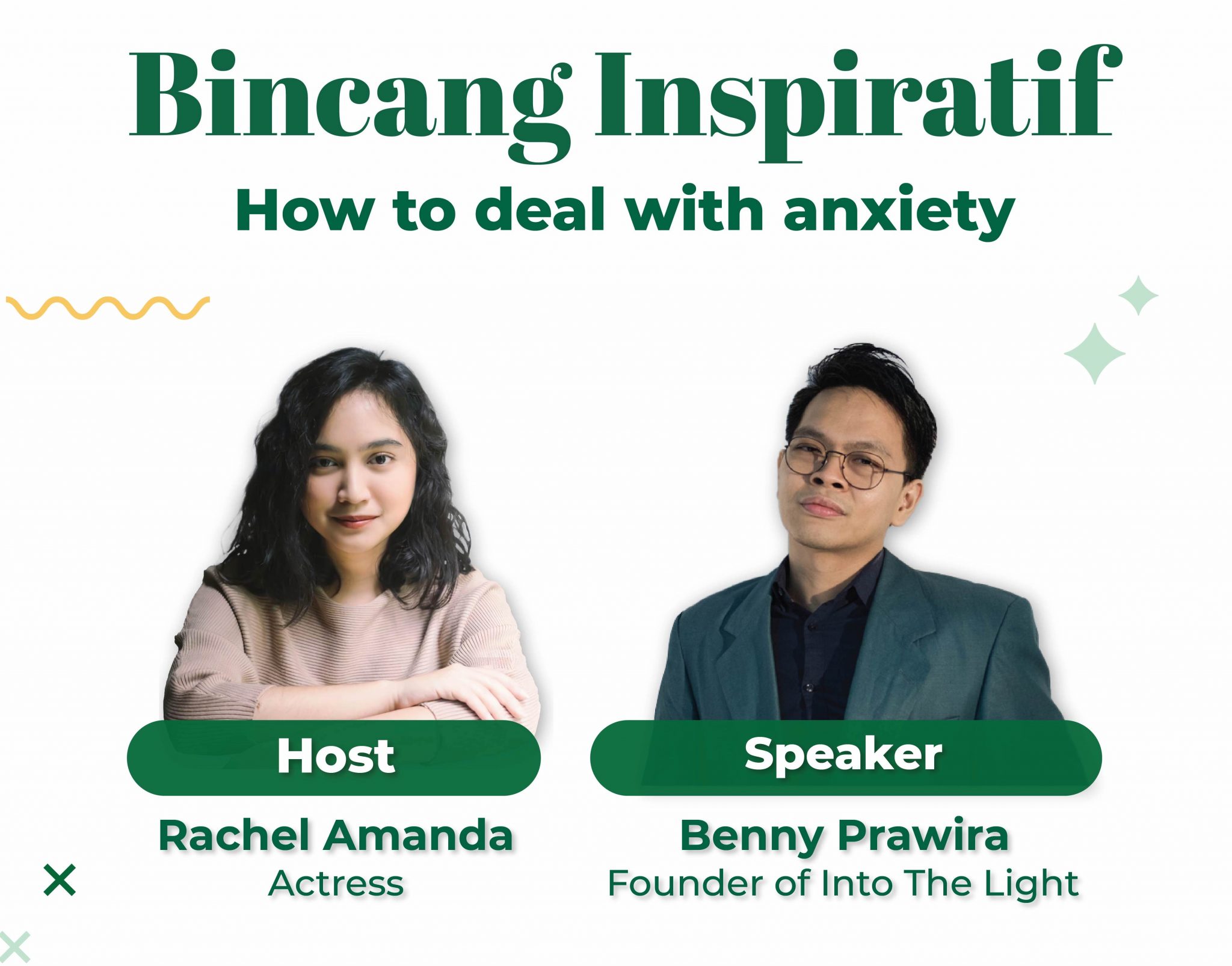 "When we worry too much about our own expectations, we need to know ourselves first. What are our values, what are our needs, what is the purpose of our life and know our weaknesses and shortcomings." -Benny Prawira, Founder Into The Light.
Into The Light is a community built by Benny Prawira for young people aged 18-35 to prevent suicidal behavior and improve health and well-being through research, public education, and policy advocacy. In the latest episode of Bincang Inspiratif by Tanoto Foundation, Benny shares some advice to host Rachel Amanda Aurora on how to control anxiety.
This edition covers:
– Mental health, stigma, gender and privilege
– Recognising discomfort and how to handle it
– How to deal with anxiety
Part 1
View this post on Instagram
Part 2
View this post on Instagram
Mental Health and Stigma
Mental health issues have often been seen as a taboo subject as it's so personal. Which is ironic, as it is very important for us to take care of our own mental health the same way we take care of our physical health so that it would not affect us in the long-term.
Benny says that anxiety disorder is different to physical pain, which can often be visibly seen with our eyes. Whenever we are overwhelmed with stress, we might feel certain breakdowns which may affect our mind and physical condition: the more stressed we are the more likely we are to feel less comfortable with our own body, and it might be hard to focus.
But just like any other health problems, anxiety disorder can be treated by consulting with professionals. Many people are worried about going to professionals as they fear the cost, but Indonesians can actually make use of BPJS, which covers psychiatric health services within its insurance. Benny emphasizes if someone's anxiety disorder impacts their daily activity, then they really need to immediately consult with professionals.
Recognise Discomfort and How to Handle It
When you feel anxious it's better to acknowledge it and learn how your body reacts. Focus on your feelings and you may notice certain sensations linked to your emotions – for example your muscles might be tense or your fists clenched. Rather than pretending that nothing is happening, it's better to learn to identify it and understand why you feel the way you do. Then you can better deal with those feelings in future.
Another problem that often surfaces when trying to convey this anxiety issue to parents is how they might perceive it. This often happens because of a communication gap between parents and children, and the lack of information from the parents' side about mental health issues.
How to Deal with Anxiety?
So what's the best way for us to overcome our own anxiety when we do not have anyone by our side? Benny suggests learning the 'grounding' technique which involves looking at five different things that we can see, four items that we can touch, three items that we can smell, and a snack that we can eat in order to help us to not focus on the anxiety and reduce the effect.
One other thing that Benny heavily emphasizes whenever we are feeling the symptoms of anxiety is that we should never self-diagnose and that we need to immediately consult with professionals to better understand the symptoms. We need to understand that mental health is as important as physical health and should be treated as such.