Having Fun While Arranging the Library of SDN Jati 03 Bandung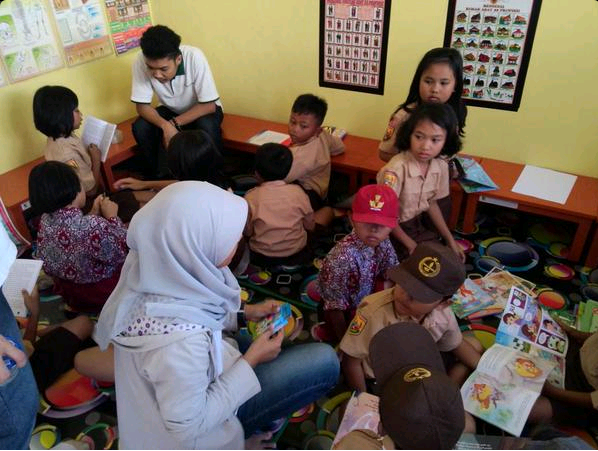 Arranged by Esuko Chiomi, Tanoto Scholar from Pulp and Paper Technology Academy Bandung.
Around a hundred of Grade 3 and 4 students of SDN Jati 03 Bandung were gathering at the school yard during the afternoon of May 30, 2015. They were busy taking part in our activities. From their happy expression, it was apparent that they enjoyed carrying out different tasks with us.
That day, members of Tanoto Scholars Association from Pulp and Paper Technology Academy Bandung, visited SDN Jati 03 to support the school's library and encourage the children to read.
In carrying out this activity, we used the knowledge that we had gained from the training previously carried out by Tanoto Foundation. First, we divided the students to two groups. The first group which consisted of the third graders was responsible to categorize books from the school's library. Meanwhile, their peers from the fourth grade learned to make students newsletters.
The books from the library were categorized into two main groups: fictions and non fictions. We also further separated the books into text books, general knowledge books, and story books. This way, students could find the books they wanted to read more easily.
To encourage more students to use the library, we included some teaching aids and made students newsletter. So the newsletter can be produced regularly in the future, we taught our friends from the school to create these materials.
"We try to create a comfortable library so students are encouraged to spend their time and read more books here. We hope that they will read more books as books will improve their knowledge. And this knowledge will support them to achieve their dreams in the future. We also would like to share the love of learning and of books that the founder of Tanoto Foundation, Bapak Sukanto Tanoto, has to these students," said Angga Kesuma, head of the Academy's Tanoto Scholars Association.
As Tanoto Scholars, we receive various training by Tanoto Foundation to develop our soft skills. Topics of training include skills to manage school library, effective presentation, and leadership. We are also encouraged to give back to the community by carrying out different social activities such as the one carried out with SDN Jati 03.