Entrepreneurship and the Courage to Dream and Start an Endeavor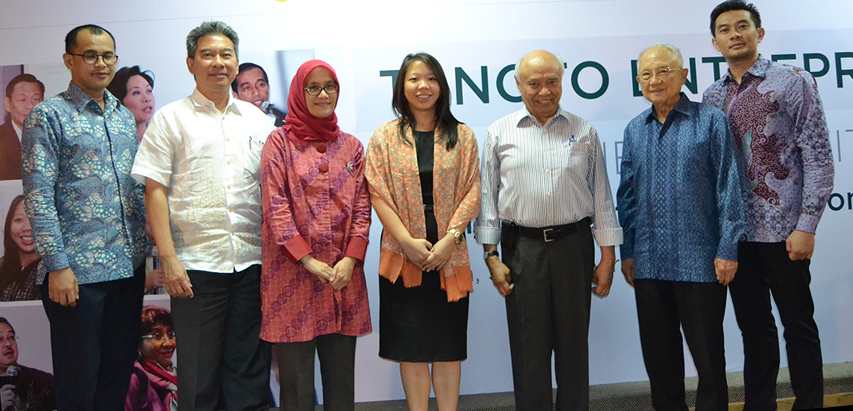 Top: Imelda Tanoto, center, with the event's speakers, Boenjamin Setiawan and Hariono, second and third from right.
Bottom: Participants of Tanoto Entrepreneurship Series.
---
There are many successful business people in this world who are relatively young. For example, the founder of Facebook, Mark Zuckerberg, or Microsoft founder, Bill Gates. They are still relatively young because they started their business at the young age. Further, the key to their success was their courage to dream and to start the endeavor of being entrepreneurs.
This was mentioned by Dr. Boenjamin Setiawan, founder of PT. Kalbe Farma Tbk., one of the biggest pharmaceutical companies in Asia. Dr. Boenjamin, or usually known as Dr. Boen, conveyed this piece of information during the Tanoto Entrepreneurship Series in October 30, 2015 at University of Indonesia Faculty of Economics Graduate Program in Management.
Tanoto Entrepreneurship Series is regularly held by Tanoto Foundation to provide opportunities for the Graduate Program students to learn directly from successful entrepreneurs. In this event, Tanoto Foundation invited Dr. Boen and Hariono, KASA Group founder, as speakers.
As the next speaker, Hariono motivated the participants to have the courage to start as entrepreneurs. "The biggest obstacle usually comes from within you. You often have the debate whether or not you would like to start. Whether or not you would like to take the risk. Once you start this endeavor, you should try very hard to maintain your business. Not being afraid to face challenges is one way to do that," said Hariono.
In this event, Imelda Tanoto, member of Tanoto Foundation Board of Trustees said, "Entrepreneurs play an important role in Indonesia's development because entrepreneurs produces innovations. These innovations are then used to support the increase of productivity, open new markets, and grow the economy."
Imelda Tanoto also said that at the moment, the number of entrepreneurs in Indonesia is still significantly lower than that of in other countries. In addition, with the commencement of ASEAN Economic Community at the end of 2015, Indonesia needs new entrepreneurs to compete with other ASEAN countries. She hopes that Tanoto Entrepreneurship Series can inspire the young generation to become young entrepreneurs and contribute to the growth and development of the country.