Developing Teachers Through Lesson Study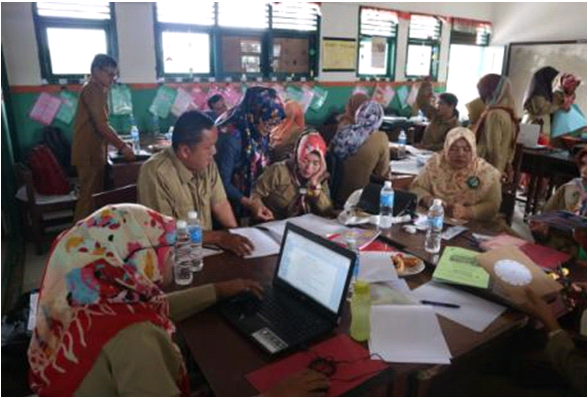 A teacher has a noble while at the same time challenging task of promoting the quality of education in Indonesia. To advance the quality of education, the first thing teachers should do is improve their own quality. The way to do it is by improving their understanding of the teaching methods and the process of evaluating their teaching.
Through Pelita Guru Mandiri program, Tanoto Foundation holds various training programs to improve teacher competence and quality, one of which is a post-training mentoring program for teachers. Post-training mentoring aims to ensure that the outcomes of the training can be maximally absorbed by teachers.
In October-November 2017 last, a mentoring program with Lesson Study approach was carried out for teachers in Kecamatan Tungkal Ulu, Kabupaten Tanjung Jabung Barat, Jambi. The concept of Lesson Study was originally developed in Japan.
Lesson Study is a professional development process undertaken by teachers by observing and testing learning practices on a regular basis. The purpose of Lesson Study is to increase effectiveness in teaching activities.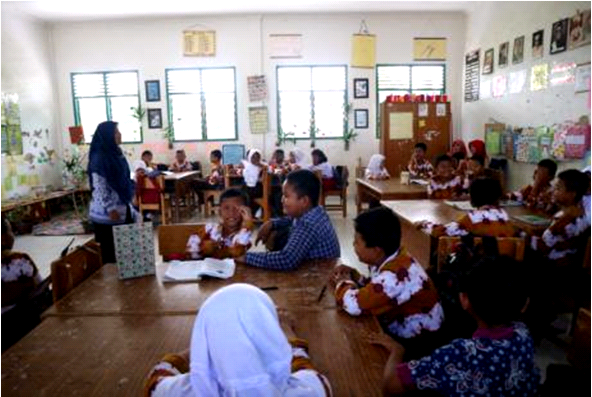 The Lesson Study practiced in Jambi consists of three stages: planning, observation, and reflection. These three stages are called "Plan", "Do", and "See" stages. At the Plan stage, teachers developed the learning plan. At the Do stage, a model teacher performs the teaching-learning activity based on the plan while other teachers make observations. At See stage, all teachers gather to assess the teaching-learning process that has been performed.
The participants enjoyed the Lesson Study approach practiced, although initially some of them felt less confident with this system because of being monitored while teaching. However, after going through it, this activity turned out to be enjoyable.
"It turns out that to be a model teacher is fun and not as scary as I have imagined. Mentoring such as this will make teachers' work easier. I am more confident to teach now, "said Desti Eka Fitri, a model teacher from SDN 09 / V Pelabuhan Dagang, Kecamatan Tungkal Ulu, Kabupaten Tanjung Jabung Barat, Jambi.
The key to success of the Lesson Study approach is cooperation. Lessons developed together, teaching is observed together, and the results are reviewed together. In the evaluation using the Lesson Study approach in Kecamatan Tungkal Ulu, the participants participated actively, so that improvements could be done optimally.
This Lesson Study activity was attended by 16 teachers from eight schools in Kecamatan Tungkal Ulu which was carried out in turns. Each school hosted twice. Lesson Study has not only been held in Kecamatan Tungkal Ulu, but also in various schools in Kabupaten Tanjung Jabung Barat, Kabupaten Batanghari, and Kabupaten Tebo. More than 400 teachers in the three districts attended the Lesson Study program. This activity is expected to increase the capacity and competence of teachers in Jambi Province.
Written by Fitria Hima Mahligai, Tanoto Foundation Jambi