Developing Discipline and Cleanliness in Children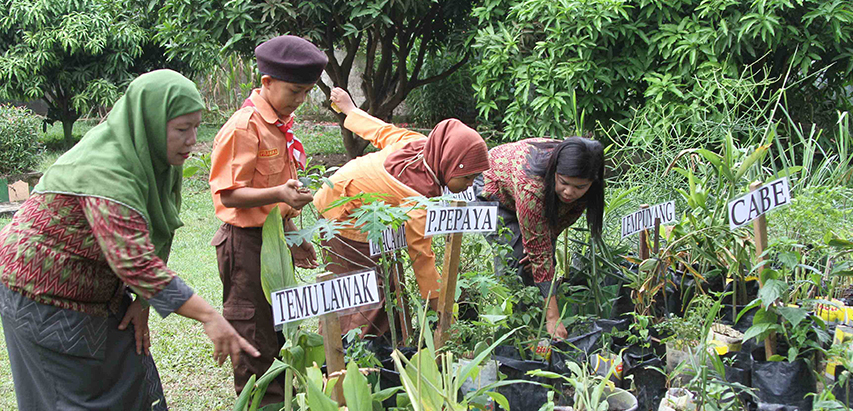 Teachers and students of SDN Bukit Agung 004 in their herb garden.
---
The shaping of one's mentality and habit must start from early age and be supported by consistent education. Tanoto Foundation agrees with this premise and has been supporting the improvement of the education sector in Indonesia since 1981.
Anderson Tanoto, member of Tanoto Foundation Board of Trustees, explained that the Foundation was established based on the belief of its founders, Sukanto Tanoto and Tinah Bingei Tanoto. They believe that everyone should have an opportunity to realize his or her potential fully. "Education is an important part of this endeavor. This is one of the reasons why Tanoto Foundation's focus is to improve quality and access of education, particularly in rural areas in Indonesia," said the youngest son of Sukanto Tanoto.
Anderson also added," Through Tanoto Foundation's program of improving quality of education, Tanoto Foundation works with 322 schools in North Sumatra, Riau, and Jambi. Our Independent Teachers Program, for example, train teachers from these schools so they could teach students with appropriate yet fun and engaging methodologies."
"There are more than 200 schools that have been trained so they could maintain their school and surrounding to be safe and hygienic. The school's stakeholders such as students and teachers are also trained to have environment-friendly habits. With these programs, we believe that teaching and learning process can properly take place in the school and quality of education can be improved," Anderson further explained about Tanoto Foundation programs.
In Riau, particularly in Pangkalan Kerinci sub-district, Pelalawan District, one of Tanoto Foundation's partner schools is SDN 004 Bukit Agung. As part of the collaboration, the School teachers and stakeholders have been trained in the above mentioned programs. To date, SDN 004 Bukit Agung has won many Green School Awards at sub district, district, and provincial levels.