Dedication, Hard Work and Focus: Notes to Aspiring Doctors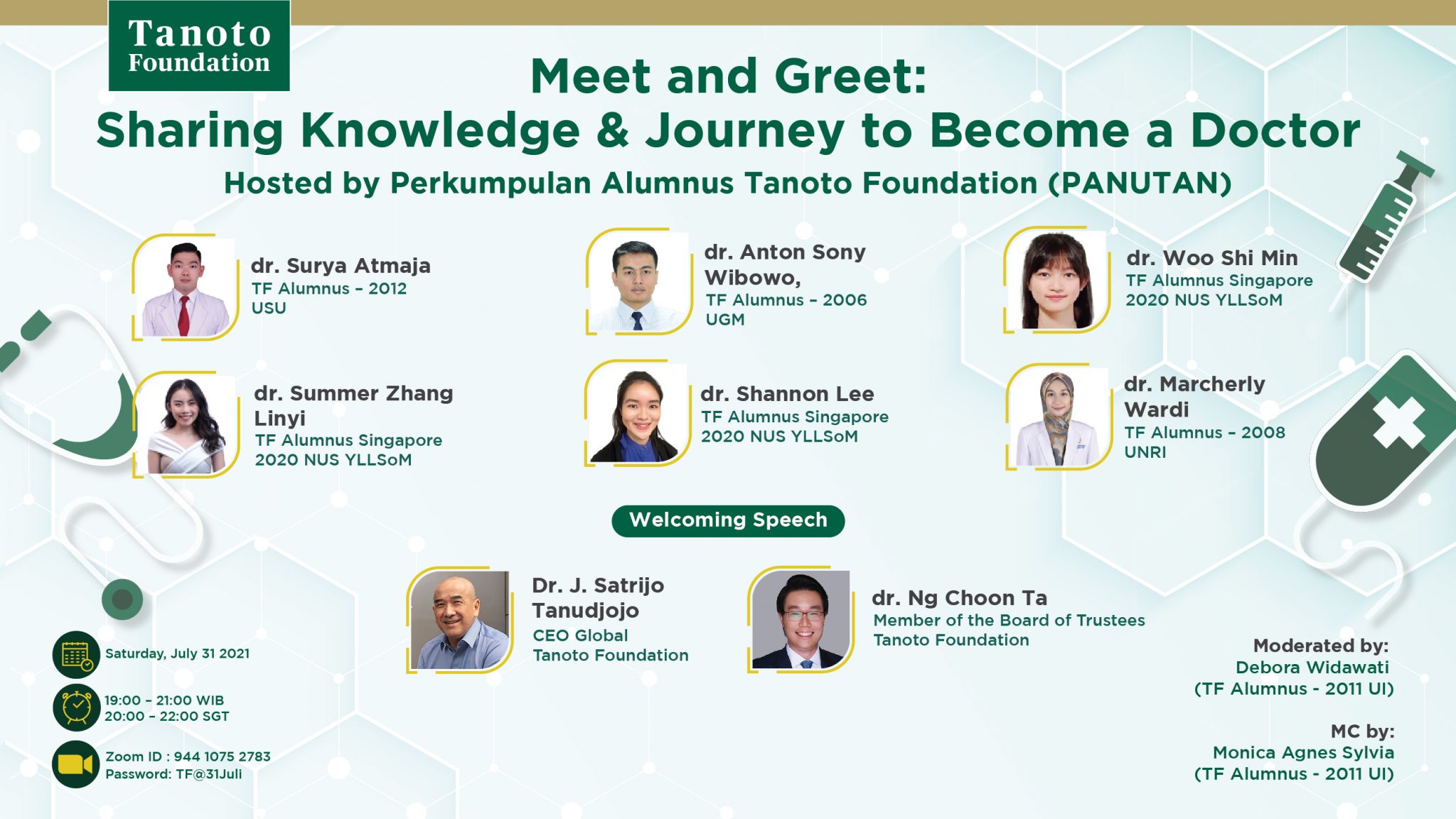 Doctors are rightly treated with respect. We turn to them for any health-related questions, to treat our illnesses, and in some cases they are literal lifesavers.
But becoming a doctor also means contributing a great deal of time – at least 10 years – for medical school and residency, all the while absorbing lessons, knowledge and skills to improve oneself. So it's perfectly normal for students of medical school to feel inadequate or exhausted at times, as mentioned in the "Meet and Greet: Sharing Knowledge & Journey to Become a Doctor".
Hosted by the Tanoto Foundation Alumni Association (PANUTAN), the online event took place on July 31, 2021 and invited six Tanoto Foundation alumni from Indonesia and Singapore to share their journey in becoming doctors. Tanoto Scholar Debora Widawati served as moderator while fellow Tanoto Scholar Monica Agnes Sylvia served as host.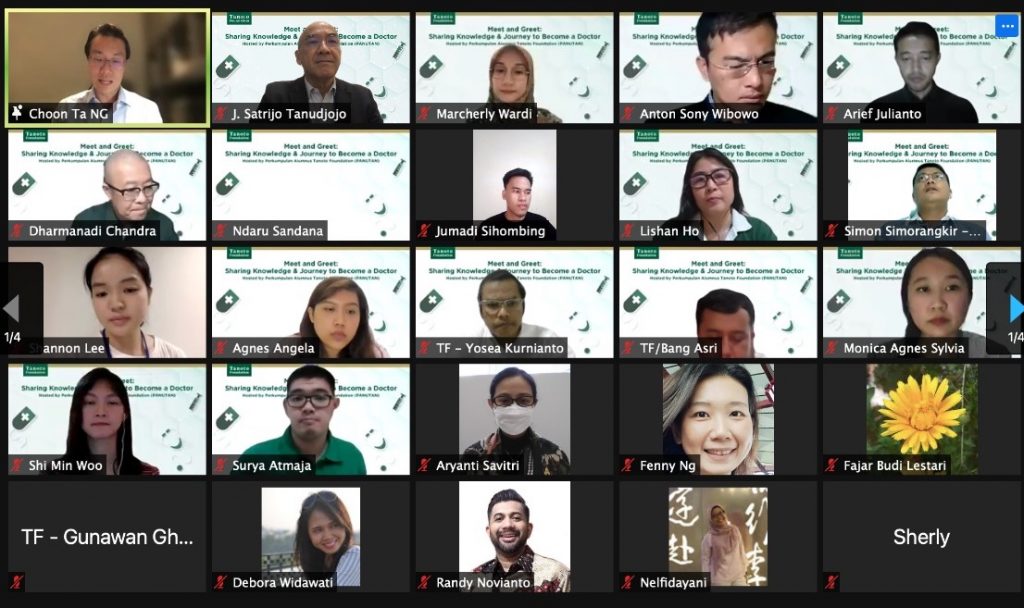 Introduced by Tanoto Foundation's Global CEO, Dr J. Satrijo Tanudjojo, dr. Ng Choon Ta, Member of the Board of Trustees at Tanoto Foundation, opened the session by giving a keynote speech. dr. Choon Ta is also a Consultant for the Department of Cardiology at the National Heart Centre Singapore and a Clinical Assistant Professor at Duke-NUS Medical School.
"Medicine has always been a calling – one that requires dedication and hard work," he said. "When we graduate from medical school, we start a lifelong journey of service to our patients, and on our mission to advance medical science by finding cures and new care paradigms."
All six speakers acknowledged the arduous journey to become a doctor, one that required calling, motivation, focus, commitment and dedication. They noted the struggle to balance work and life, and some recommended having other interests as something to look forward to alongside work.
"Medical school is quite demanding: the amount of content we have to do is quite crazy and the speed with which we have to do it is even crazier," said dr. Shannon Lee, an alumnus of National University of Singapore's Yong Loo Lin School of Medicine in 2020. "But I think what I learned from it after a while is to not be so afraid of falling behind and learn at our own pace. Better to do it with confidence."
Fellow 2020 alumnus dr. Summer Zhang Linyi shared the sentiment. "In medical school, I was surprised of how hard it is no matter how much we studied during junior college," she said. "It's [also] very hard to balance your life and be who you are and be competent and be a good doctor that you wanted and what the society wants. I feel like one of the things we feel everyday is an impostor syndrome, having the feeling of incompetency and not being who you are despite putting all in the hours you have in your hands." Nevertheless, she also shared that eventually she found that she was able to adapt and find that balance between work and life.
Stressing the importance of time management in the matter of work and life balance, dr. Surya Atmaja who currently works at a regional public hospital in Jambi credited the soft skill workshops provided by Tanoto Foundation. "Thanks to those, I could manage [my time] smoothly," he said.
Speakers also recognized the role that Tanoto Foundation played in enriching their journeys in becoming doctors, such as Project Sukacita, the annual community service project for underserved communities in Riau's Pangkalan Kerinci. Initiated by Tanoto Scholars at Singapore Management University in 2012, the program also saw participants from the National University of Singapore and Nanyang Technological University in recent years. Activities include giving guidance to children on how to lead clean and healthy lifestyles as well as health screenings for children and their parents.
"[The project taught us] to analyze the strengths and shortcomings of each member, the importance of effective leadership as well as teamwork," shared dr. Woo Shi Min, who is currently in pediatric residency program at the National University Hospital in Singapore. "[These] valuable lessons hopefully prepare us for our work situation and in the future as well."
Working in the area most affected by the Covid-19 pandemic, the doctors acknowledged how the health crisis has affected their lives. dr. Anton Sony Wibowo, a fellow in the Southern Tohoku General Hospital, Japan, had to leave the country and continue his education online from Indonesia. dr. Summer had the experience of changing personal protective equipment (PPE) up to 30 times a day. There was also the lack of standard of procedure and PPE, especially in the beginning of the pandemic, as shared by dr. Shannon.
When asked about the most rewarding thing about being a doctor, all speakers acknowledged that ultimately it's about the patients' lives, especially as they can become part of the patients' journey in overcoming their illnesses. "Seeing our patients get better and seeing the smiles on their faces is the most rewarding thing," said dr. Woo Shi Min.
Dr. Marcherly Wardi, who is studying a physical medicine and rehabilitation specialist program at the University of Indonesia, said that she can fulfill her passion of dedicating her life to helping others by being a doctor. While dr. Anton said that doctors attend to human needs, which are quite unique. "There are ethical and cultural matters, which set the profession apart from others," he said.
To aspiring doctors, dr. Ng Choon Ta shared his words of wisdom, "I wish to assure you that you are not alone in this journey. The career can be demanding, and there are times that one may feel like giving up. You have the privilege as well as the opportunity to tap on our network of healthcare and medical professionals across the Tanoto Foundation. More importantly, we hope that via the sharing of experiences, we will gain insights which can positively impact our lives and those around us."