An Engaging Session of Intellectual Sparring and Exchange – The Wharton-SMU Dialogue Supported by Tanoto Foundation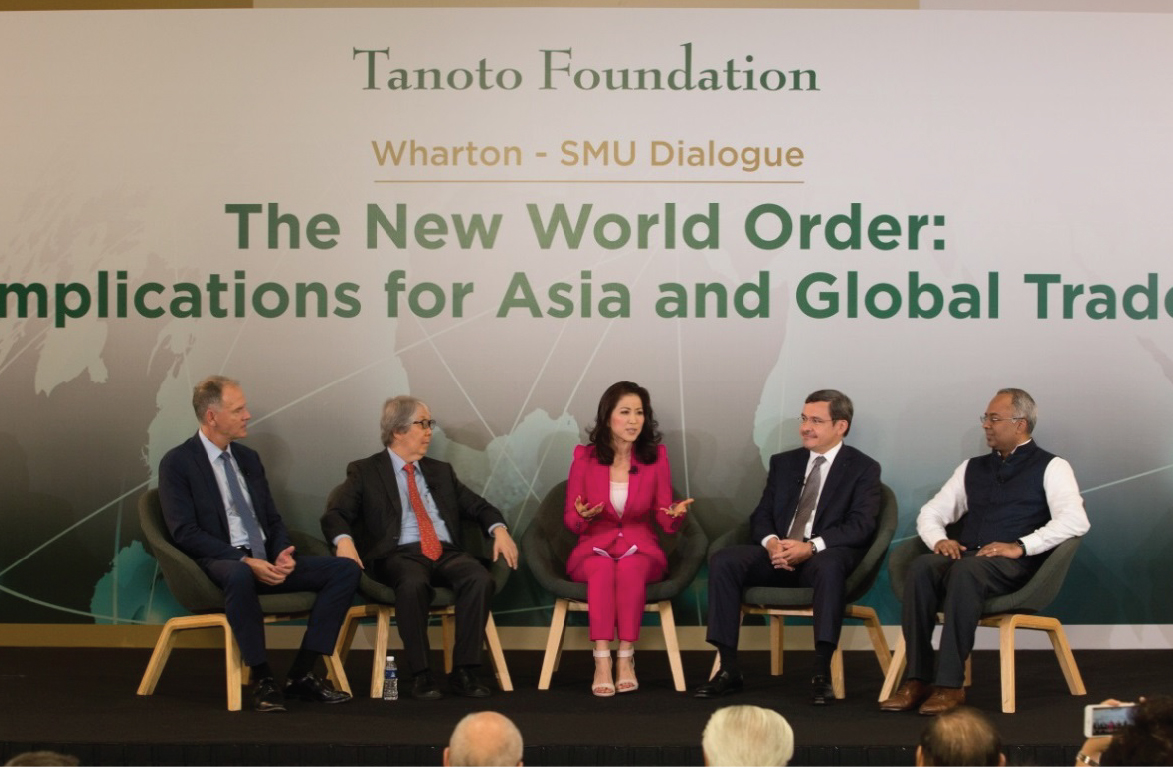 Over 100 guests comprising alumni from the Wharton School and Singapore Management University (SMU), as well as academics, industry experts and businessmen, participated in the Wharton-SMU dialogue on Monday, 5 March 2018. Supported by Tanoto Foundation, the dialogue featured a panel discussion on the topic 'The New World Order: Implications for Asia and Global Trade'. The event was graced by Guest-of-Honour former Singapore President and SMU Honorary Patron Dr Tony Tan Keng Yam.
Tanoto Foundation has been supporting SMU students with the Tanoto Scholarship since year 2000. The Tanoto Foundation, together with its corporate partners, holds an annual Wharton-SMU Global Modular Course event, whereby Wharton and SMU students are invited to visit Indonesia to learn sustainable business practices.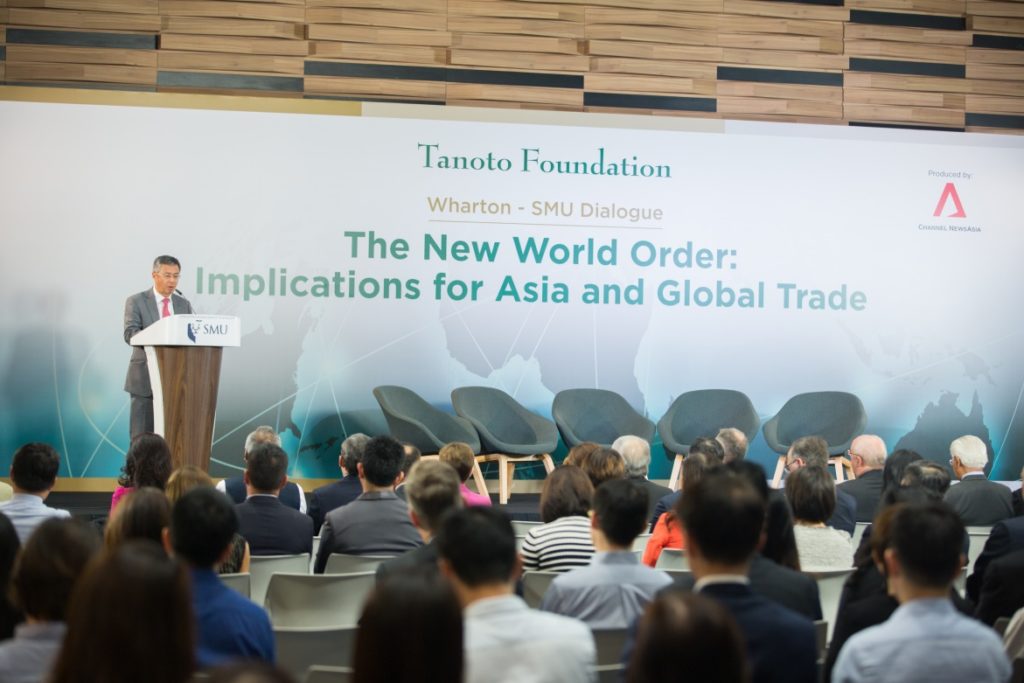 Since 2013, through the Wharton-Tanoto Initiative, Tanoto Foundation aims to improve the quality of business education and research on ASEAN with a strong focus on Indonesia through research grants to Wharton faculties. Apart from research grants, the Foundation provides funding for Wharton faculty staff to travel to ASEAN to gain in depth first hand exposure to the region. Every year, the Global Faculty Development Program under the Wharton Tanoto Initiative brings selected faculty staff from Indonesian universities to Wharton for mentoring and training on how to get their research published in top tier international journals.
The panel consisted of leading thinkers from academia, politics and business:
• Professor Geoffrey Garrett, Dean, The Wharton School
• Professor Tommy Koh, Ambassador-at-Large, Ministry of Foreign Affairs, Singapore
• Ms Chloe Cho, Moderator, Channel News Asia
• Mr Helman Sitohang, Member of the Executive Board, Chief Executive Officer, Asia Pacific, Credit Suisse
• Professor Gerard George, Dean, Lee Kong Chian School of Business, Singapore Management University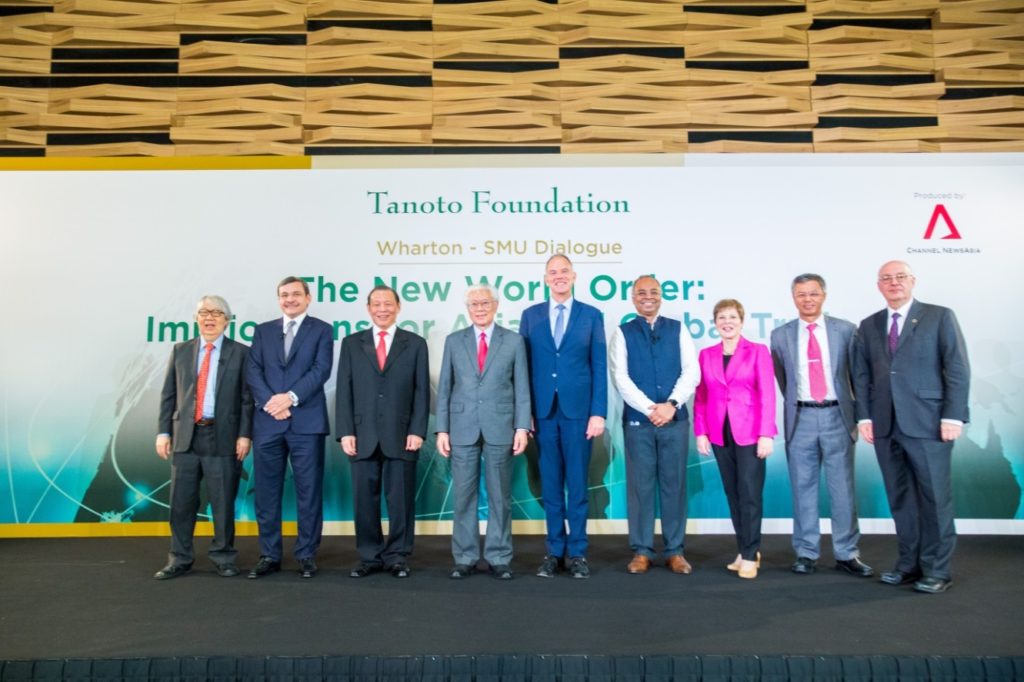 The panel discussion saw some intellectual sparring amongst the panellists; while Prof Garrett was leaning towards a world led by geo-economics, Prof Koh was of a different opinion that geo-politics eventually override geo-economics, just as history has shown us before.
Prof George shared that the major global trends that we will see are countries competing over data, natural resources and technology innovation, whoever who wants to lead in this new world order will have to manage and grapple with these resources.
Climate is also highlighted as a huge deciding factor in how world trends will pan out in the future, which is currently not talked about enough, potentially affecting migration trends around the world. In line with that, Mr Sitohang shared that sustainability is a very current issue that he sees the corporate world being increasingly aware and involved in.
The world is not just a bi-polarity struggle between China and the US, but a multi-polarity tussle between the major powers of the world, not forgetting the likes of Japan, Russia, Europe, India and ASEAN. But there is clear power shift towards Asia and will continue to be even more so in future.
Watch the full episode here: