Adapting to the Future of Learning

The Covid-19 pandemic has caused tremendous impact on all aspects of human life, including on education. The way that classes are taught, learning methods, education infrastructure and curriculums have all had to change and adapt to facilitate distance learning, and to allow for education to go on.
In Indonesia, the government has made distance learning a national policy as a response to the pandemic. Until it is over, students of all school levels across the country will continue to attend classes online from their homes.
Yet, there is a high possibility that distance learning remains the face of education in Indonesia, even well after this pandemic. Nadiem Makarim, Minister of Education and Culture, has consistently expressed that the use of technology in teaching and learning activities will be fundamental in future education.
However, the use of technology is only part of the equation when it comes to ensuring a holistic and quality learning experience for students. Human resources – namely, teachers – also have to adapt to the changing teaching circumstances as quickly and effectively as possible. If distance learning is to persist as a permanent form of education, teachers will have to adapt via proper training, and also devise new and creative ways of teaching and learning.
Early projections for changing education 
In 2014, the World Innovation Summit for Education (WISE), an international initiative aimed at transforming education through innovation, conducted a survey related to the projected success of schools in 2030. 93 percent of education experts surveyed said they supported schools that implement innovative methods based on new teaching approaches and creative processes.
The WISE education experts predict that these schools will develop into a learning network. Resources and technology will support peer-to-peer networks, dialogue and information exchange, and facilitate movement towards collaborative learning.
The survey also found that 43 percent of respondents believe that learning content will be dominated by online platforms. Meanwhile, only 29 percent of respondents thought that traditional schools would remain the main source of knowledge.
The results of this survey – which was conducted long before the pandemic – reinforces the notion that the future of education will be very much technology-driven.
Indonesia's 2013 curriculum
In 2013, a new curriculum was implemented as part of the national Indonesian education system. This new curriculum mandates that the role of teachers in implementing 21st century learning methods and HOTS (High Order Thinking Skills) must be optimised. In other words, teachers are encouraged to be innovative and creative with their teaching methods and processes.
The core of 21st century learning focuses on the use of information technology in the teaching and learning process, with the aim of accelerating development of students' thinking and learning skills. The 21st century learning concept also shifts the traditional teacher-centred learning approach to being one which is student-centred.
In this way, it is hoped that students will gain skills, including problem-solving, creative thinking, collaboration and communication skills, which will serve them well as part of a future workforce in the 21st century.
Teacher competence is key
There is no doubt that teachers play a key role in spearheading and implementing new ways of learning in the 21st century.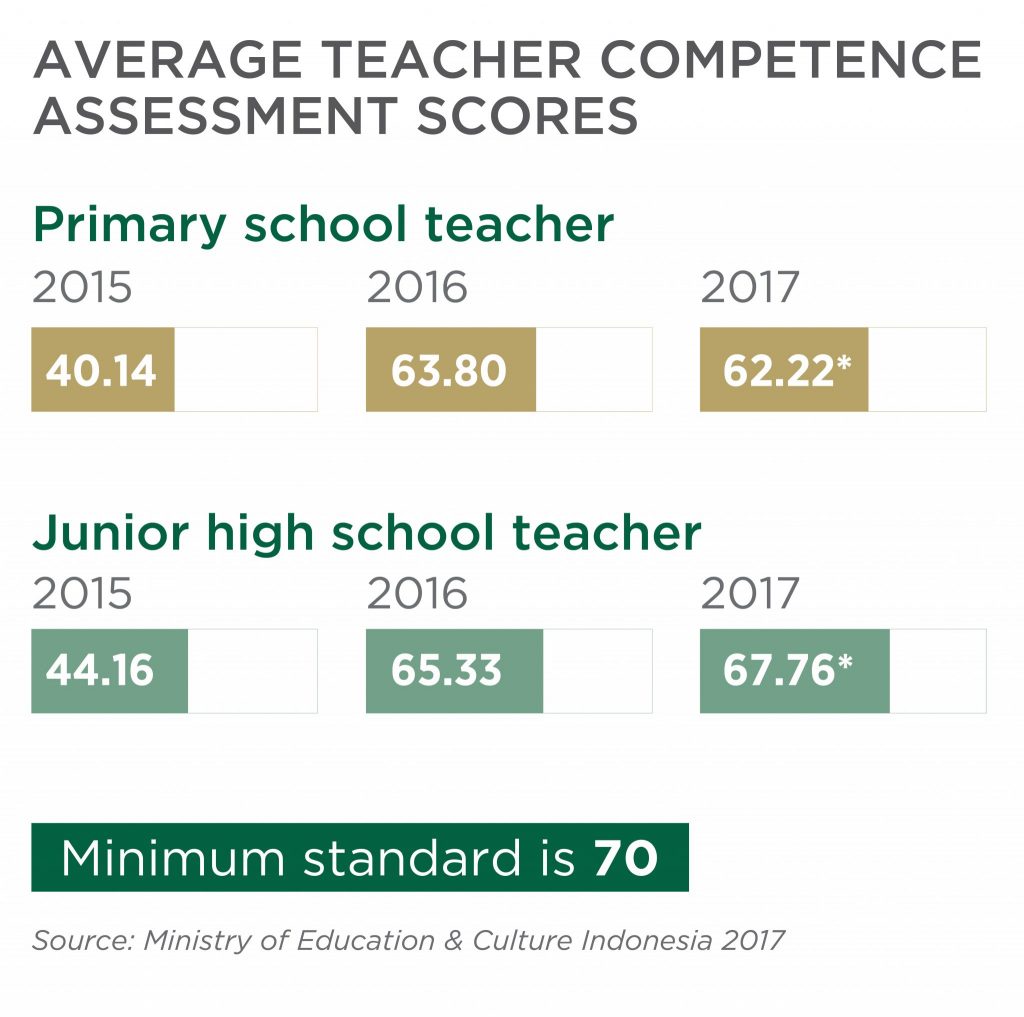 However, recent Teacher Competency Assessments (tests that measure teachers' pedagogy levels and basic competencies in subject areas) show that the teaching capabilities of Indonesian teachers are still below expected standards.
As a direct response, the Indonesian government took the initiative of launching the Teacher, Principal, and Supervisor Learning Program in 2016. The main aim of this program is to encourage teachers to continuously learn, develop and improve their skills, through classes and trainings held online or in person.
How Tanoto Foundation supports education in Indonesia
Tanoto Foundation, an independent family philanthropy organisation founded by Sukanto Tanoto and Tinah Bingei Tanoto in 1981 which focuses on education, has carried out various initiatives which deal with education issues in Indonesia since 2010.
Our PINTAR program was established to support teachers and school principals in developing creative and innovative teaching and learning methods. It also aims to improve school management and leadership, increase the capacity of local governments in disseminating effective learning models, and strengthen Teacher Training Institutes in the country to provide the best education experience for prospective teachers.
At the moment, PINTAR has a presence in 20 districts and cities in five provinces: North Sumatra, Riau, Jambi, Central Java and East Kalimantan.