A Small Oasis amongst the Concrete Jungle of Jakarta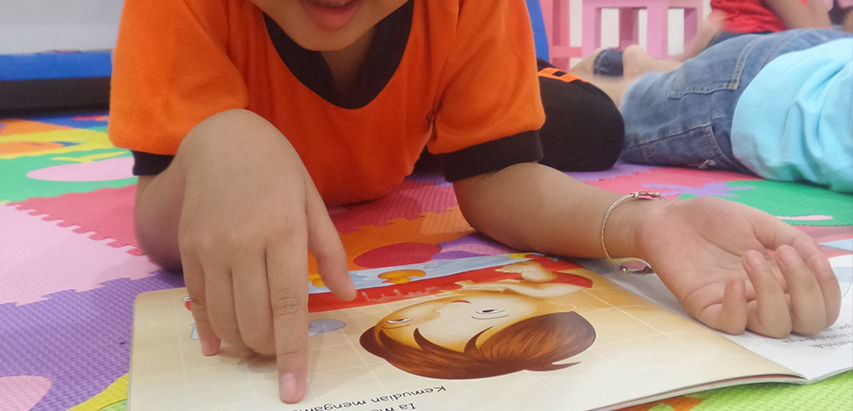 Relaxing and enjoying a good book.
---
The crowded residential area of Gandaria Selatan, South Jakarta looked quiet that morning. Most of the residents had already left their houses to work or carry out their daily activities. The high demand of providing for the family often left the parents and adults of these households with such hectic schedule and limited time to care for their children properly. Most of them left the education of their children to their caregivers, who often did not have a clear idea about positive child rearing approaches.
However, still at the same location, busy activities could be seen from a small building. There were young children sitting comfortable on the floor, reading books with colorful pictures and texts. Two teachers were guiding them to read the texts and recognize the pictures patiently. These activities were taking place at Al Huda Early Childhood Education Center, a partner Center of Tanoto Foundation.
Salimah, the principal of Al – Huda, said that the place was established out of concern from the community regarding the education for the young people in the area. They then agreed to collect money to start building the Center some time ago.
"Although we were lucky that the community members contributed for the building of this Center, we still needed help for maintenance. At the time, the roof leaked and water got to the class room. The floor got wet and disrupted the teaching and learning activities. The room became dirty. It was not a comfortable surrounding for these young children to learn," said Salimah. "Fortunately we obtained support from Tanoto Foundation. Now we have a great class room with walls full of beautiful paintings. Thank you, Tanoto Foundation."
Tanoto Foundation support to Al – Huda center includes building renovation, provision of classroom furniture, teachers learning aid, child-friendly educational equipment, books, as well as a reading corner. In addition, Tanoto Foundation also trains the teachers to improve their teaching skills and to obtain certification.
During his recent visit to Al – Huda Center, South Jakarta Mayor Syamsuddin Noor appreciated the support of Tanoto Foundation. According to him, supporting the children to acquire knowledge is a noble effort. Syamsuddin Noor also expressed his hope that the support of Tanoto Foundation and the collaboration among the stakeholders would continue in the future.