10 Entries to Celebrate 10 Years of The Tanoto Student Research Award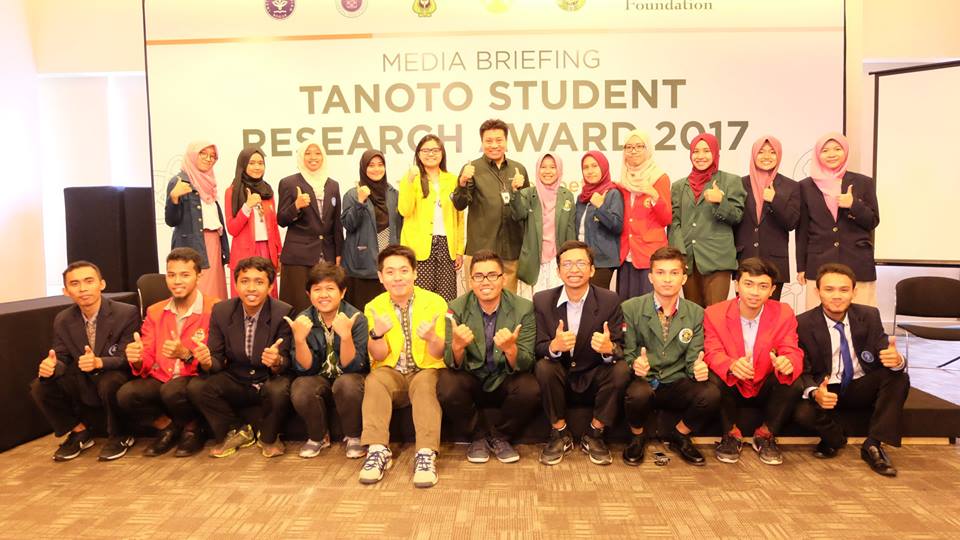 Innovation is vital for the nation to progress, which is why Tanoto Foundation launched the Tanoto Student Research Award in 2007. To celebrate the contest's 10th anniversary, here are 10 of the entries from this year's event.
New uses for bamboo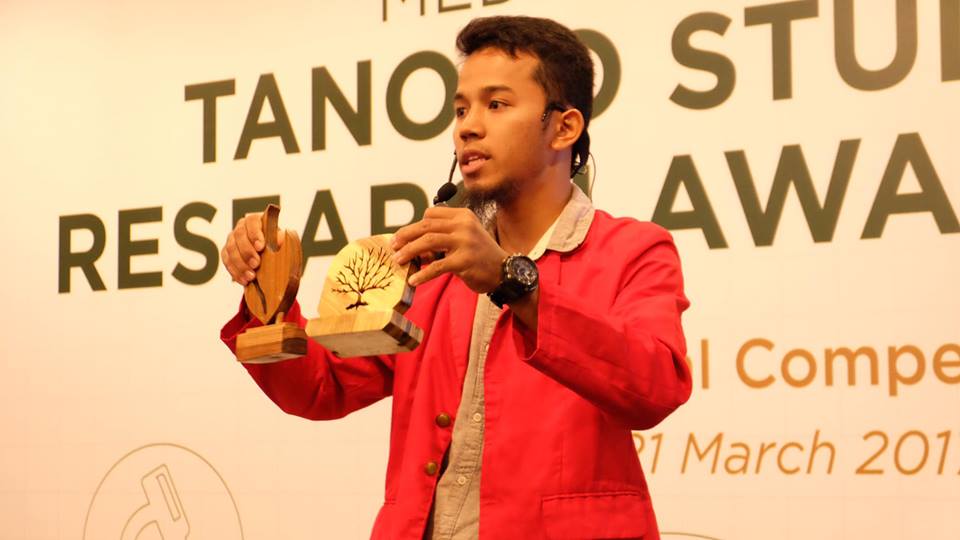 Bamboo has long been used as a raw material for souvenirs, but the wood is cylindrical, jointed, and hollow, which limits the type of objects it can be fashioned into.
Therefore, Bhakti Jayadi, Wahyullah, M Fadli Alam and Dr Suhasman from the Faculty of Forestry, University of Hasanuddin, have developed a technique to laminate the wood, dramatically increasing its potential uses and improving its aesthetic value.
Precision farming with drones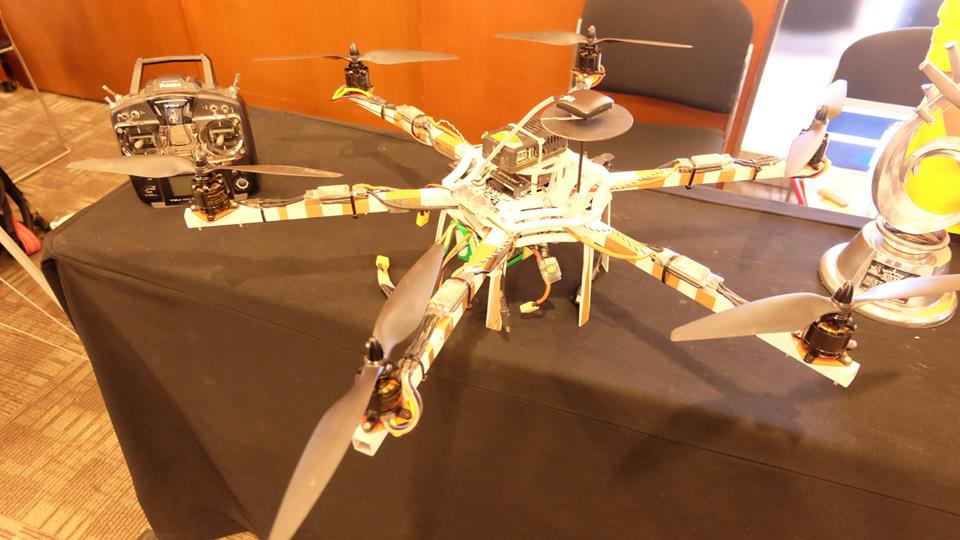 The limited use of technology in Indonesian agriculture prompted Josua Christanto, Rahmi Karmelia, Ahmad Dhiyaaul, M Luthvan Hood and Mery Astuti from the University of Indonesia to develop a precision farming system using drones. The unmanned vehicles help farmers monitor the condition of their crops quickly, helping them make more effective decisions on planting, pesticide use and harvesting.
Wooden boards from palm fronds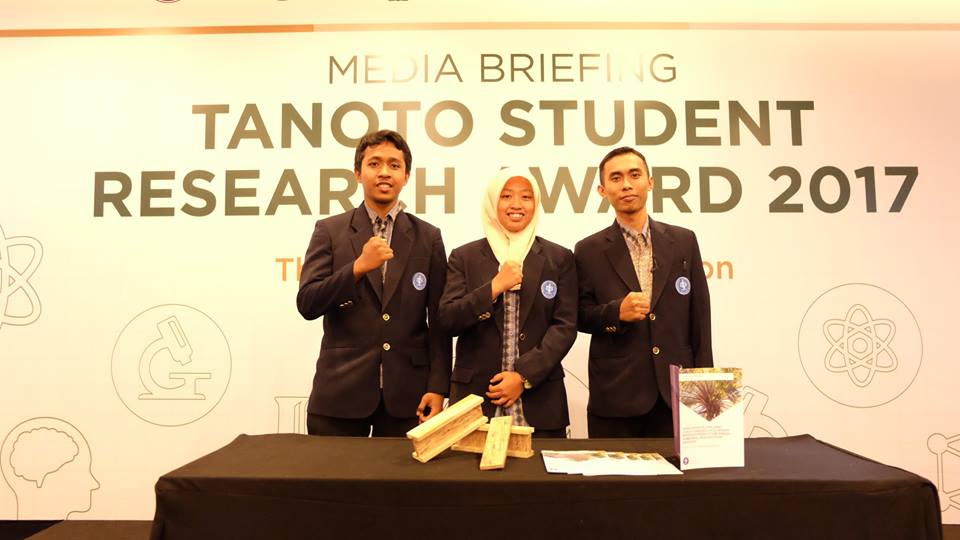 Demand for solid wood in Indonesia amounts to 46 million m3 per year, but domestic production has so far only reached 35.29 million m3 per year. In order to meet the demand, Indra Herman, Dimas Ramdhani, and Yessy Nurmalasari of the Department of Forestry, Bogor Agricultural University have developed an environmentally-friendly technique to fashion solid wood from palm fronds.
The composite boards can be used as wall panels and other popular applications.
Telehealth platform for community healthcare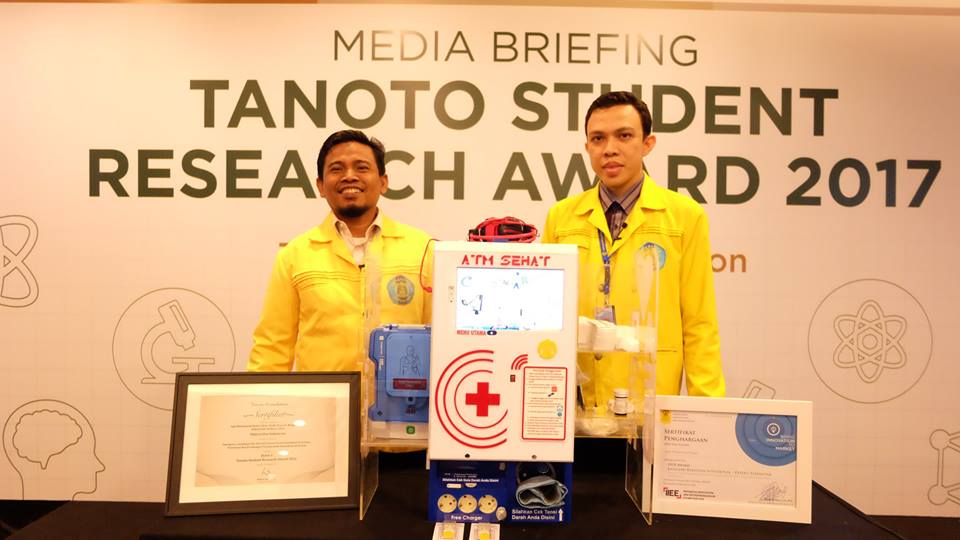 Providing healthcare in Indonesia's remote areas can be a challenge: one that the team from University of Indonesia aims to address. Their project is a medical kit designed to be used in the field by people with limited medical training. Comprising equipment including blood pressure and sugar testing kits and an automated defibrillator, the box also comes with a touch screen running a telehealth app that provides usage instructions.
Painless blood sugar test for diabetics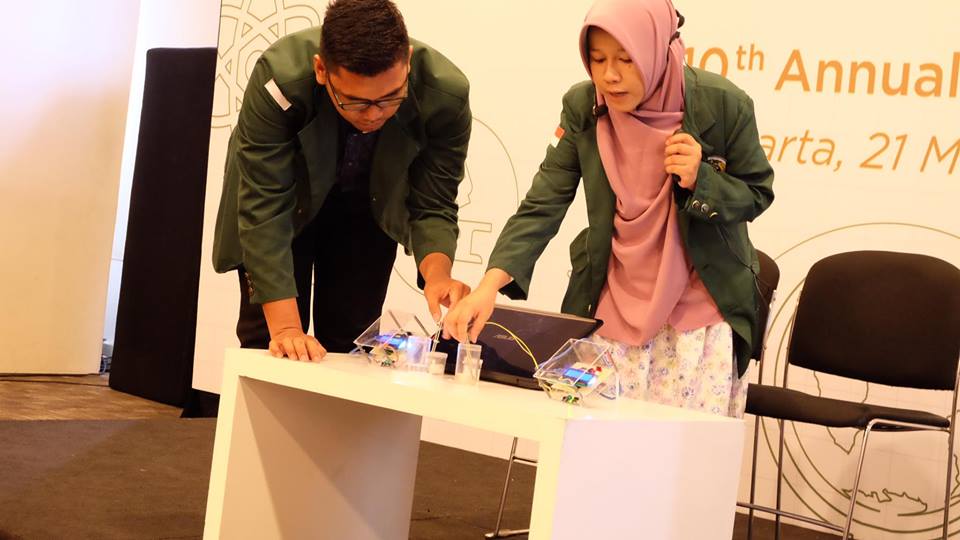 Diabetes is a disease that cannot be cured, and requires constant monitoring so that the condition does not become worse. Traditionally that has been done by measuring blood sugar levels at regular intervals, but that is invasive and can be expensive. Yosatria Juanka Sibarani and Anisha Nurul Hakim of the University of North Sumatra have developed a technique to measure sugar levels in a patient's urine by passing an electric current through the sample.
Using mushrooms to break down old plastic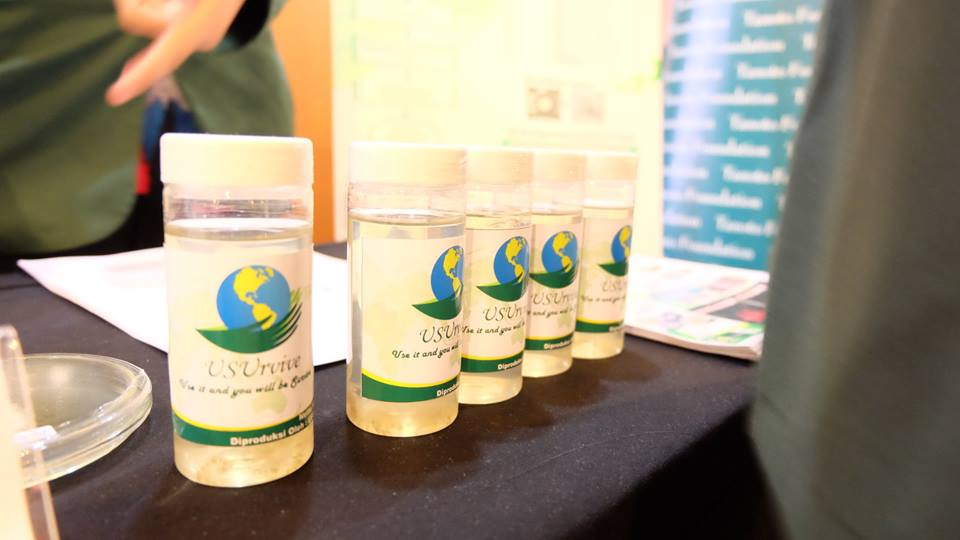 Plastic is one of the most common materials used in everyday life, but it can take centuries – even millennia – to decompose naturally. Randi Arita, Dhaifina Sabila, and Dita Isnaini Rambe from North Sumatra University have been working on a project to use fungi to speed up this process.
Bacteria-based fertilizer
Many plants form a symbiotic relationship with bacteria that live on their roots. Ashifa Cahyani, Tita Aulia, Muh Ichsan, Hasrullah and Muh Ersyan from Hasanuddin University have developed a product called Plant Growth Promoting Rhizobacteria (PGPR), which takes these beneficial bacteria and turns them into a fertilizer.
Using waste as fuel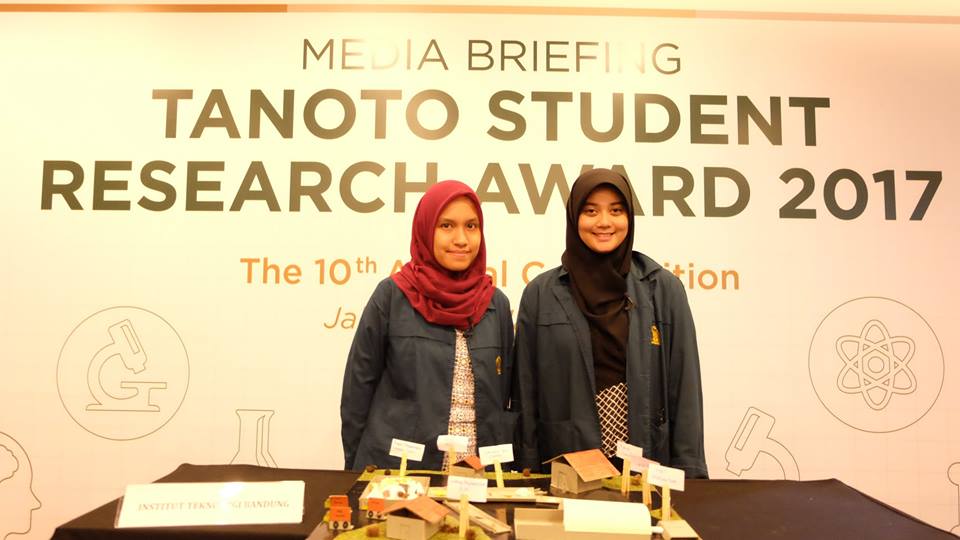 Farah Wirasenjaya, Nadhira and Najla Nadhia Rahmawati from Bandung Institute of Technology have come up with an innovative solution to the twin problems of waste and carbon emissions. Their project involves taking waste that previously would have been buried at the TPPAS Nambo landfill and using it as fuel for the nearby cement industry. That results in lower carbon emissions than the coal that would otherwise be burned, while reducing the amount of waste that has to be buried.
Turning manufacturing waste into concrete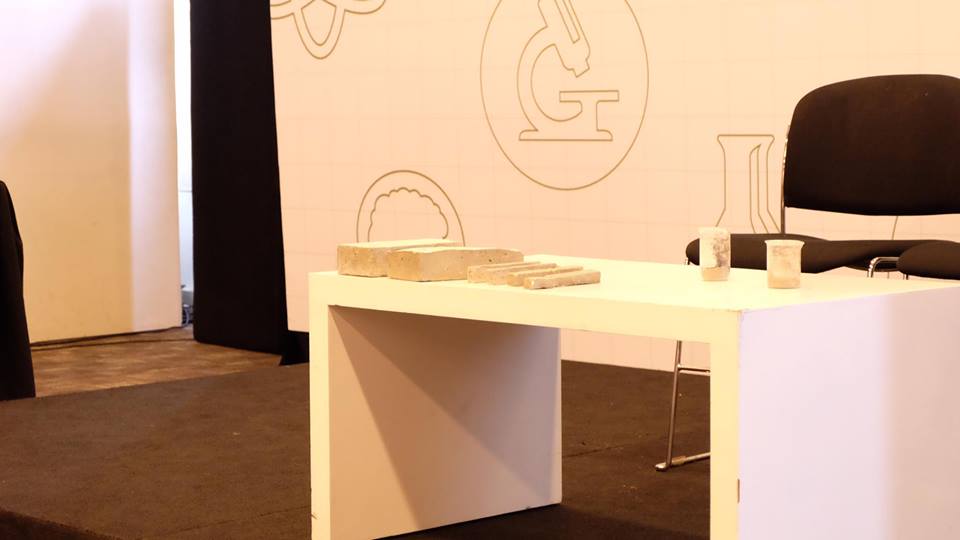 Cirebon is a major stone processing centre in Indonesia, but the process produces large quantities of polluting waste. Alfin Mohammad Abdillah, Dhea Shofi Racmadita and Faldie Fathurohman from Bandung Institute of Technology have designed a process to recycle this waste into concrete blocks. Using their technique, 70% of the concrete can be made up of waste that would otherwise be discarded.
Making tree planting faster and safer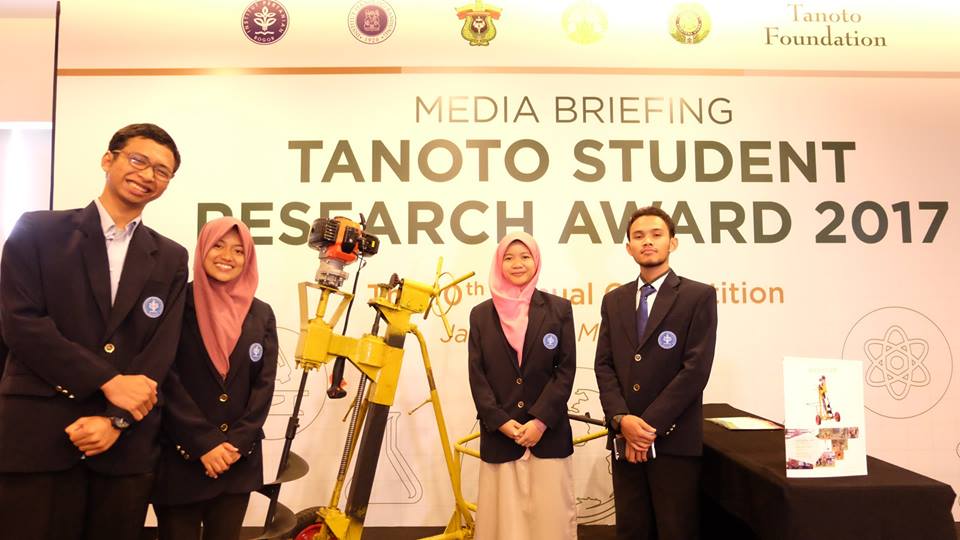 The machinery typically used to dig holes for tree planting is carried by hand, is time consuming to operate and can be dangerous for the user. It is also difficult to use on sloping ground. Bagas Adji, Syifa Paxia and Revelation Hartato from Bogor Agricultural Institute have designed the Silvator, which combines a drill with a wheeled frame to make it more mobile. Using the equipment, a person can dig 80 holes per hour instead of the 40-45 using traditional equipment, they say.